What Is Hammock Camping?
Camping is a beloved pastime for families and individuals who want to leave the modern world behind and tap into their adventurous side. Recently, more campers have started to switch out their traditional tents for the simple and compact shelter of a hammock.
Hammock camping comes with an array of benefits. Along with providing shelter, hammocks are incredibly durable and lightweight, so you can easily pack them up and carry them as you explore the outdoors.
From mastering the best hammock setup to learning how to choose the right hammock for your environment, we'll show you everything you need to take your camping experience to the next level with a hammock.
Camping Hammocks vs. Tents


Sleeping on solid ground in a traditional tent shelter is what many campers, beginners and experts alike, expect when they go camping. However, hammock camping comes with many advantages compared to tent camping that enhance your outdoor experience with style and ease,
Aside from the obvious difference in elevation, there are other notable distinctions between hammock camping and tenting, such as:
1. Practicality and Set Up
Hammocking is like having a bed with you wherever you go. You can bring it to the park, beach, or woods since it folds down into a compact carry-on. Once you get past the initial learning curve of setting it up, you'll realize just how convenient hammock camping is.
Tents are a popular option for many reasons, but they can be cumbersome to carry and set up. You must have a flat, open space to set one up properly, which can be limiting.
2. Protection and Comfort
For hikers who prefer to keep a safe distance from crawling critters and potentially dangerous wildlife, a raised hammock camping setup puts you out of harm's way while surrounding you with a natural shelter. Sleeping in a suspended position also ensures you'll never have to lay on the cold ground, sharp rocks, or tree roots.
Another one of the benefits of hammock camping is that the curve of the fabric provides a natural and comfortable sleeping position so you'll get a solid night's rest. Some hammocks come with zipped covers, so you can partially zip your hammock to provide added warmth and protection while you rest.


3. Pricing
Camping can become an expensive hobby, especially if you like to enjoy it year-round. Hammocks made from quality materials will last for years.
You can find tent and hammock camping gear for every price point and quality, so the cost of both types of setups will varying depending on what type of gear you invest in.
Hammock Camping Checklist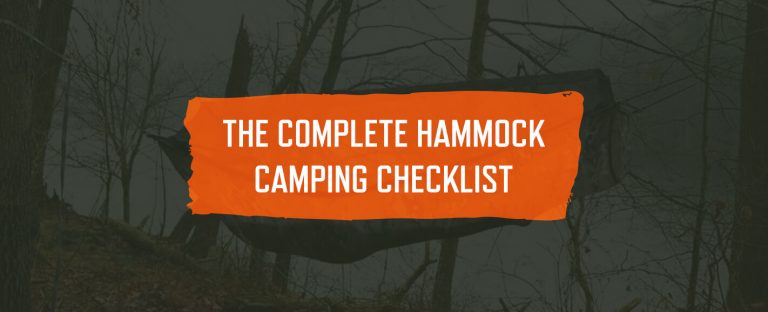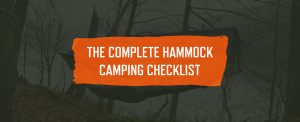 You never want to feel unprepared for a camping trip, especially if it's your first time setting up hammock equipment. This hammock camping gear list will cover all of your needs, so you can set up can with ease:
Our complete list of hammock camping gear necessities is a great resource to have on hand when preparing for your next adventure.
Choosing a Hammock For Camping
Hammocks are multipurpose tools that make perfect sleeping accommodations wherever you go, but there are a few different options to consider.
How often you go camping, the climates you intend to sleep in, and essential accessories will determine what type of hammock you'll need.
Check out this guide to the different Dutchware hammocks.
Lounging vs. Camping Hammocks
A sleeping camping hammock is entirely different from a basic lounging hammock. When it comes to lounging models, you'll find a variety of materials that are better suited for napping, reading, and sunbathing.
On the other hand, hammock camping systems are designed to replace a sleeping bag and tent. Equipped with all of the necessary accessories and purposeful features, you get to enjoy the ultimate hammock setup for extended camping trips.
Chameleon Hammocks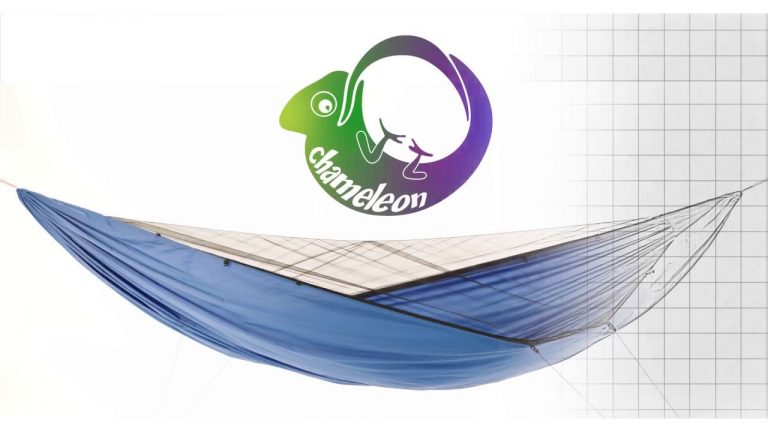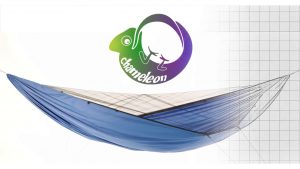 Whether you're heading into the forest or lounging at a campground, a chameleon hammock is a great choice. Although you can choose from several fabrics, all chameleon hammocks are lightweight and durable. True to their name, they're easy to modify for all temperatures and seasons, with plenty of accessories and add-ons.
Netless Hammocks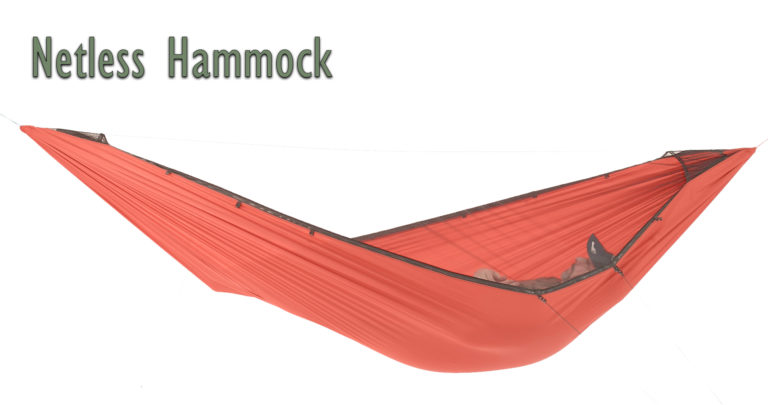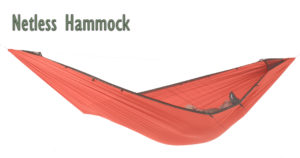 Netless hammocks aren't as versatile but more compact. They're perfect for casual camping, like overnight hammocking and daytime lounging. They come in both single and double layers, and the bodies can come with or without suspension. Netless hammocks are available in three fabrics, the strongest supporting up to 525 pounds.
Netted Hammocks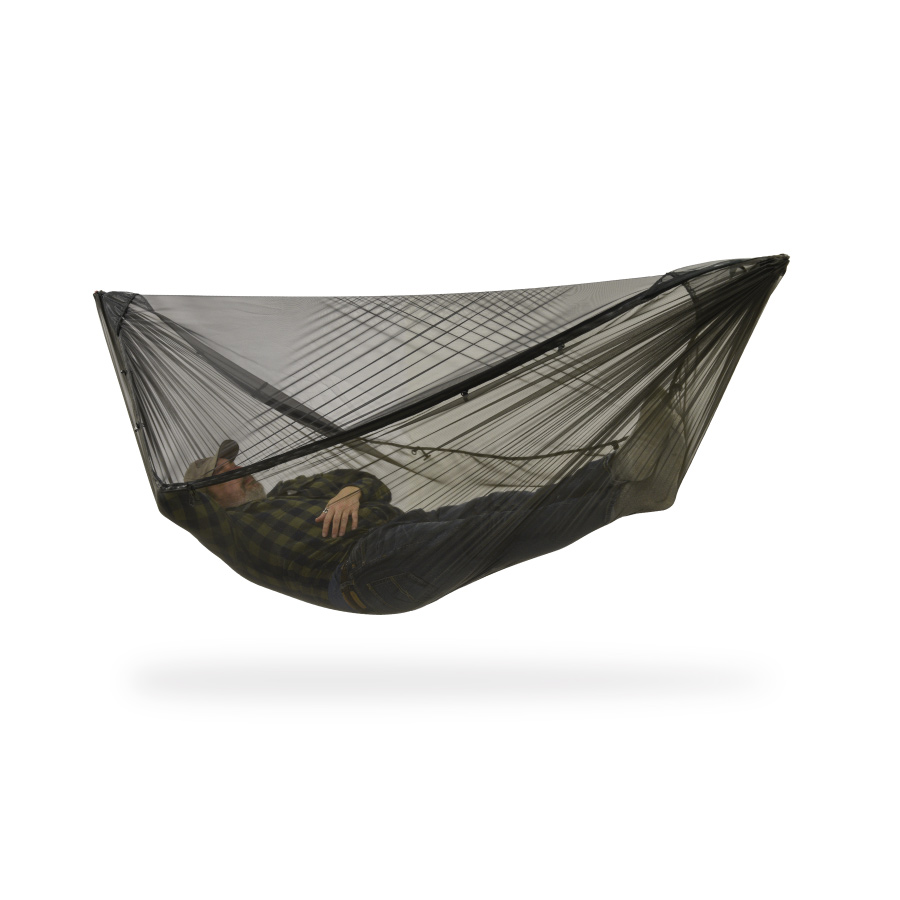 A netted hammock is the perfect sleeping camping hammock for those buggy summer nights. Equipped with built-in bug nets to keep mosquitos and other pesky insects at bay, hammocks that feature netting are ideal for a safe and comfortable sleep.
Bridge Hammocks


You'll never have to worry about losing sleep while in a bridge hammock. With its rectangular shape and four identifiable corners, a bridge hammock utilizes a spreader bar to prevent the corners from collapsing. The unique design allows campers to comfortably sleep on their back, side, or stomach.
You can find the complete "Beginner's Guide to Choosing the Right Hammock" here.
Choosing Suspension Systems
Those who are new to the hammock camping setup may find suspension systems a little intimidating. After all, there are nearly just as many suspension systems to choose from as there are hammocks.
Fortunately, with proper hammock gear, you'll be able to hang your hammock from trees and posts regardless of your level of expertise:
Spider poly straps and huggers: Named for their webbed design, spider poly straps are lighter than conventional polyester straps and won't stretch too much while you're handing in the air. They also work well with other equipment, like the Dutch Buckle and cinch buckles.
Polyester straps and huggers: Polyester straps are the most common for hammock systems because they're incredibly strong and resistant to water and ultraviolet (UV) exposure.
Kevlar straps and huggers: Kevlar straps are one of the toughest items you can buy for camping. They're lightweight and super strong and can endure extreme temperatures without absorbing too much water or stretching.
When choosing suspension systems for your backpacking hammock setup, you'll need to factor in important details about your venture. Fortunately, our article on how to choose the right straps for your hammock and how to properly and safely assemble them can help.
Choosing a Top Quilt and an Under Quilt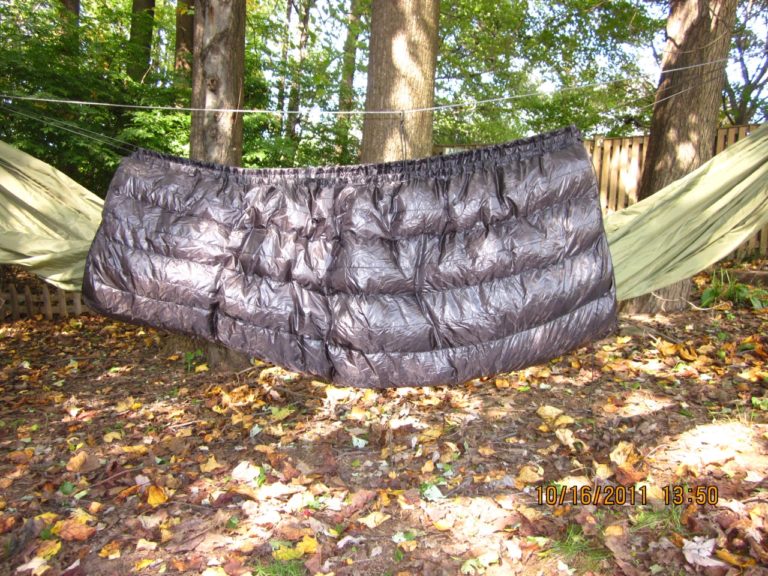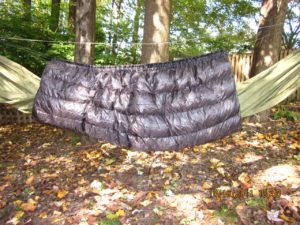 While you may not need an over or under quilt for a day of lounging in a hammock, they'll come in handy during extended expeditions and cold weather. Top quilts and under quilts share the same function, working as insulated blankets that can attach to your hammock as an extra barrier between freezing temperatures and your body heat.
Check out our guide on pea pods vs hammock quilts for more information. We also have information on sleeping bags vs under quilts!
An over quilt is similar to a blanket and is made from the same material as a sleeping bag. However, a top quilt weighs less than a sleeping bag while keeping you just as warm. An underquilt is a single layer of down that hangs underneath the hammock. It shuts in warm air from your body heat while keeping the cold air out.
Choosing a Top Cover for Camping Hammocks
Many campers prefer to go hammocking in the summer, but top covers make sleeping in cooler temperatures just as enjoyable.
Top covers are designed so that you can stay comfortable as the temperatures drop. They feature mesh windows, so you have ventilation and visibility, and zippered flaps for versatility. Some top covers feature pockets for extra storage, mesh panels, and asymmetrical shapes.
Our guide to choosing a top for your hammock will help you decide which cover is right for you.
How to Set Up a Hammock for Camping
One of the crucial things you need to know when learning how to hammock camp is how to set up your equipment. For a full list of the do's and don'ts of setting up a hammock, click here. Below is a simplified version:
Find two trees that are spaced 12 to 16 feet apart
Check for signs of damage, disease, and wildlife. Make sure both trees are strong enough to support your weight
Lay out your equipment and accessories
Secure your straps to the trees so they sit at least 6 feet above the ground
Attach any additional suspension hardware
Unfold the hammock and make sure it's dry and intact. Then, attach it to the suspension system
Furnish your camping spot with tarps, quilts, and any other add-ons
If you're stuck camping in an area without trees, you can use poles, buildings, cars, or hammock stands.
How to Choose a Spot to Camp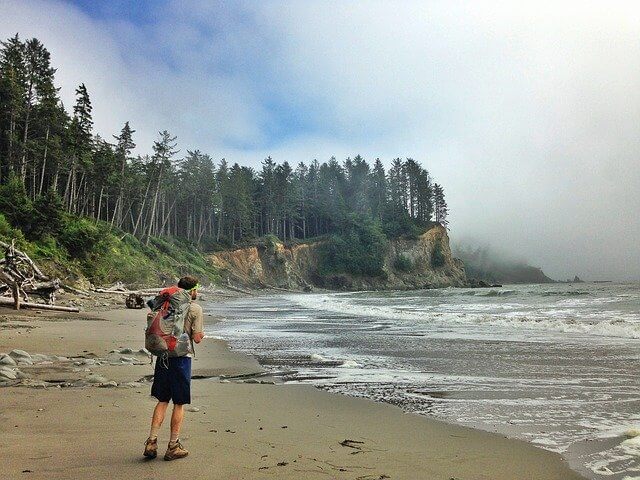 Now that you know how to make your bed for the night, you can work on finding the perfect spot to set up camp.
Your ideal destination should have privacy from other campers, a safe place to hang your hammock, and access to water. For longer hikes be sure to check out some of our other reseources to make the most of your camping experience. Be sure not to venture too far into the wilderness unless you have the right knowledge of the surrounding area and GPS gear for contacting emergency services if the situation arises.
It may help to experiment with setting up hammocks in different areas until you get used to doing so. This way, you'll know how to spot the perfect camping area wherever you plan to explore.
Tips for Sleeping Comfortably in a Hammock
First-time backpackers may worry that their sleep quality won't be the same while resting in a hammock. However, sleeping in a hammock has many great benefits. You get maximum air circulation, the perfect natural sleeping position for your body, and better sleep than you would staying in a tent.
You can get an even better night's sleep following these backpacking hammock tips:
Sleep in your hammock on a diagonal.
Make sure you hang it with a good sag.
Use quilts and sleeping pads for extra comfort.
Come prepared with a bug net.
Check out our full list of useful sleeping tips here.
Hammocking in the Cold and Rain
Many campers don't plan on sleeping in the cold and rain, but weather can sometimes be unpredictable. If you're venturing out into the cold, there are plenty of hacks and gear for camping in the winter. If you get caught in the rain, these guidelines will help you stay warm all night long.
Some of them include:
Investing in quality quilts, tarps, and clothing. Check out our guide to choosing the right tarp.
Learning how to make instant hot food in the cold.
Coming prepared with GPS equipment.
Using trekking poles.
Knowing how to keep your hammock dry and adequately sheltered.
How to Maintain and Care for Your Hammock


One of the most important aspects of learning how to go hammocking like a pro is keeping your hammock in top shape.
The most basic rule of thumb in this area is to follow the manufacturer's instructions closely. But some other hammock care tips, like knowing what kind of detergents to use and how to wash the fabric correctly, will help your hammock last for years.
In our storage guide, we answer the most common hammock maintenance questions.
What to Wear When Hammocking
Hammocking can be enjoyed all year, so you should always be prepared to dress in weather-appropriate attire while keeping in mind that you'll be cocooned for the night. Our guide for what to wear when hammock camping will help you pack for every season.
Spring: With rapid weather changes, spring can be an unpredictable season. Packing clothing you can layer will ensure you're prepared for bright sunny days and cool rainy nights when hammocking in the spring.
Summer: Short sleeves are a given in the summer. But remember that moisture-wicking clothing will keep you cool and dry at night. You'll want to avoid wearing shorts while camping, so your legs are protected from ticks and mosquitos.
Fall: Use three layers while dressing for fall camping, with each layer featuring a heavier material than the last.
Winter: Quality footwear and wool gloves and socks will keep you toasty warm during the coldest months of the year. Clothing made from wool, down, and synthetic fabrics will work best when camping in the snow.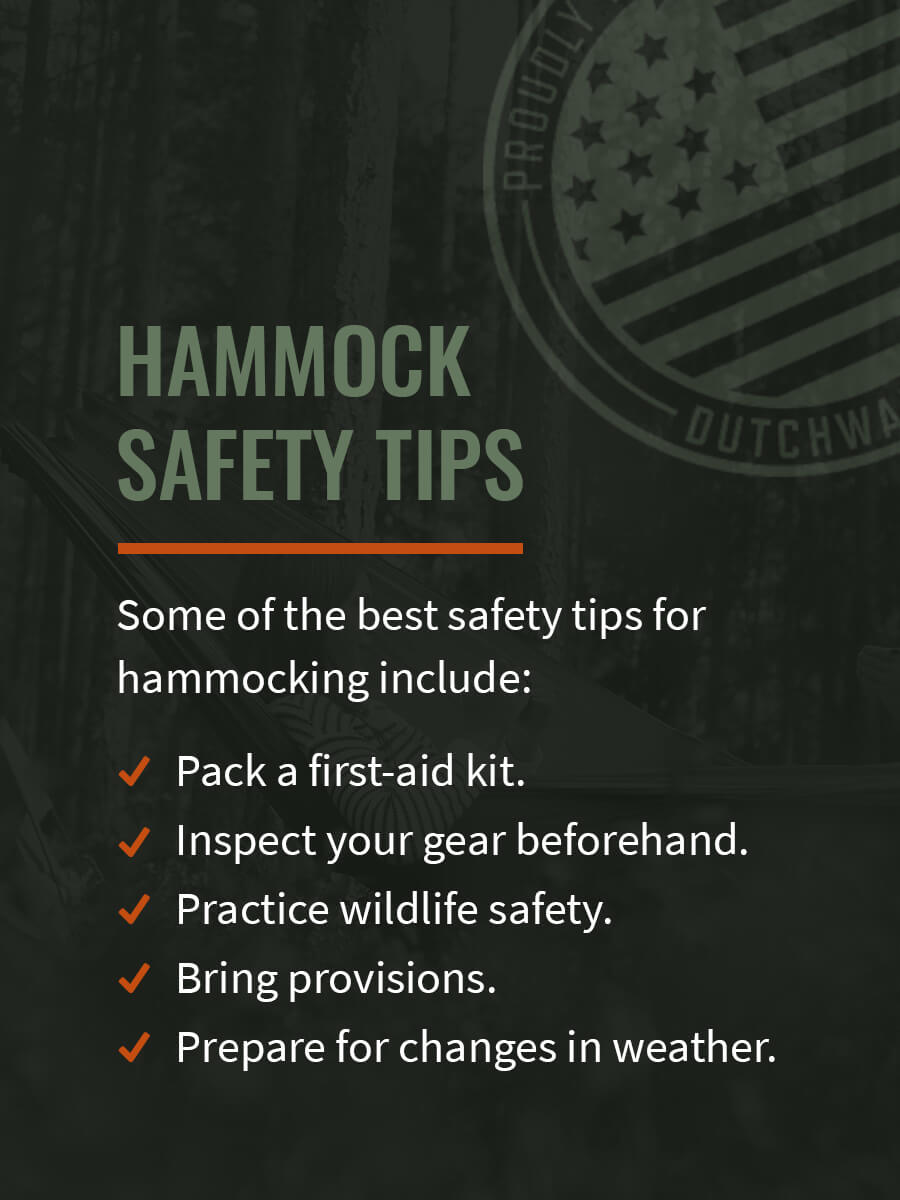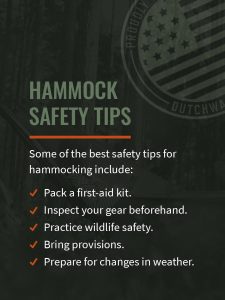 Hammock Safety Tips
Whether you're camping solo or with a group, you must stay safe whenever you go out into the wilderness.
Some of the best safety tips for hammocking include:
Pack a first-aid kit
Inspect your gear beforehand
Practice wildlife safety
Bring provisions
Prepare for changes in weather
How to Keep Your Backpack Light
Minimalism is the name of the game when you're hammocking. You only need to bring what you need, then cut that list down to only packing what you can carry.
Read more about base weight and how to lower it.
Remember to stick to the essentials and pack multi-purpose tools and resources that can be reused. Our list of must-have hiking equipment will ensure you're never at a loss while keeping your backpack light.

Shop DutchWare for All of Your Hammocking Needs
DutchWare is your one-stop shop for everything that has to do with hammocking.
After serving practiced pros and novices in all of their wilderness endeavors for nearly two decades, we've proven that we're the experts when it comes to camping in a hammock.
As a proud United States manufacturer with extensive camping knowledge, we only carry quality products we believe in. With unbelievably fast shipping, customized products, and dependable materials, no other retailer will fit your exact needs and get you on the trail faster than DutchWare.
Whether you're shopping for a new hammock, hardware, or gear, we have everything you need for a night under the stars.
Read These Related Articles
Sign up for news & events