The Complete Hammock Camping Setup Checklist
Are you looking for an unforgettable, immersive adventure? Give hammock camping a try! Hammock camping is just like it sounds — you make camp and sleep wherever you can pitch your hammock for the night. Hammock camping is perfect for adventurous outdoor-lovers, and it's beginner-friendly! Hammock camping offers quick and easy portability, so you can set up and pack up camp whenever the mood strikes you.
Unlike a tent, you can set up your hammock in just the right spot to enjoy sweeping views of a hillside, sunset, or waterfall. This versatility makes it perfect for trail lovers and explorers who want to see as much of the great outdoors as possible.
If you're new to the world of hammock camping, we're here to help! We have compiled a complete hammock camping gear list to help you choose all the items you need for your first hammock setup.
For further resources, be sure to check out our Beginners Guide to Choosing the Right Hammock.
Here are the hammock camping necessities you don't want to forget: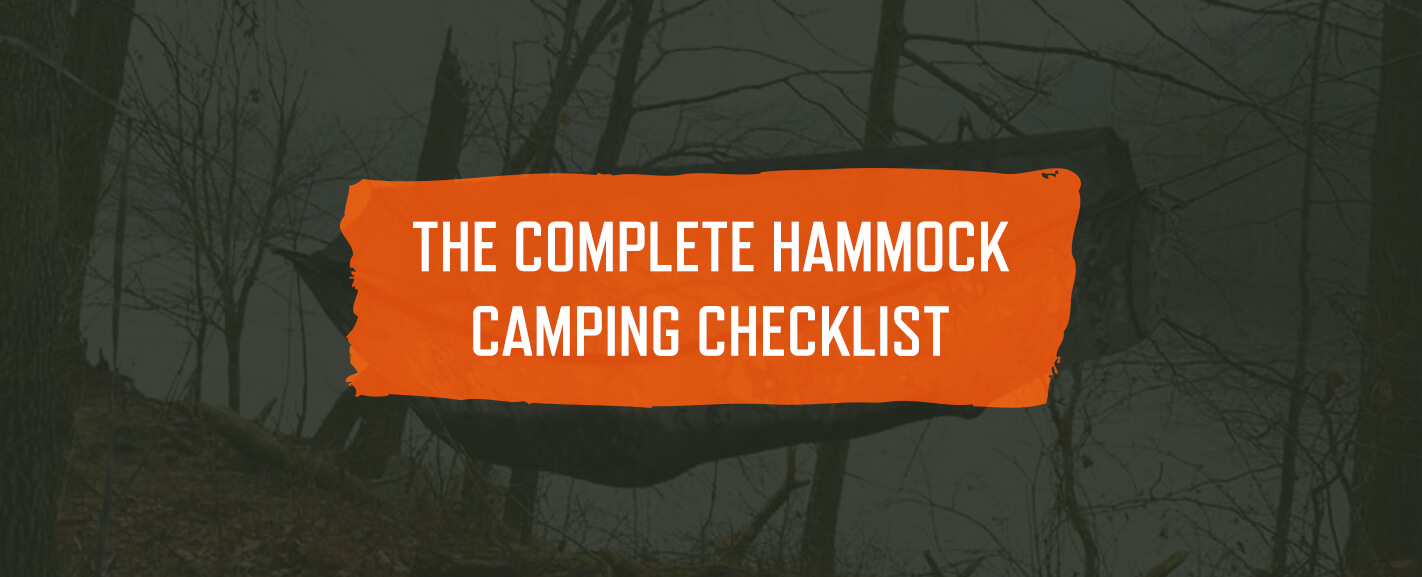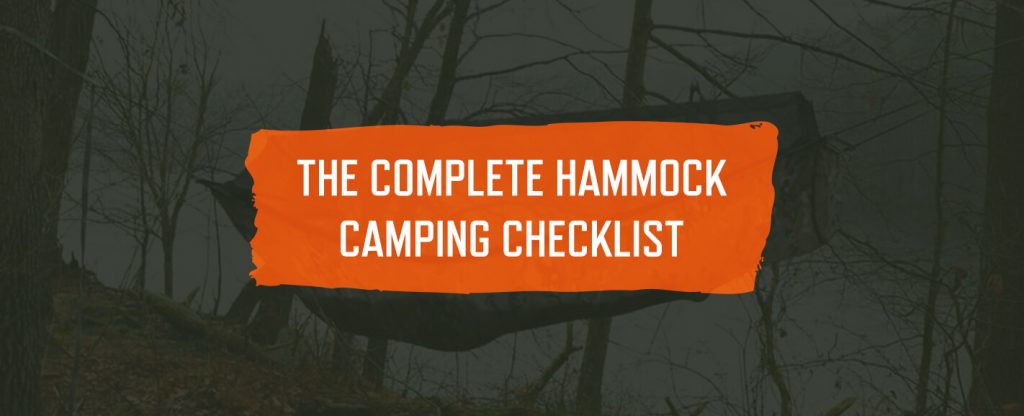 New to Hammock Camping Guide: Hammock Camping Gear
The important thing to remember when researching quality hammock hiking gear and the best hammock camping accessories is to seek lightweight items, preferably those intended for this type of camping. Non-backpacking camping supplies, like tents, stoves, and kitchen gear, can be cumbersome and heavy after just a few minutes of hiking. Keep an eye out for supplies you can use in more than one way to maximize space. For example, you can use stuff sacks and storage pockets for both your hammock and to keep things organized inside your daypack. Ridgelines can double as a clothesline to dry towels or swimwear.
When packing your bags, use this beginner's hammock camping guide and checklist to ensure you have everything you need.
Hammock
Your hammock is the star of the show, so you need to choose the right fit for you. DutchWare carries many types of hammocks to suit every kind of camper, so you're sure to find the one you need. When choosing a hammock, consider your height, weight, and length. Proper sizing is crucial for your comfort when sleeping in a hammock. Avoid buying a lounging hammock, which is meant for casual, backyard use. Camping hammocks are made out of durable, outdoor-safe materials and are easy to transport.
Different hammock bodies to choose from include:
Chameleon: Chameleon hammocks are lightweight, durable, and ideal for sleeping and lounging. You can get a Chameleon in several fabrics, and each has its own weight rating and unique texture. They make great hammocks for beginners because they are a one-piece unit, meaning set up is easy. When you're ready to upgrade, you can add attachments to enhance your experience.
Netted: Netted hammocks have a built-in bugnet to keep you safe from mosquitoes while you sleep. They come in half-zipped and half-wit variations, depending on how much coverage you want.
Netless: Netless hammocks are open-air, with no bug netting or enclosure, unless you attach one. They are comfortable, straightforward, and versatile.
Bug Protection
If you're camping in the summer or in areas that attract mosquitoes, spiders, and bees, consider investing in bug protection. Some hammocks have built-in mosquito netting, while others are compatible with protective attachments to keep you bug-free all night long.
Choose one of the following bug protection methods for your camping trip:
When you're not in your hammock, apply a quality insect repellant regularly and keep as much of your skin covered as the temperature allows.
Suspension System – Hanging Your Hammock
One of the most useful beginner hammock camping guide tips is to purchase a complete suspension system for your setup. The suspension system is how you will attach your hammock between two trees. A complete system includes tree huggers or straps to attach to the trunks, a hammock rope to string through your hammock, and end of hammock connection points like hooks, clips, and loops to connect the rope and tree straps.
Structural Ridgeline (optional accessory)
Ridgelines are an optional accessory that makes your hammocking experience more comfortable. Structural ridgelines consist of thin, strong rope that helps you control the amount of sag or tightness in your hammock. They keep your hammock safe from excessive pulling between distanced trees by absorbing the stress of the distance. You can also use a ridgeline to hold your bugnet or top cover.
Structural ridgelines can be either adjustable or fixed. Adjustable ridgelines like whoopie slings and Universal Constrictor Rope (UCR) let you easily readjust. They come in a variety of fixed lengths, and the standard starting point is 83% of your hammock's total length.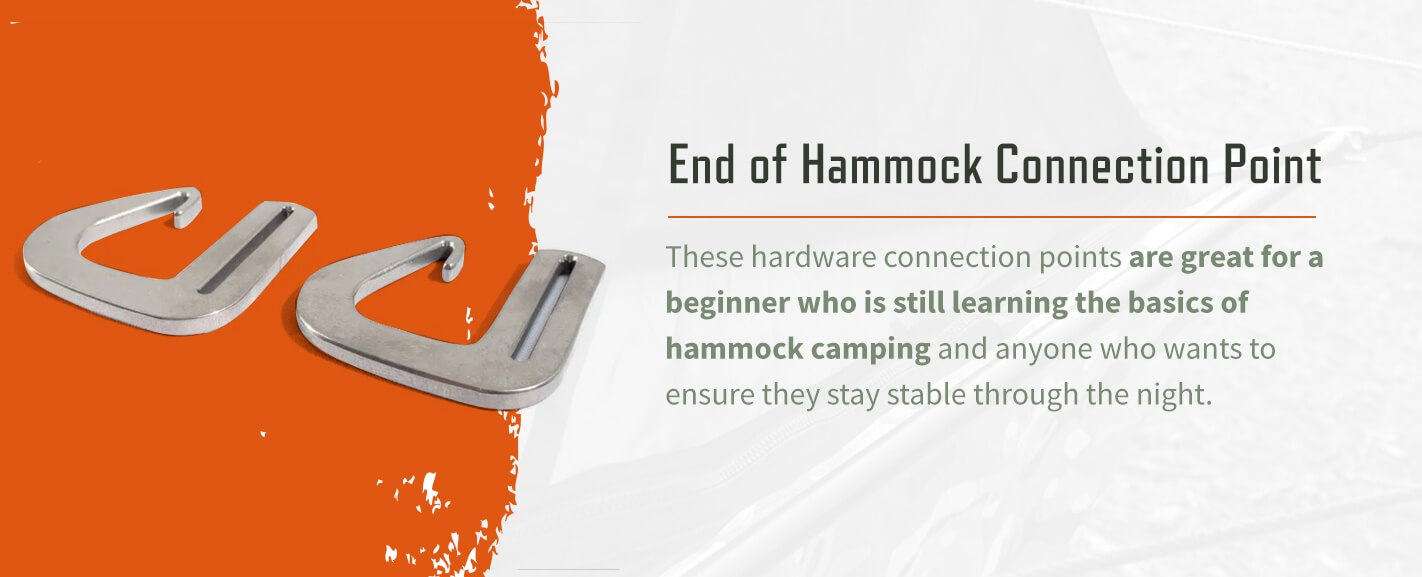 The end of hammock connection point is the hardware that connects the tree straps to your hammock. These hardware connection points are great for a beginner who is still learning the basics of hammock camping and anyone who wants to ensure they stay stable through the night. Connection hardware also makes it easy to adjust your hammock as needed.
Types of connection point hardware include:
Continuous loops
Whoopie slings
Cinch buckles
Dutch biners
Titanium toggles
Dutch buckles
Adjustable clips
Webbing
Hammocking can harm trees if you aren't careful. Ropes and suspension systems can scratch away at the tree bark or put excessive pressure on the trunk. This damage is not always visible and can have lasting effects, like stunted growth or reproduction. One way to minimize the risk of tree damage is to attach webbing straps around the tree trunks to protect the tree bark. Once you secure the straps around the tree, you can connect and adjust your suspension rope without damaging the tree as you pull and move the hammock. Webbing straps are made of strong, low-flex materials, like Kevlar, polyester, polypropylene, and UHMWPE. Choose the length and style of your webbing straps based on your specific suspension set up.
Hammock Hardware
While it's important to know how to tie basic hammock knots, different pieces of hardware make assembling and adjusting your hammock easier than using knots alone. Webbing straps, connection points, ridgelines, and full suspension help both beginners and experienced hammock campers have a successful trip.
To choose the hardware you need, consider:
The environment where you're going to be camping.
How comfortable you are relying on knots only.
How much space and weight your hiking pack has available.
If you're not sure how to use your hardware, read blog articles or watch video tutorials before you head out, so you can get straight to setting up when you arrive at your campsite.
Stuff Sack – Hammock Storage
Stuff sacks are very versatile to have on any hammocking trip, and you can usually find them with tarps and hammocks. Use your stuff sack to store your wallet, keys, utility knife, first aid kit, sunscreen, or other supplies. You can also use a stuff sack to protect small gear when hanging at night or during the rain.
Storage Accessories
Additional storage accessories are optional, but they can be handy to have around during any hammock camping trip. Some storage options are:
Hammock Tarp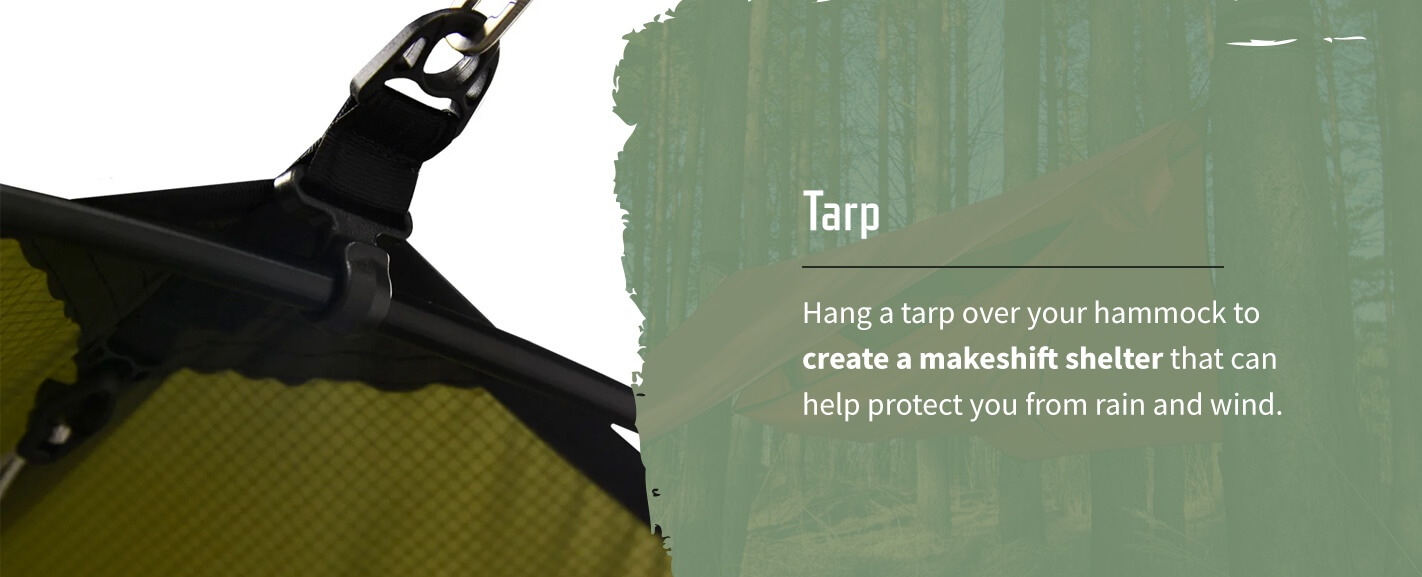 Hang a tarp over your hammock to create a makeshift shelter that can help protect you from rain and wind. Tarps come in all sizes and shapes, such as:
When choosing a tarp, make sure it extends 
6 to 12 inches
 over the ends of your hammock for adequate coverage.
Ridgeline Suspensions
Ridgeline suspensions are either continuous or separated. Neither system is better than the other. Which one you should choose comes down to what kind of experience you want to have, and what will be easiest for you to assemble.
Continuous ridgeline: A continuous ridgeline is a single long cord that attaches from one tree to the other. The most significant advantage of a continuous suspension is that they make it very easy to adjust your tarp. If you're camping alone, a continuous ridgeline is still easy to handle yourself with the right hardware.
Separated ridgeline: Separated ridgelines are two separate suspension lines — one for each tree. You buy separated ridgelines in pairs. Though adjusting your tarp is not quite as quick as it is with a continuous suspension, Stingerz and other hardware make it easy.
Ground Tieouts
Tarps help protect you from the elements while you're in your hammock, but sometimes they can move around when the wind is strong, or you bump your line. To keep your tarp sturdy and secured in place, use ground tieouts to pull it taut. The number of tieouts you need depends on the size and type of your tarp.
Stakes
Use tarp stakes with ground tieouts to secure your tarp. Stakes are made out of weather-resistant materials, like titanium, aluminum, and carbon fiber. When buying tarp stakes, make sure you have enough to go with each tarp tieout and consider packing a few extra just in case.
Tarp Sleeves
When it's time to pack up camp and move along to a different part of the trail, you might find that your protective tarp is wet from rain and dew, or even sticky from tree sap. To keep the rest of your pack clean, slip a sleeve over the tarp before packing it away. Breathable tarp sleeves are ideal because ventilation allows wet tarps to dry without trapping moisture inside.
Insulation
Insulation is important when you're sleeping in your hammock, especially in colder months, when the temperature can quickly change from uncomfortable to dangerous. Several types of lightweight hammock insulation are available, like top quilts and underquilts, to keep you fully encased and warm through the night. Choose whichever type of insulation works best for you. Though we recommend a combination of top quilt and underquilt for maximum insulation, a sleeping bag and pad will also work well.
Backpacking Camping Gear
While your hammock setup is the most important part of your camp, it's not the only thing you need to consider. You also need supplies for cooking, starting a fire, and staying safe. Look for camping items specially marked for backpacking, as they will be more lightweight and compact for easy portability.
Add the following to your hammock backpacking checklist:
A backpack that fits comfortably
A portable backpacking stove
Ready-to-eat snacks and camping food
A water bottle or portable filtration system
Light layers and rain gear
A flashlight or headlamp
A trowel and plastic bag
A utility tool
A first aid kit
Sunscreen and insect repellant
Extra rope
A map, compass, or GPS navigator
If you plan to start your backpacking trip early, pack your bag securely the night before so everything is ready to go when you are. Memorize how you organize your hiking pack because you'll need to pack it up again each time you move camp locations.
Tips and Tricks for Hammock Camping Setup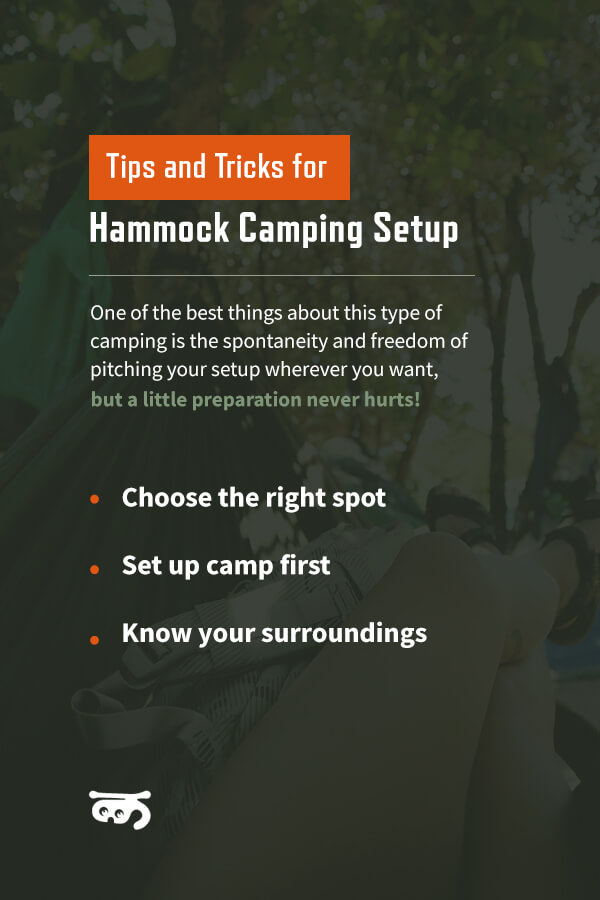 Not sure how to go hammocking as a beginner? One of the best things about this type of camping is the spontaneity and freedom of pitching your setup wherever you want, but a little preparation never hurts! Here are some tips for making the most out of your first trip:
Choose the right spot: Choose a spot with plenty of strong, spaced trees to set up camp. Never attach your hammock to any tree or structure that cannot withstand the additional weight. You should also choose a spot close to trails and scenic sights, as they are what make a camping trip truly unforgettable. If you're new to camping, don't choose a spot located in dense forests or near dangerous cliffsides. Instead, work your way up to more challenging campsites as you gain experience. For exact directions, check out this blog.
Set up camp first: When you find the spot you want to pitch your hammock for the night, don't waste any time! Though your stomach might be growling from your hike, it's a good idea to start pitching your tent while you still have light — especially if you're new to hammocking. Once you've set up your hammock, you're free to spend the rest of the evening around a fire and refueling before the next day's adventures.
Know your surroundings: If you're camping in an unfamiliar area, take time to research your surroundings before you go. Familiarize yourself with the local wildlife, including those you could encounter on the trails or while hammocking. Check all regulations and laws regarding camping and backpacking in the wilderness and acquire any necessary permits. Take a map of the area before you go so you don't trample on private property or down steep trails.
Find Hammock Camping Essentials at DutchWare Gear
Now that you've used this new to hammock camping checklist to get all the gear you need, you're ready to hit the trails and hike until you find the perfect place to pitch your hammock for the night. The best thing you can do as a new hammock camper is to invest in quality gear. At DutchWare, we design all of our hammocks and hammock accessories to be lightweight and simple to use, so they are perfect for hammock campers of all experience levels.
Visit us online to learn more about hammock camping for beginners and get your gear today!
Sign up for news & events