There's nothing quite like spending a few moments relaxing outdoors in a hammock. The lulling swing and cradling feeling can be almost meditative. Meanwhile, you can take time to rest your eyes or enjoy the scenery, looking up at the tree branches or blue sky.
Hammocks are perfect for hiking, camping or even casual everyday use. The right kinds are easy to bring anywhere and set up, giving you more time to enjoy a break with less hassle.
While hammocks are multipurpose, they're an essential item for any experienced or novice backpacker. Hammocks make perfect sleeping accommodations without needing to pack a whole tent. You can set up camp anywhere you want while still keeping cool, deterring insects and staying safe suspended above the ground.
But if you want to enjoy them for seasons to come, you'll need the best quality and the right style for you. Dutchware offers many different options, from hammocks with mosquito nets to hanging chairs to customizable designs.
If you want a quality outdoor hammock, we've got you covered. Discover and compare our different styles to find the right fit for you.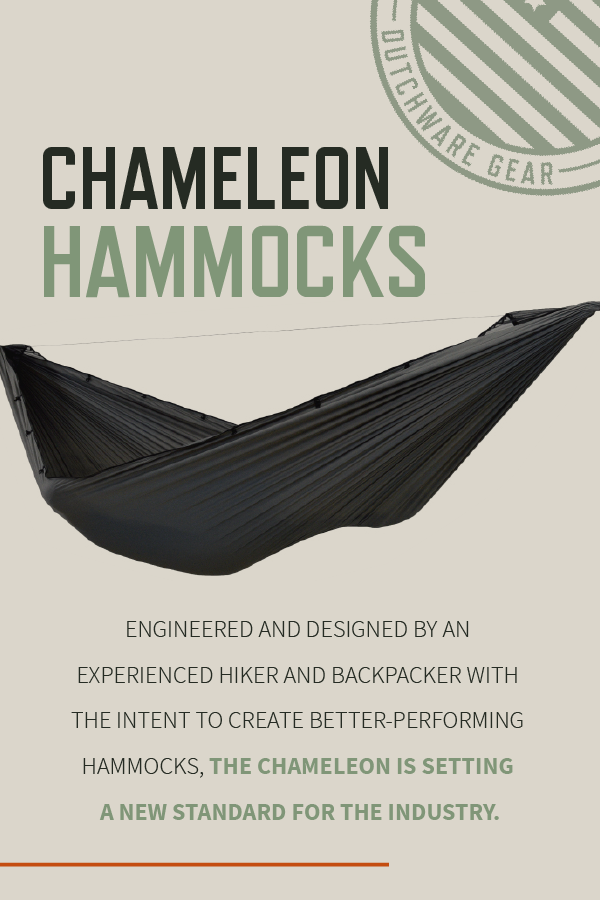 Chameleon Hammocks
Engineered and designed by an experienced hiker and backpacker with the intent to create better-performing hammocks, the Chameleon is setting a new standard for the industry. It's both lightweight and strong and can be used for lounging or camping, making it the perfect choice for a beginner or backpacker on the move in any climate condition.
This model is versatile — it can be used as a simple one-piece unit or upgraded with added attachments, such as slings, shelves and pockets for supplies you need to keep close. You can add holders for small items, like keys and a water bottle, or storage for gear and extra layers. It is also available with whoopie hooks or beetle buckles for suspension rigs.

In addition to smaller attachments, you can also modify the Chameleon for different temperatures, weather conditions and environments. 
Warm temperature and no bugs? Simply use the hammock in 'netless mode'. When you have to ward off nasty bugs, zip on the bugnet attachment. Brave cool climates and damp conditions with the top cover attachment. This hammock style is compatible with every additional element you may need, so you can prepare for the worst right away or purchase pieces as you travel to new terrain.

Weight Capacity & Fabrics
The most important thing to consider when buying a model is weight capacity, especially if you plan on storing gear in the hammock with you. Hammock body fabrics have differing ratings so you can find the best material to suit your needs.
Keep in mind, a two layer hammock will add more strength to the fabric rating.
The Chameleon models are available for order with one of several fabric options, including:
Hexon 1.0:

This is our lightest weight fabric with a super soft feel, and it offers a 200-pound rating.

Hexon 1.2:

A soft feel like Hexon 1.0 with added strength and durability. This fabric has a 275 pound rating.

Hexon 1.6:

Featuring a stronger weave, this material has a 350-pound rating and is suitable for most campers.

Hexon Wide 1.6:

A wider version of the standard Hexon 1.6, with the same 350-pound rating. We recommend our

Wide Chameleon

for those over 6'1"
It's always safer to opt for a higher weight rating, especially as you may run into situations where you need to keep gear under cover.
As far as height goes, there isn't much deviation from the standard 11-foot model, which provides most people with a comfortable amount of space. However, wide models offer an extra foot of room and are great for anyone who is over 6'1″ tall and/or 250 pounds.
If you're looking for a hammock that's packable, versatile and comfortable, the Chameleon will suit all your needs and maybe even convince you to spend more nights under the stars.
Netless Hammocks
For a more casual experience, netless hammocks are a great choice. Whether you use them for camping out for the night, relaxing mid-hike or just taking a sunny nap, it's a classic style with a lot of versatility.
Lightweight and smaller to pack down than the netted variety, you can use netless models as is or modify them with additional accessories. Bring as little or as much as you need and leave more room in your backpack for the essentials — like those extra granola bars.
Standard
11-foot netless models
are available for order as a single layer or two layer hammock. The two layer version allows for better wind protection, a higher weight rating and an opening to insert sleeping pads between the two fabrics.
The hammock body is available with Beetle Buckle Suspension buckles, Whoopie Hooks Suspension, or choose the 'no suspension' option if you'd like to custom build your own hammock suspension.
You can also order it with the dual Knotty Mod — shock cord drawstrings installed in either side to cinch up extra fabric for a snug hammock and footbox — and with a fixed or adjustable structural ridgeline.
11ft Netless hammocks are available in five different fabric options – Cloud 71, Cloud 1.4, Hexon 1.0, Hexon 1.2, and Hexon 1.6. While these materials have weight ratings varying from 200 to more than 350 pounds, you may choose to strengthen them with a two layer hammock. The new weight capacity will be about 50% stronger. For example, the Hexon 1.6 is rated for 350 pounds while the Two Layer Hexon 1.6 is rated for 525.
It's an innovative and practical design that will suit the needs of any casual camper or relaxer. Our netless hammocks allow you to bring comfortable sleep with you wherever you go, without needing any extra accessories or taking up unnecessary space.
The 11ft Netless Wide hammock is great for those over 6'1″ and/or 250 pounds. The 12 Footer hammock is perfect for lounging or for those who are over 6'6″ tall.

Netted Hammocks
Looking to take your expedition into buggy areas? Mosquitoes and gnats can be a terrible nuisance — and even a health risk — for any backpacker or camper. They interrupt sleep and can expose you to illness or infection, which is a less than desirable state to be in, especially while out in the woods.
Luckily, there are several hammock options with built-in bug nets to deter flying insects. Models with the netting already attached are lighter weight and easier to pack than a hammock with a separate piece. Also, you'll never accidentally leave your bug net behind — anyone who has before knows how big of a loss that is.

Dutchware provides two distinct hammock styles with attached netting:
1. Half-Zipped
For full protection, a bug net spans the entire top of this hammock style, completely covering it. The net is sewn to one long side and attached to the other by a zipper that runs the full length of the hammock, making getting in and out easy. You can also unzip the entire side, roll the bug net to the sewn side and clip it in place with toggles to go netless.
Along with the netting, the model also comes with multiple tieout points to prevent the bug net from sagging, packhooks to attach a quilt for insulation and D-rings for other accessories and storage pockets. If you like the functionality but don't need the netting, you may also order the Half-Zipped style with a vented top cover rather than the bug net, in whatever color you'd like. The top cover provides privacy and wind protection in cool weather.
2. Half-Wit
As the name suggests, this style comes with a bug net attached to the top half of the hammock, meant to protect your head and upper body from insect attacks. More lightweight and packable than any netted or two-piece alternative and available with whoopie hook suspension, this is the ultimate hammock choice for ultralight backpacking.
The bug net is sewn to either side of the hammock body and drapes down from the ridgeline, which creates a seal with your underquilt or blanket. It's adjustable to make the netting looser or tighter to the ridgeline. This style also includes the dual Knotty Mod to reduce slack in the sides of the hammock and create a comfortable footbox on either side.
Hammock netting is an absolute necessity for camping during seasons or in areas where bugs are prevalent. Styles that include attached hammock bug nets are the lightest and most convenient solution, allowing you to avoid annoying bites and sleep or relax in comfort.

Netless Hammock Chair
Enjoy the best of the netless hammock combined with the casual lounging that 2T's Hanging Hammock Chairs provide with the Netless Hammock Chair. Sit back and relax or store additional gear in the lightweight Netless Hammock Chair.
You can use it as a chair to relax in a more upright position or as an additional gear sling to hold your backpack and other gear. String the back up high to sit in an upright position with your feet on the ground, or kick your feet up and rest them on the suspension to recline in the hammock.
The Netless Hammock Chair's length is a little over 5 feet, and it comes with its own pocket to eliminate the need for a stuff sack. Its sewn end channels pair well with almost any hammock suspension system, so it'll be compatible with whichever suspension system you prefer.
2T's Hanging Hammock Chairs
If you're not necessarily looking for overnight accommodations or want a casual lounging area in addition to a full hammock rig or tent, the 2T's hammock chair model might be the perfect option for you.
Angled so you can sit up and enjoy a beautiful view or fun event, the 2T's is high-quality and super portable. The whole rig packs down to about pocket size so you can bring it along anywhere without wasting space or creating a hassle. Despite its compact size, this chair has a weight rating of 225 pounds. It's perfectly suitable for relaxing or taking a quick midday nap.
The 2T's doesn't just stop at being a comfortable chair, either. It has a broad range of uses for backpackers, making it the swiss-army knife of hammocks. These secondary uses include:
Pack cover:

In rainy conditions, the 2T's works perfectly as a pack cover, one of the most frequent secondary uses for the chair. Drawstrings around the outer edge allow you to fit the fabric snugly around you or your backpack, keeping everything completely dry.

Gear hammock:

If you bring a full hammock rig with you for camping, you may not want to — or be able to — keep your gear inside with you. Packing the space-saving 2T's will allow you to have a hammock just for your gear to keep it protected, off the ground and dry in the event of rain.

Mini tarp:

Need to cover your hammock but forgot to bring a tarp? The 2T's can work as a mini version, helping you keep dry and warm in wet conditions.

Water or wash bin:

The fabric works perfectly to keep water off of you and your gear, but it also works in the opposite way — it collects and holds water for later use. If you need to gather or use water in a pinch, the 2T's works great as a basin.

Other practical uses:

Past these purposes, the 2T's can also serve as an undercover, hammock bench, bushcraft chair and a ground cloth.
With such versatility and by only taking up a pocket-sized amount of space, 2T's outdoor hammock chair may upgrade from being your luxury item to becoming your new favorite camping essential that you can't leave home without.

When you've decided on a hammock model that suits your lifestyle, you can choose to make it your own with customization options. No more mixing up your gear with your friends', and no more having to choose between the same standard colors. Show off your sense of style with a custom printed hammock.
Choose one of our patterns or send us an email with your original design or color preferences to personalize all of your gear. The hammock bodies, tarps, covers and all accessories are fully customizable, and you can order printed fabric material for DIY projects as well.
The software is relatively straightforward, simple to use and accessible from our website. Once you choose a product you'd like to customize, or you're in our online fabric studio, you'll need to:
Choose a design: You can choose a unique image file from your own collection or find one online, as long as you have permission to use the picture. Choose a fun image that's personal to your style or use a company logo. The possibilities are endless, and you can be as creative as you want.
Send us your pattern: Once you choose an image, send it to us in an email.
Choose product specs: In your email, include your preferred fabric type you want us to use for your hammock and specify how many linear yards of the fabric you'd like.
When you've finished personalizing, you can submit your order, add the product to your cart and continue shopping for more or check out.
Dutchware supplies the fabric materials, manufactures the gear and prints the designs in-house, meaning we can offer our custom camping hammocks and other gear at a lower price. You'll have access to high-quality, customized products and still be able to save money.

Shop Dutchware for Quality Outdoor Camping Hammocks
Dutchware is proud to manufacture high-quality, U.S.-made products to fit your camping, backpacking and relaxing needs.
Located in Lancaster, PA., our hammocks are designed by an experienced hiker and manufactured by skilled craftspeople, so you can rest assured you're getting an innovative and well-made product. We're also committed to using recycled materials and packaging whenever possible to create less strain on the environment.
At Dutchware, we guarantee your satisfaction and no manufacturer defects, so you can return any unused product without hassle if it isn't quite what you wanted. If it is, we've got everything you need to finish packing for your hammock camping expedition.
Check out our variety of customizable camping hammocks for your next hike or contact us for more information.
Read These Related Articles
Sign up for news & events