Double Camping Hammocks vs. Two-Person Camping Hammocks
While hammock camping is a lot of fun on your own, it's even better when you bring your favorite person with you. With a little preparation and the right supplies, you can create your own two-person hammock setup, complete with protection from the rain, cold, and bugs.
There are hammocks for every type of camper. To find the right one for you, you need to first understand the difference between popular options. "Double hammocks" and "two-person hammocks" are often used interchangeably, but they serve very different purposes.
Learn which one is right for you and tips for camping with a partner.
What Is a Double Hammock?
Despite their name, double hammocks aren't designed with two-person camping in mind. In fact, what most people consider a double hammock isn't actually suitable for hammock camping at all. Double hammocks are spacious hammocks supported entirely by a spreader bar or on a hammock stand. You'll usually see these hammocks in backyards or on patios.
They are designed more for relaxation and not for sleeping, with minimal sag and thick, supportive fabric. The best double hammock supports your weight with enough space to lounge in the sun.
Think of a double hammock like a double mattress — while you could technically fit two people, it's not always the most comfortable option because you would be rolling into each other. Instead, double hammocks were designed to give a single sleeper more space to move around or stretch out. They're also a good option for relaxing with a pet curled beside you.
What Is a Two-Person Hammock?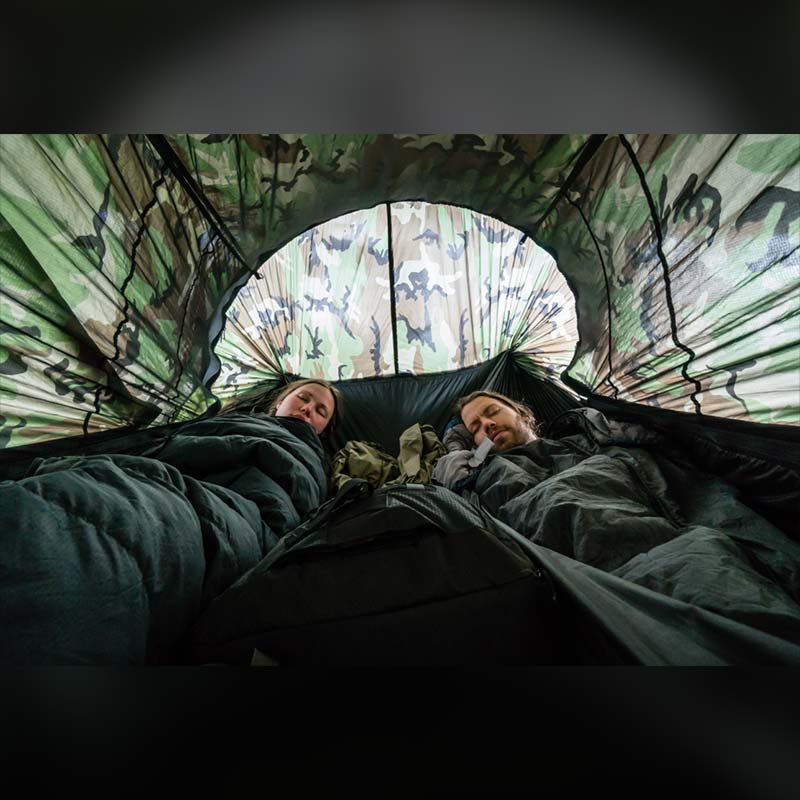 Two-person camping hammocks are explicitly designed with camping and comfort in mind. They are two separate hammock units connected to one another via hardware or a connecting kit. Each sleeper has its own space to move and adjust as needed while still sleeping side-by-side. You can even create a two-person hammock tent by adding accessories like a tarp and bugnet.
Two-person hammocks are like standard camping hammocks — you can string them between two trees or other stable structures. In some setups, you might still purchase a spreader bar to keep them stabled and adequately spaced from one another.
The Benefits of Two-Person Hammocks
Two-person hammocks let you sleep close to your partner, child, or friend for added comfort and safety. In addition to convenient proximity, they're also beneficial because:
You can customize your insulation level: Some campers might get hot quickly, while others prefer to be as warm and bundled as possible. With a two-person setup, each person can customize their level of insulation and how many blankets they want to have with them.
You can move around freely: Two-person hammocks mean each person can move freely — including entering and exiting the hammock — throughout the night without disturbing their partner.
Weight distributes evenly: Part of successful hammock camping is knowing to lay diagonally and distributing your weight evenly from end to end. Two-person hammocks distribute weight evenly, making it easier to camp with two different-sized people.
Check out Dutchware's 2 Person Camping Hammocks
Two-Person Hammocks FAQs
Are you planning a two-person hammock trip? Here's what you need to know about two-person hammocks based on commonly asked questions.
1. Are Two-Person Hammocks Comfortable?
Two-person hammocks are as comfortable as any single hammock, as long as you choose high-quality units made from durable materials and you hang them correctly. You can make your hammocks even more comfortable by adding more insulation or hanging a bugnet around the two of you.
2. How Do You Hang a Two-Person Hammock?
How you hang a two-person hammock depends on your layout. You have two options:
Side by side: The side-by-side layout is the most common because it's easy to put together. This setup is where you and your partner string your hammocks directly beside each other — with one on the left and one on the right — typically with a spreader pole to keep them from touching or rolling into one another.
Bunk style: Bunk style layouts are where one person's hammock is on the bottom while the second person's hammock is strung above it, like bunk beds. This option is ideal if you're working with tight space constraints or have other environmental obstacles to contend with. Just be sure to hang the top hammock low enough that the camper can easily enter and exit, but not so low that the person underneath doesn't have any headroom.
Once you've chosen your layout, simply find the perfect spot between two adequately spaced trees, attach your tree straps and suspension system, and hang your hammocks. Alternatively, you can use stakes and a waterproof ground cloth to set up your camping hammock if no trees are around.
3. How Do You Sleep in a Two-Person Hammock?
You sleep in a two-person hammock the same way you sleep in a single hammock — lying diagonally. For best results, keep your sag at a 30-degree angle or higher, and add extra pillows or a sleeping pad for more comfort. Install a drip line on the tarp over your hammock to divert water if it's raining or snowing.
Shop Two-Person Hammocks From DutchWare
You can find two-person hammocks, hardware, and accessories from hammock suppliers and outdoor stores, including DutchWare. All DutchWare products are designed with lightweight, durable hammock camping in mind, including:
DutchWare has what you need for your outdoor hammock camping adventure. Shop our selection of two-person hammocks, accessories, hardware, and camping supplies today!
Check Out These Related Articles
Sign up for news & events