Best Hammock Tarp
A hammock tarp, also known as a rain fly or rain tarp, provides waterproof shelter over a hammock in inclement weather. Camping with a hammock and hammock tarp is a great way to experience nature because it offers protection from the elements while allowing you to enjoy the fresh air and peaceful sounds of the great outdoors.
The right hammock tarp can keep you dry and warm while enjoying your hammock and sleeping under the stars. Hammock tarps are waterproof and durable, but many are also light enough to carry while backpacking.
Hammock tarps come in various shapes, sizes, and materials. It's important to choose a hammock tarp based on your unique hiking and camping plans.
How to Choose the Best Hammock Rain Fly
The best hammock tarp for you depends on your preferred rain protection, required wind coverage, and weight.


Be sure to check the weather before you hike to determine how much weather protection you'll need for a specific hike. Some hammock tarps provide coverage overhead and on all sides to protect from the wind and rain, while others provide simple overhead coverage to protect from rainfall.
Understanding the kind of performance you need from your rain fly will help you decide on the best one.
Different Types of Hammock Tarps and Shapes
Your ideal tarp shape depends on how much coverage you'll need based on when and where you plan to camp. Some are perfect for cold winter weather because they surround your hammock with shelter that can provide warmth. Others are great for summer hiking and camping because they're lightweight and provide just enough shelter for light rain showers.
If you plan to camp on clear days in the spring or summer, you'll only need a basic amount of coverage from light wind and rain showers. However, if you plan to hike and camp in the fall or winter, you'll most likely face chilly to frigid temperatures and heavy rain or snowfall. In these instances, you'll need more coverage to keep you warm and dry as you enjoy nature.
As you plan your upcoming hiking and camping adventures, consider the following tarp shapes:
1. Asymmetrical Tarps
An asymmetrical tarp is an ultralight hammock rain fly, and it provides enough overhead coverage to protect from rainfall. To utilize this type of tarp, you must sleep in your hammock diagonally and in line with the tarp's angle for full overhead coverage.
Asymmetrical tarps are typically the most affordable and common tarp type. They're lightweight, which makes them easy to carry and set up. They work well for solo camping trips and are ideal for clear days since they offer less coverage than other tarps.
Consider an asymmetrical backpacking hammock tarp if you're new to hammock camping or plan to camp in fair weather conditions.
2. Square Tarps
Square tarps, also known as diamond tarps, provide more side coverage than asymmetrical tarps, and they're lightweight. Square tarps are ideal for summer use. While they provide less coverage than other tarps, they allow for more airflow on hot days so you can enjoy nice summer breezes. During mild weather, a square tarp is a great tent rain fly for hammock camping.
3. Rectangle Tarps
Rectangle tarps are larger and heavier than square tarps, and they provide more coverage. They take some extra time to set up and allow for less ventilation, but they provide both overhead and side coverage. They're also longer than square and asymmetrical tarps, providing more coverage on either end of your hammock.
4. Four-Season Tarps
Four-season hammock tarps provide full coverage from inclement weather and wind. They're ideal for winter camping because of their weight and additional material. Four-season tarps are the heaviest type of tarps. They require a little more time and effort to set up, but they provide shelter from snow, rain, cold temperatures, and blustery winds.
Four-season tarps include extra material on the ends, which you can close and use as storm doors. When a four-season tarp is closed, it becomes a hanging tent that retains your body warmth and keeps cold air outside. Keeping warm while camping in the winter is crucial — with a four-season tarp, you can sleep comfortably and stay warm even when it's freezing outside.
5. Hexagonal Tarps
Hexagonal tarps are lighter than other hammock tarps, and they have six sides. The polyester sil fabric is lightweight, durable, and provides very little stretch.
Hexagonal tarps are ideal for spring, summer, and fall camping because of their versatility. They require a little more effort to set up than square tarps, but they offer more coverage.
6. Wide Tarps
Wide tarps come in many of the above shapes, and they provide additional coverage. A wide tarp can keep you and your belongings dry in inclement weather and provide extra space. Wide two-person tarps are great if you plan to hike and camp with a friend or family member.
Different Hammock Tarp Materials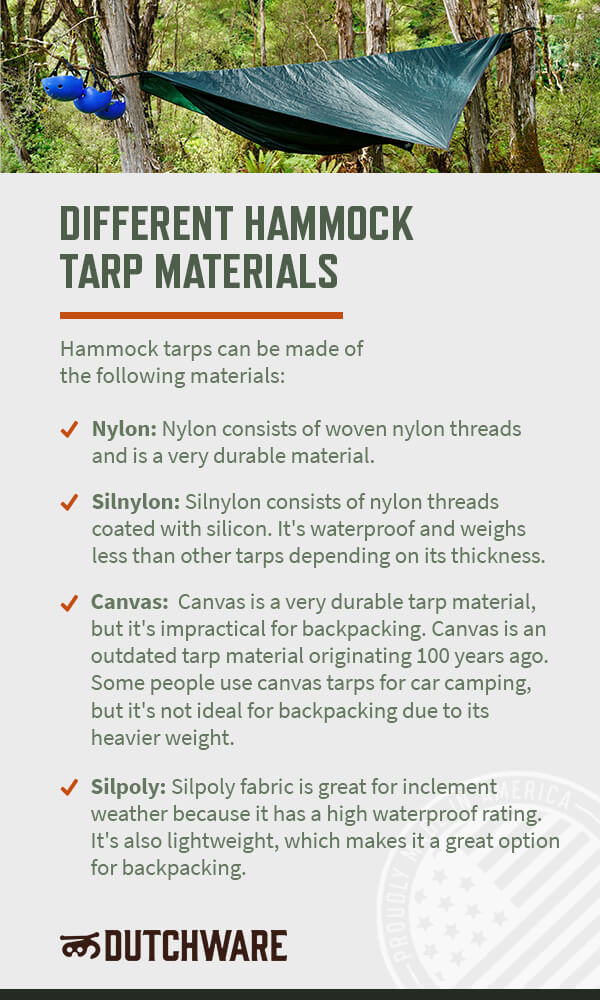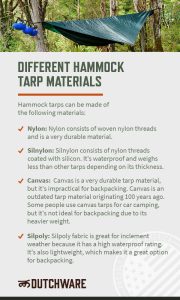 Hammock tarps differ in weight and protection based on their materials. Some rain fly tarps are more durable than others, while other rain fly tarps are more waterproof or easier to carry.
Lightweight tarps are easy to carry because they're small and take up minimal space when packing. They're ideal for days when the weather forecast predicts clear, sunny skies with little to no chance of inclement weather. An ultralight hammock tarp is perfect for clear summer days.
If you plan to camp in colder or inclement weather, you should opt for larger and heavier tarps for more durability and coverage. These tarps add a little more weight to your pack and require some additional effort setting them up, but they'll keep you warm and dry in the elements.
Hammock tarps can be made of the following materials:
The type of tarp material that's best for you will depend on when you plan to camp, how often you camp, how much weight you want to carry, and your budget.
What Size Tarp Do I Need For My Hammock?
Tarps come in various sizes. Your hammock tarp should be at least 6 inches longer than your hammock on each end, which is enough coverage to keep you dry in light rain. However, in cold weather, snow, or heavy rain, you'll have more coverage and protection with larger tarps.
How to Choose Tarp Ridgelines for Tarp and Hammock Camping
Tarp ridgelines are cords or ropes that hold tarps in place and suspend them over hammocks. Tarp ridgelines allow you to hang a tarp across long distances when you don't have a favorable tree distance for your hammock and tarp.
A continuous ridgeline consists of a long cord to attach between two trees and a pair of knots attached to your tarp that allow you to slide the tarp along the cord. A continuous ridgeline is easy to set up and allows you to quickly slide your tarp over your hammock to keep it dry in inclement weather.
With a continuous ridgeline, you can secure the line and adjust and center the tarp as needed. Continuous ridgelines provide more structure than separated lines and allow you to suspend the tarp below the ridgeline with soft shackles.
A separated ridgeline consists of two separate lines that attach the tarp ends to the trees using hardware such as hooks and line locks. It's typically easier to readjust compared to a continuous ridgeline because it uses hardware rather than knots and won't become tangled.


To make your ridgeline setup process easier, consider the following hardware:
How to Choose Guy Lines
A guy line, also known as a tie-out, is a string or cord that secures a hammock tarp to the ground using anchor points. Guy lines provide structure, stability, space, and ventilation. Without guy lines, the sides of the hammock tarp would simply hang straight down over the hammock more like a blanket than a shelter.
Guy lines come in the following materials:
Tie-outs pull tarp corners out and secure them in place to create a structured shelter with adequate space and minimal to no tarp sagging. They allow for better air circulation and condensation prevention if you're using multiple layers because the tie-outs will keep the layers separate. Additionally, they'll help to keep your hammock tarp stable in high winds and inclement weather.
Metal tie-outs are devices that allow you to secure tarp attachment points to the ground without tying knots. These tie-outs can be much more convenient than standard tie-outs.
The following tie-outs can make securing your tarp easy even in the dark or inclement weather:

Purchase Quality Hammock Tarps From DutchWare
Tarp and hammock camping is a fun, adventurous way to experience the wilderness. The best hammock rain fly for you largely depends on when and where you plan to camp. During cold and snowy seasons, you want to choose the best winter hammock tarp, but in milder seasons, you'll want to go with the best lightweight hammock tarp.
Take a summer hike and sleep comfortably under a lightweight, asymmetrical tarp or embark on a winter adventure and stay warm under a durable winter tarp. DutchWare carries a wide variety of hammock tarps to provide shelter on all of your outdoor excursions. Purchase a durable hammock tarp from DutchWare to take on your next outdoor adventure.
Read These Hammock and Tarp Setup Related Articles
Sign up for news & events