You love the outdoors. The smell of fresh air, the gorgeous views, the excitement of those first few steps on a new adventure — any time when you're surrounded by the serene sounds of nature is time well spent. Our team of designers enjoys outdoor adventures as much as you do and our years of hiking, camping and exploring have shown us just how far you can travel when you have the best gear to back you up. One piece of must-have gear is a hammock.
For many campers, hikers and adventurers, a hammock is the one piece of equipment that delivers unparalleled relaxation. Nothing beats stringing up a hammock overlooking a view that can only be earned on foot. Instead of sleeping on rough or cold ground, a hammock can provide an enjoyable and comfortable night of sleep during even the most grueling of journeys. Whether you're hiking through a dense hillside forest or making camp along the riverside, a hammock is versatile and upgrades any journey.
Of course, you're not just bringing any kind of equipment out on your adventure. Everything in your pack needs to be as durable and resilient as you are. Your backpack needs to endure the long haul. Your sleeping bag needs to protect you in any environment. Your hammock needs to offer quality, reliability and comfort. Experienced hikers know what they want and need — and they shouldn't have to make compromises on the quality of their gear.
Why Fabric Choice Matters
As you prepare your gear for your next trip, take a moment to consider how you'll want and need this equipment to perform out in the field. Think about the qualities you look for in everything from your footwear and jackets to backpacks and tents. No matter if you're enjoying a weekend in a nature preserve close to home or venturing out to explore a national park for a week, every item in your pack needs to be reliable, comfortable and durable enough to handle any adventure.
DutchWare knows that high-quality equipment can keep a great trip from turning into an inconvenient and uncomfortable journey. Whether you're upgrading your current gear or DIYing your own hammock, tarp or sleeping bag, we want to help you make your adventure as perfect as possible. We know that the different weights, levels of durability and versatility of each material has a significant impact on its performance in the field. You need a fabric that caters to your outdoor lifestyle, not a one-size-fits-all solution.
Our hammock fabrics are available in a wide variety of options suited for the needs of outdoor enthusiasts on every level. DutchWare's team of designers have developed high-quality fabrics for everything from hammocks, clothing, quilts and sleeping bags to tarps, tents and bivys. We're here to help you learn about the unique benefits of breathable, waterproof, mesh and downproof fabrics and how each type will impact your hammock experience.
Breathable Fabrics
How important is your comfort while you're enjoying the outdoors? At DutchWare, we believe that comfort is a priority for every hiking and camping trip. From the moment you set out your hammock until the moment you pack it up and head home, you need a reliable fabric that will keep you comfortable. Our breathable hammock fabrics are strong enough to support your needs yet woven to maximize airflow for supreme comfort.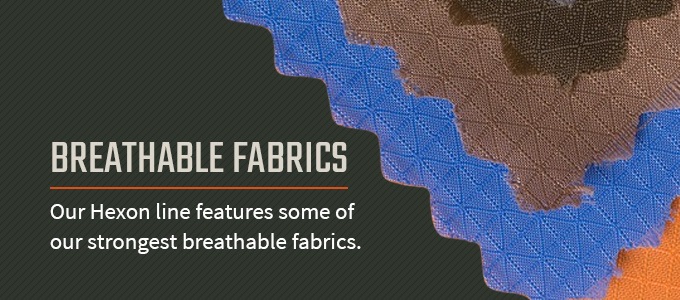 Comfort is key for every outdoor journey. Whether you're DIYing your hammock or making modifications to your sleeping bag, breathable fabrics are exceptional materials you can use. These lightweight fabrics prevent moisture from building up and causing discomfort. DutchWare breathable outdoor fabrics for hammocks, clothing, sleeping bags and tents are designed to keep you comfortable even as you trek through high heat, muddy trails and sudden rainstorms.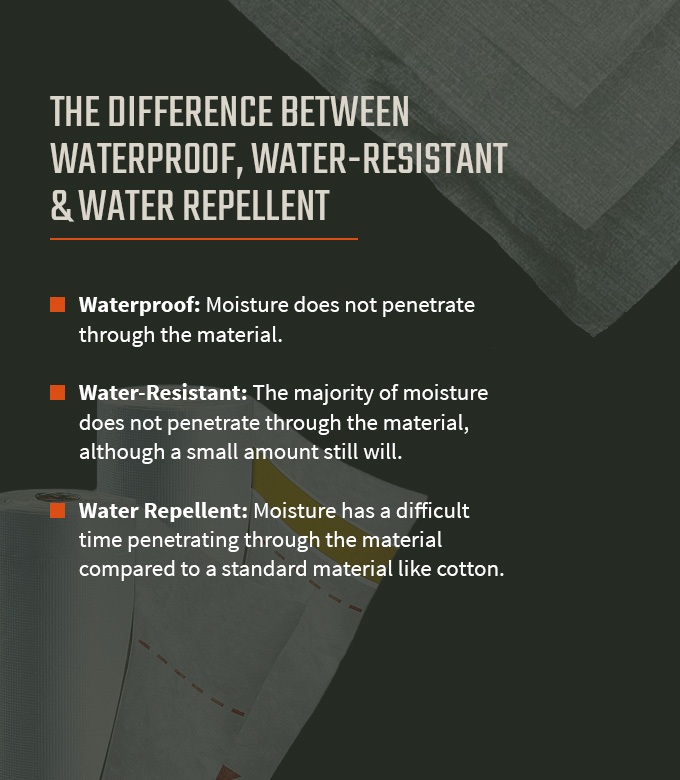 Waterproof Fabrics
Nothing beats a beautiful day outside, but every outdoor enthusiast knows that the weather isn't always favorable. Instead of letting a little wind and rain stop you from enjoying your adventure, you can outfit your clothes, backpacks, tents and more with waterproof fabrics. These materials are designed to stand up to everything from a light mist to a torrential downpour to heavy snow. However, it's important to understand the difference between waterproof, water-resistant and water repellent products.
Waterproof: Moisture does not penetrate through the material.
Water-Resistant: The majority of moisture does not penetrate through the material, although a small amount still will.
Water Repellent: Moisture has a difficult time penetrating through the material compared to a standard material like cotton. However, this does not prevent water from penetrating the material.
When you design your gear, you want to make sure you use waterproof fabrics. Even a small amount of water — for instance, getting caught in a downpour for a few minutes before you can find shelter — can be enough to damage or ruin essential pieces of your gear. Wearing water-soaked clothing can cause you to get sick. Tents and backpacks can also develop mold if they aren't dried properly after becoming waterlogged. Waterproof fabrics keep you and your equipment warm, safe and dry.
It's also important to understand that waterproof fabrics are all different as well. Some fabrics are very lightweight and are ideal for clothing. Other fabrics are abrasion-resistant, which provides extra durability for items like bags or tents. You may choose to use one waterproof fabric for your shelter and select a different one for your clothing based on these unique features and benefits. DutchWare carries a variety of waterproof fabrics perfect for outdoor use in nearly any climate.
Abrasion Resistance: Choose the Robic 210D Extreema for a thin, flexible fabric that is abrasion resistant.
Reinforced Reliability: The 300D Pack Material is one of our strongest water-resistant fabrics. Coated on the back with Polyurethane, it is made with a 300-denier polyester diamond weave material that provides the durability you need when reinforcing your backpack or tarp.
The X-Factor in Your Gear: X-Pac waterproof fabrics come in multiple variants, including the VX25, VX03 and VX07. All three feature a waterproof PSI of at least 200 and DWR finish. These heavy-duty fabrics are designed to resist tearing and keep water out.
The Ultimate Upgrade: The Robic 210D Extreema Pack Material is stronger and more durable than normal nylon. This waterproof fabric can take a beating and still not tear, making it the ultimate upgrade for your backpack.
Dyneema® Durability: Choose any of the Dyneema® Composite Fabrics for a tough, waterproof material that is lightweight and soft on the skin. We offer six different weights of the Dyneema® Composite fabric, from 0.51-ounce fabric perfect for gloves, tarps and stuff sacks to 2.92-ounce fabric made for heavy-duty bags. All Dyneema® Composite fabrics are 54 inches wide and sold in 1/2 yard increments.
No-Breathe Nylon: Our Sil Nylon waterproof fabric is made of ultralight ripstop nylon and features a siliconized coating. This non-breathable fabric will prevent even the smallest amount of moisture from seeping through your gear.
Performance Under Pressure: Our Xenon line of waterproof fabrics are made from lightweight polyester and will stand up to heavy rainfall. The Xenon Sil .9 and Xenon Sil 1.1 both have at least 1500mm head pressure. This new fabric is made from lightweight polyester and is also available in a wider size. The Xenon Sil 5300 will endure any storm you're brave enough to face with its 5300mm head pressure rating.
Trust in Tyvek: When a material is used to protect the infrastructure of buildings from water during construction, you know that you can trust it to take care of you and your gear. Tyvek fabric is waterproof and lightweight, giving you reliability in an easy-to-carry roll.
Don't let moisture, rain or water ruin your time or your gear. Whether you're DIYing a tarp or adding extra waterproof reinforcement for your backpack, select a reliable waterproof fabric made from polyester, coated nylon or Dyneema®. These materials can be lightweight, durable additions to your gear that will ensure you stay safe and comfortable on your next trip.
Calendared/Downproof Fabrics
You have a lot of great fabric options for designing or improving your gear. Waterproof and breathable fabrics both offer unique features that can keep you cool, comfortable and clean for years. These benefits are handy, but some active backpackers and campers may want to make their gear as useful as possible. If you're interested in upgrading your standard equipment so that these items are perfectly personalized to your needs, our team suggests that you consider integrating calendared and downproof fabric into your design.
It's likely that you already use other items that feature downproof fabric such as down comforters and pillows used on your bed. These fabrics contain the down or feathers that fill these items, preventing them from coming out through the fabric. You may choose to use down and downproof fabrics on your sleeping bag, for instance, to achieve the same lightweight warmth that you receive from your down comforter. One benefit of downproof fabrics is that they are also calendared.
Downproof fabrics are calendared, although not all calendared fabrics are also downproof. You can also choose a breathable or waterproof fabric that is downproof or calendared. A breathable fabric that is downproof is a lightweight option that is soft to the touch. A waterproof fabric that is calendared provides an additional layer of waterproofing to keep you and your gear warm and dry. DutchWare carries downproof and calendared fabrics that are also waterproof or breathable.
DutchWare fabrics that are downproof/calendared and breathable:
ARGON 67
ARGON 90
Dobby 1.9
Ion
Dyneema® Composite fabrics that are laminated together to create a downproof and waterproof seal:
CT1E.08 (0.51 oz.)
CT1E.08/C21K.18 (0.67 oz.)
CT2E.08 (0.8 oz.)
CT2K.18 (1.0 oz.)
CT3.5K.18 (1.3 oz.)
CT5K.18/WOV (2.92 oz.)
If your gear has down inside or needs some extra waterproofing, consider downproof and calendared fabrics. Downproof fabrics are made especially for use in quilts and sleeping bags that contain down. Calendaring adds a little extra waterproofness to a fabric. Downproof and calendared fabrics possess features that will benefit you on your travels, especially journeys that are likely to include significant changes in weather and temperature.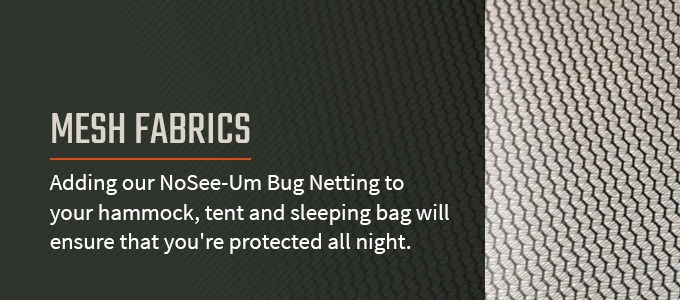 Mesh Fabrics
Along with our breathable, waterproof, calendared and downproof fabrics, DutchWare also provides mesh fabric and netting to completely cover your outdoor needs. From the trail to the campsite and everywhere in between, you'll need protection from bothersome insects. Our three bug netting fabrics provide the best defense against anything that may bite and sting you during your trip. Adding our NoSee-Um Bug Netting to your hammock, tent and sleeping bag will ensure that you're protected all night.
Mesh padding is another useful resource that can be used for different applications. This polyester material is breathable, wicking moisture away throughout your trip. Ideal for shoulder straps, spacer mesh is soft on the skin and barely noticeable.
DutchWare offers four types of mesh fabric:
One of the biggest challenges to relaxing and camping outdoors is contending with the thousands of insects that will always cross your path. The allure of sleeping under the stars in a hammock or sleeping bag can be instantly eliminated when you think about the itching and swatting that comes with open-air relaxation. Thankfully, adding bug netting to or around your hammock is an effective way to keep these pests out and keep you comfortable.
Quality Fabrics for All Your Gear From DutchWare
Your options to customize your trail gear are virtually limitless, especially when it comes to high-quality outdoor fabric. DutchWare is ready to help you create your own gear or improve your current equipment with our reliable fabrics. All of our fabrics are available in a variety of styles, colors and patterns, letting you completely personalize your gear to your specs and style. Contact us today and let us know how we can help you select the right fabric for your hammock, sleeping bag or other outdoor equipment.
Related Articles
Sign up for news & events