The beauty of camping is experimenting with the type of camping and finding out what kind of camper you are. The two main types of camping that you can test out are hammock camping and tent camping — both have unique benefits and advantages.
Comparing hammock camping versus ground camping can help you determine which option is best for you. Each option has unique perks that outdoor enthusiasts will appreciate, from the equipment you'll need to the comfort and protection you'll receive. DutchWare breaks down the pros and cons of hammock versus tent camping to help you find the best option.
Hammock Camping Pros and Cons
For many campers, hammock camping is the newer version of camping. The tent is a traditional camping symbol because many grew up sleeping in tents on their camping trips. Hammock camping has a lot to offer and is a fun way to enjoy time outside. The pros and cons of hammock camping can help you prepare for your next outdoor adventure.
Practicality
Hammocks are a practical purchase for camping, hiking, and other outdoor activities. When you're not camping, you can bring your hammock to the park, beach, or woods and hang out. It's practical for numerous applications, and you'll surely get optimal use out of your hammock if you love spending time outdoors. Aside from being practical, hammocks are also easy to pack and provide an excellent shelter and bed for your camping trip.
Before going camping in a hammock, something to consider is the learning curve for the setup process. You should know how to suspend your hammock with trees and other sturdy structures. Practicing hanging up your hammock in different areas ensures you're prepared to set it up in any location. You can visit potential camping sites to see the best places to set up your hammock before you head out on your adventure.
Protection and Warmth
You can protect yourself by using proper accessories that will keep you safe and warm during your camping trip.

Keep yourself warm by using an under quilt, which will protect you from convective heat loss. This type of heat loss describes losing heat from wind moving underneath the hammock. You should also use a warm top quilt to bundle up inside if you're camping during cooler months or if the temperature drops when the sun goes down. The top and under quilts will help you insulate yourself as the hammock can lose heat faster than a tent.
For inclement weather, hammock campers can use a waterproof tarp or a hammock tarp to sty dryer during rain and wind. Bug nets are also valuable to protect yourself from bug bites for a comfortable night's sleep.
Comfort and Sleeping
The main reason you should get a hammock for camping is comfort. Hammock tents are comfortable and make excellent sleeping arrangements for nearly every camper.
Sleeping in a suspended hammock means you'll be comfortable without laying on the cold ground, tree roots, rocks, and other uncomfortable items. You can find a camping location that's on an incline, covered in rocks, scattered with tree roots, or even covered in a blanket of snow and still have a comfortable place to sleep. It's easy to find a spot for your hammock when you have fewer factors to consider for the best camping spot.
The comfort and sleeping benefits of hammock camping are the top reason why people choose hammocks versus tents. A hammock's increased suspension is especially beneficial to campers who want to feel the breeze and experience a cooler night's sleep. They are great alone for summertime camping trips, and you can bundle up in your hammock during the winter.
Options
You can find companies that offer expansive quality hammock selections that you can browse through and find the perfect option for your endeavors. Even though there are more tent manufacturers and retailers, you can still find plenty of quality hammocks and hammock accessories to prepare for your next camping trip.
You want a reliable, comfortable hammock made with high-quality materials and attention to detail. Lightweight, transportable hammocks that you can fit in a backpack are the best options for your camping trip.
Some lightweight hammocks from DutchWare you can use include:
Size and Weight
It's important to be mindful when comparing hammock weight versus tent weight because of the variations of both products on the market. Both have various accessories and fabrics that can impact their weight and size.
Hammocks often use less fabric than tents, and they don't require heavy tent poles in your camping bag. The hammock weight and rating can range depending on fabrics, composition, and straps. You will need to make room for any accessories you need to bring, like tree straps, hammock tarps, under quilts, and more. The accessories can add to the weight and size of the hammock, but you can find lightweight options that will save as much space as possible in your camping bag.
Setup
The setup process of a hiking tent versus a hiking hammock is different. A hammock will have a steeper learning curve, but once you learn the steps, you can easily find new places to set up your hammock.
Some of the factors you'll need to learn for the setup process include:
The hang angle of the hammock that's best for comfortability and stability.
The size of the tree or pole for your hammock attachments.
The correct distance between trees.
How to set up the hammock tarp independently from the hammock.
The various knots used secure hammock or tree straps.
Once you practice setting up your hammock and learn helpful tips to make the setup process efficient, you'll be able to hang up your hammock fast and in nearly any spot, regardless of the ground.
Limitations
While there are numerous benefits of hammock camping, you may encounter some limitations:
Improper setup can damage trees.
You must locate trees that are the right distance apart to set up your hammock.
Some campgrounds, parks, and other sites restrict hammock use.
Other accessories and gear are necessary for staying warm.
Many popular hiking and camping locations will likely have multiple locations to set up your hammock. Still, it is helpful to know the limitations when planning your next camping trip.
Price
Be mindful when comparing the prices of hammock setups versus tent setups. There are different quality levels of both products. The cost of your hammock setup can vary depending on the quality and materials of your gear. It's important to find the right hammock camping equipment for your adventures and budget. You can find local U.S. companies that create high-quality hammocks to keep you hanging all night long. INvesting more in a quality, reliable hammock can help make your trip more comfortable. You can make a list to help you prioritize necessary items for your hammock camping setup.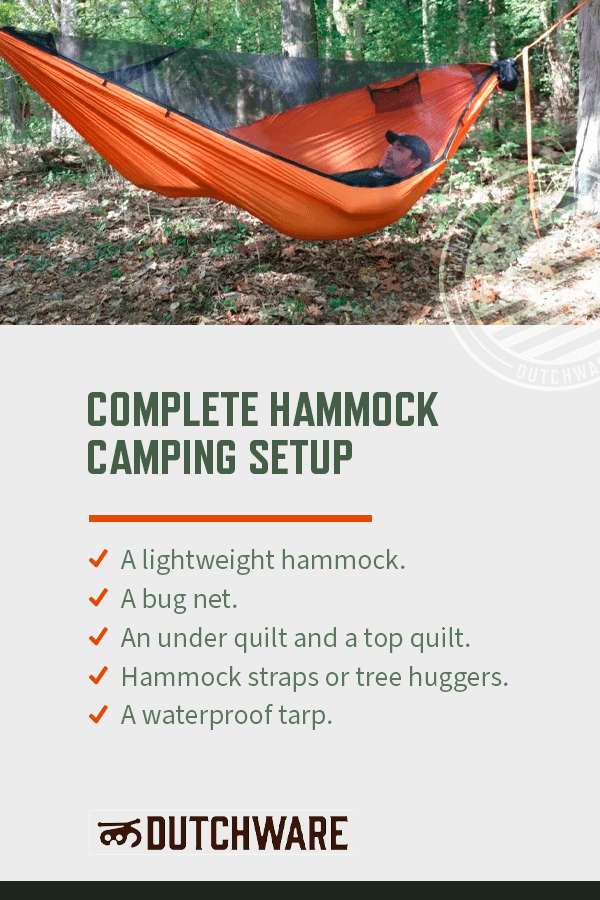 Your complete hammock camping setup will include:
A lightweight hammock.
A bug net.
An under quilt and a top quilt.
Hammock straps or tree huggers.
A waterproof tarp.
You can choose other accessories depending on the area you're camping in and other features you want with your setup. You should include all of these items when discussing the price of the hammock camping setup, not solely the hammock.
Tent Camping Pros and Cons
Tent camping is the most familiar camping style for outdoor lovers. The tent provides an excellent shelter for spending nights outside. You can count on a tent to do its job and keep you safe and dry during your camping trip. Evaluate the pros and cons of tents and see why some campers select a camping tent versus a hammock.
Practicality
It's relatively easy to learn how to use a tent. One of the benefits of tent camping is that many people are familiar with the setup process, and you can review instructions to put up a tent easily. If you're traveling to a campground, you can find a great spot for your tent that will be comfortable and secure throughout your camping trip.
If you're planning on setting up your tent out in the woods during a hiking camping trip, you may need to spend more time finding a safe location for your tent. Regardless of your camping plans, you'll be able to set up your tent and enjoy your time outside.
Protection and Warmth
You can find tents with quality materials and a great design to protect you from inclement weather. Tents typically have rainflys that will cover the tent and keep you dry during strong rainstorms.
Tents camping does protect you from convective heat loss, but you'll still need to consider conductive heat loss when preparing your camping gear. Since the tent is lying on the ground, you may experience heat loss from the cold ground, so you'll need to include a sleeping pad to stay warm on your camping trip.
Comfort and Sleeping
You can make your tent as comfortable as you'd like with additional gear and sleeping bags to ensure you get a good night's rest. A tent will keep the rain and insects out if you purchase one with the necessary features. Tents also act as a great storage space for many of your personal belongings — items like electronics and food will stay secure inside your tent.

Tents can be uncomfortable to sleep in if they rest on rocks, roots, or cold ground. You also may get wet from the damp ground without proper barriers. Being low to the ground also exposes you to insects and animals.
Options
The number of tent manufacturers and retailers is large, so you'll have practically zero issues finding a tent that will work for your camping trip. The number of tents is so abundant because they are a staple in the camping world. You can find plenty of variations featuring different fabrics, colors, person occupancy, and more.
Size and Weight
The tent weight and size vary depending on their quality. Size and weight are two essential factors when deciding between tent or hammock camping.
If you purchase a high-quality tent, they're likely going to be lightweight and perfect for hiking trips. Lower-quality tents tend to be bulkier and take up more room in your camping bag. If you're planning on going backpacking with a tent versus using a hammock, it's best to go with a great lightweight tent.
Setup
A benefit of using a tent is the setup process is typically easier to learn. If you're looking to set up your shelter in one place for the entire duration of your camping trip, tents can be a great option. Your tent will have the same setup process no matter where you choose to set it up.
Limitations
While tents are a common option for camping, there are several limitations you should consider before choosing a tent over a hammock. These limitations include:
You cannot set up a tent in areas with sensitive ecosystems or vegetation.
You might have an uncomfortable sleeping area on campsites with rocky, uneven, or sloped grounds.
Tents can take up more room in your bag if you use a cheaper tent and gear.
Price
The price of tents varies because of the number of products on the market. You can find cheaper options for limited use or high-quality tents with optimal features that have a higher price tag. It's important to decide on a budget for all of your camping gear when considering using a tent so you can find quality products to purchase as needed.
Shop for Hammocks from DutchWare
Find all of your hammock camping gear at DutchWare. We can help you prepare for your first hammock camping trip with our quality equipment and gear. Shop through our hammock suspension products, hammock accessories, and helpful camping gear before planning your next trip.
Read These Beginner Hammock Articles
Sign up for news & events