Taking time to chill and hang out in a hammock is one of the best ways to unwind. Whether you're relaxing at home, in a park or on a mountain trail, having a lightweight hammock is a must for people who enjoy the simplicity of unwinding in the trees. So long as you have the proper gear for your hammock, you're ready to set up and hang out.
It's important to have the best set of hammock straps or tree huggers to support your hammock. A hammock suspension system is what you'll use to hang your hammock from trees, posts and other appropriate and secure objects. There's a large selection of hammock straps to match your type of hammock, so whether you're a beginner or someone who's been hammocking for years, you can find something for your specific hammock and expertise.
Learn everything you need to know about hammock suspension straps by reading below!
What Type of Hammock Straps Do You Need?
All hammock straps differ in application, material capacity and other features that will help you determine which option is best for you and your adventure. Here are a few aspects you should consider when looking for hammock straps:
Strength: A set of hammock straps should be strong enough to hold the hammock's maximum weight capacity.
Weight: If you plan to take your hammock on hikes or other adventures, you'll want to make sure your hammock's straps don't add too much weight.
Length: Select from long straps or short straps for your hammock.
Durability: If you plan on using your hammock straps often, you'll want the hammock straps to withstand multiple uses.
Lightweight Hammock Straps
Traveling for an adventure means you'll need to pack light. If you're packing a hammock, you want to keep it as compact as possible. A helpful product to pack for a hike or camping adventure is a pair of lightweight hammock straps.
While they're conveniently lightweight, they still offer strength and can hold varying levels of weight depending on your hammock. While you're searching for lightweight hammock straps, look for brands that offer durability and the length you need for your hammocking needs.
Easy to Set Up Hammock Suspension Straps
If it's your first time owning a hammock and you want to ensure the setup process is doable, you're in luck. Most hammock straps are fairly simple to set up once you learn how they work. Just be sure to see how the straps work before you buy them so you ensure they're as straightforward as possible.
Here's a quick step-by-step process of how to set up your easy hammock straps:
Unravel your hammock straps. Take one of them and wrap it around the tree. Ensure that you wrap the strap high enough so your hammock doesn't touch the ground when you lay down.
Take the end of the strap that has the attachment features and run it through the loop on the opposite end of the strap.
Grab the end with the attachment features and pull to tighten the hammock strap around the tree. Make any adjustments you need to so the strap is secure.
Repeat the first three steps with the second hammock strap.
Secure your hammock to the hammock tree straps.
Sit in your hammock.
Check out our guide on hanging a hammock for more details.
Hammock Straps With a High Weight Rating
An important aspect to consider when shopping for hammock straps is the weight rating. It's essential that your hammock straps have the correct weight rating for you and anyone else you plan to have sitting in the hammock. The weight rating of the hammock straps will allow you to safely enjoy lounging in your hammock.
Suspension straps are responsible for holding your weight and the weight of another person or pet if you plan on hammocking with them. Look at the weight capacity of the straps before you buy. An example of a hammock strap weight rating would be a pair of hammock straps having a 400-pound weight rating, with each strap having the ability to hold 400 pounds. Choosing heavy weight rating hammock suspension straps ensures you and a friend or two can hang around together.
Environmentally Friendly Hammock Suspension Straps
When you're spending time in the outdoors, you want to ensure you leave the area as you found it. The flat design of hammock straps is created to help protect trees and be as environmentally friendly as possible. Numerous parks have guidelines on the thickness of hammock straps because they don't want people to damage trees with their hammocks.
Many individuals in the outdoor and hammocking community are against using rope or any type of straps that aren't flat because of the damage it can cause to tree bark. When you shop with a reputable outdoor brand, you'll find tree-friendly hammock straps that will be perfect for your next outdoor hangout session. Respecting nature while you enjoy it is crucial.
These 2-inch Seatbelt Tree Huggers are a great option for people who live in states with a two-inch requirement for hammock straps. This tree hugger provides better protection for trees so you can rest assured you're not causing any damage.
Impact- and Corrosion-Resistant Hammock Straps

A hammock and all of its accessories will be exposed to outdoor elements on a regular basis. If you'll be using your hammock often and live in a climate where you have plenty of rain, low temperatures and other extreme weather, buying durable hammock straps should be one of your top priorities.
Using hammock suspension straps like the UHMWPE Straps or UHMWPE Huggers is ideal for durability. These straps are both impact- and corrosion-resistant, making them an incredibly reliable option. If you're always on an adventure and spend most of your time outdoors, ensuring your hammock straps are durable is a must.
UV Degradation Nylon Straps
Some hammock suspension straps also have a strong resistance against ultraviolet (UV) exposure from the sun. One of the most popular materials known for its strength and UV resistance is nylon. Many items like backpacks, climbing equipment and other outdoor products all containnylon. This material can maintain its webbing when you hammock in the sun.
Additionally, nylon and other webbing materials are great for outdoor gear because of their strength.
Heat-Resistant Hammock Straps
A set of hammock straps can come in various materials, including polyester, kevlar, UHMWPE and more. Some materials stand up better to hot temperatures and friction, which is a factor some people must consider if they live in a warm climate or are constantly setting up their hammock straps.
Those who want their hammock straps to be resistant to friction and withstand high temperatures should search for straps with strong and durable webbing. One of the best materials to prevent heat damage is Kevlar.
Things to Consider When Setting Up Your Hammock Straps
The portability of lightweight hammocks makes it easy to transform nearly any outdoor space into your new hangout spot. While the setup process is easy, it's helpful to know the best locations to set up your hammock and things to consider when using your hammock straps. This way, you can have the best time possible.
Before unraveling your hammock straps, consider the following:
Where to set up: Find some sturdy trees or posts to secure your hammock. These suspension points should preferably be around 10-15 feet apart. This distance will provide you with enough slack to hang from your hammock. Also, think about the type of trees you'll be laying under and if you'll have any tree sap or other debris potentially falling on you while you're inside your hammock.
How high to set up your hammock: Consider the height you'll want to secure your hammock at when you're setting up. Remember that the hammock will sink a little when you lie down, so ensure you secure the hammock straps high enough so you don't touch the ground. If you're using your hammock to sleep while camping, keeping it up away from the ground will keep you safe from wildlife.
What hammock straps will you use: Make sure you purchase high-quality hammock straps and pack them in your bag. Leaving your house without your hammock straps can mean your hammock is useless. Secure both your hammock and hammock straps together in a bag or pouch so you always have access to them when you want to hang your hammock.
The safety of your setup: Lying in your hammock is fun and relaxing, but you should always make sure you're safe when using it. Always take time to ensure you set up your hammock properly so you don't risk an accident.

DutchWare's Most Popular Hammock Straps
If you're searching for high-quality hammock suspension hardware, hammocks and other camping gear and accessories, DutchWare is your one-stop-shop for all of these items. Our passion for excellent outdoor gear and caring for nature is prevalent in each product. We're happy to provide a large selection of tree huggers and hammock straps for every hammock-loving customer.
Finding the right pair of hammock straps is simple. After you've carefully considered the length and weight of your hammock, you can select the right suspension straps — and you'll be on your way to enjoying a relaxing time in the trees. Our customers love the following products for their hammock setups:
Spider Poly Straps and Huggers
If you're looking for lightweight hammock tree straps and a popular webbing option on the market, check out the Spider Poly Straps and Spider Poly Huggers with your hammock. These straps have a cool webbing design, weigh less than traditional polyester straps and don't stretch as much as other straps. They also work with a variety of hammock strap hardware like cinch buckles, the Dutch Buckle and the marlin spike hitch.
Polyester Huggers and Tree Straps
A common webbing used for hammock straps is polyester. It's a popular material because it offers strength, has a low level of stretch, doesn't absorb water and is fairly resistant to UV exposure. Find high-quality polyester straps and polyester huggers from DutchWare. Choose from a wide selection of colors to match your hammock and your style.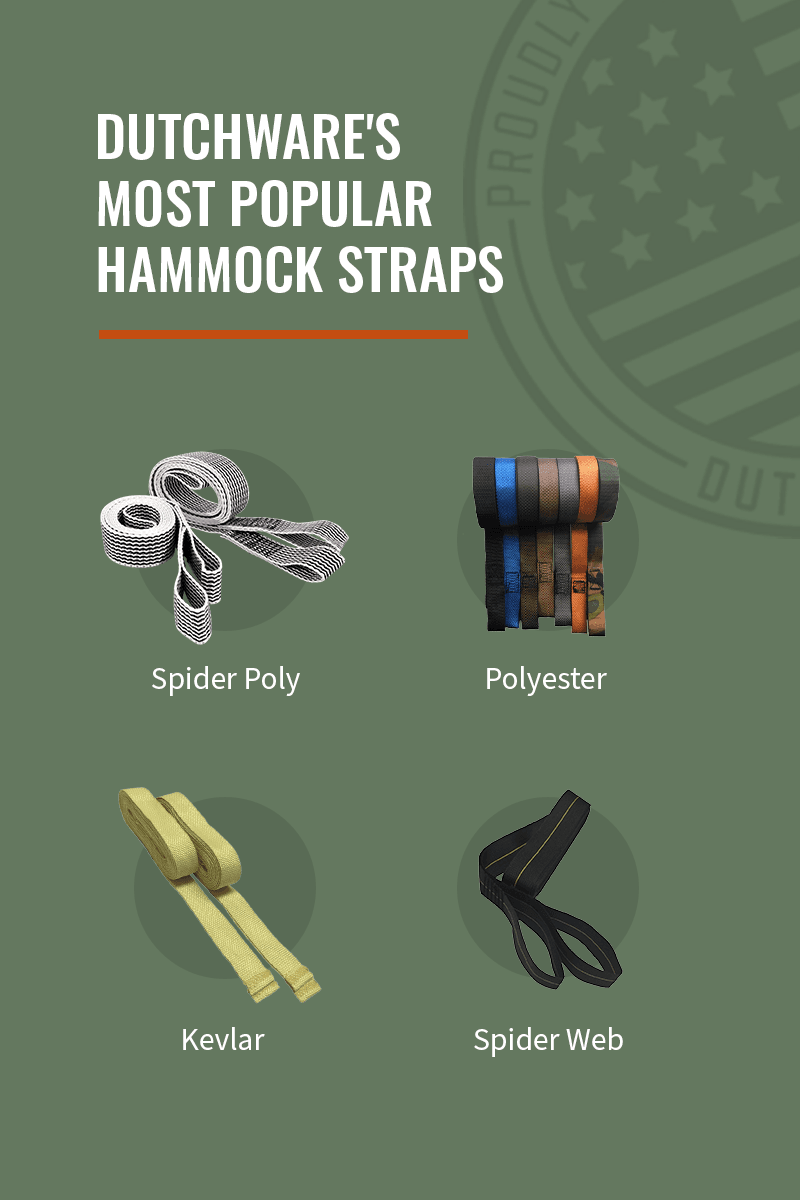 Kevlar Straps and Huggers
One of the strongest materials used to create hammock straps is Kevlar. DutchWare carries Kevlar 3.3 Straps and Kevlar 3.3 Huggers. The material is lightweight and strong enough to resist tough abrasions and heat. The webbing can withstand temperatures up to 800 degrees Fahrenheit before the straps start to decompose and perform in temperatures as low as -320 degrees Fahrenheit.
Kevlar straps and tree huggers are great for outdoor hammocking because they don't absorb too much water and barely stretch. Kevlar is particularly susceptible in high UV areas because they degrade extremely fast. If you like using your hammock in sunny, warm areas, Kevlar will be your best bet for hammock straps.
Spider Web Straps and Huggers
Some of the lightest hammock straps on the market are the Spider Web 1.5 Straps and the Spider Web 1.5 Huggers. The unique webbing and material of these straps make them weigh only 1.5 grams per foot. Having ultra-light hammock straps comes in handy when you need to pack for a camping trip or hike and you want your bag to stay as light as possible.
These light camping hammock straps are perfect for ensuring your hammock will stay secure while keeping your backpack easy to carry. These straps also don't absorb much water, so you can hang near lakes and rivers without worrying about damaging them. Like Kevlar straps, they also don't wear down easily from stretching, helping them last longer.
Shop Hammock Straps, Hammock Suspension Hardware and More at DutchWare
Enjoy hammocking with some of the best hammock straps and gear on the market. DutchWare is proud to supply outdoor enthusiasts with high-quality products and make their outdoor adventures worthwhile. Whether you're hammocking in your backyard or in the wilderness, you can trust DutchWare gear to get your hammock off the ground.
If you're in the market for hammock straps, hardware, spliced goods and complete suspensions, DutchWare is here to help. We can also help you find a hammock that fits your needs so you can get started on your next adventure.
Read Related Articles:
Sign up for news & events