Hammock Camping in Winter: Tips and Gear
Nearly half of surveyed campers say the reason they became interested in camping is because they love being in the outdoors — and there is no better way to truly experience everything the outdoors has to offer than from the comfort of a hammock. Compared to other forms of camping, hammock camping lets you get an up-close and personal view of your surroundings.
Pitching your hammock for a wintertime camping trip lets you see one-of-a-kind views and encounter new wildlife. It makes it easier than ever to participate in winter recreation, like snowshoeing, ice fishing, and skiing. It's also the best time to hit popular trails or tourist spots if you want to avoid large crowds. Winter hammock camping is not for the faint of heart — but it is certainly worth the adventure. Read on to learn some helpful winter camping tips, including a cold-weather camping checklist.
4 Tips for Hammock Camping in the Winter
Winter camping requires a plan, especially if you're sleeping in a hammock. Follow these winter hammock camping tips to keep you safe and warm.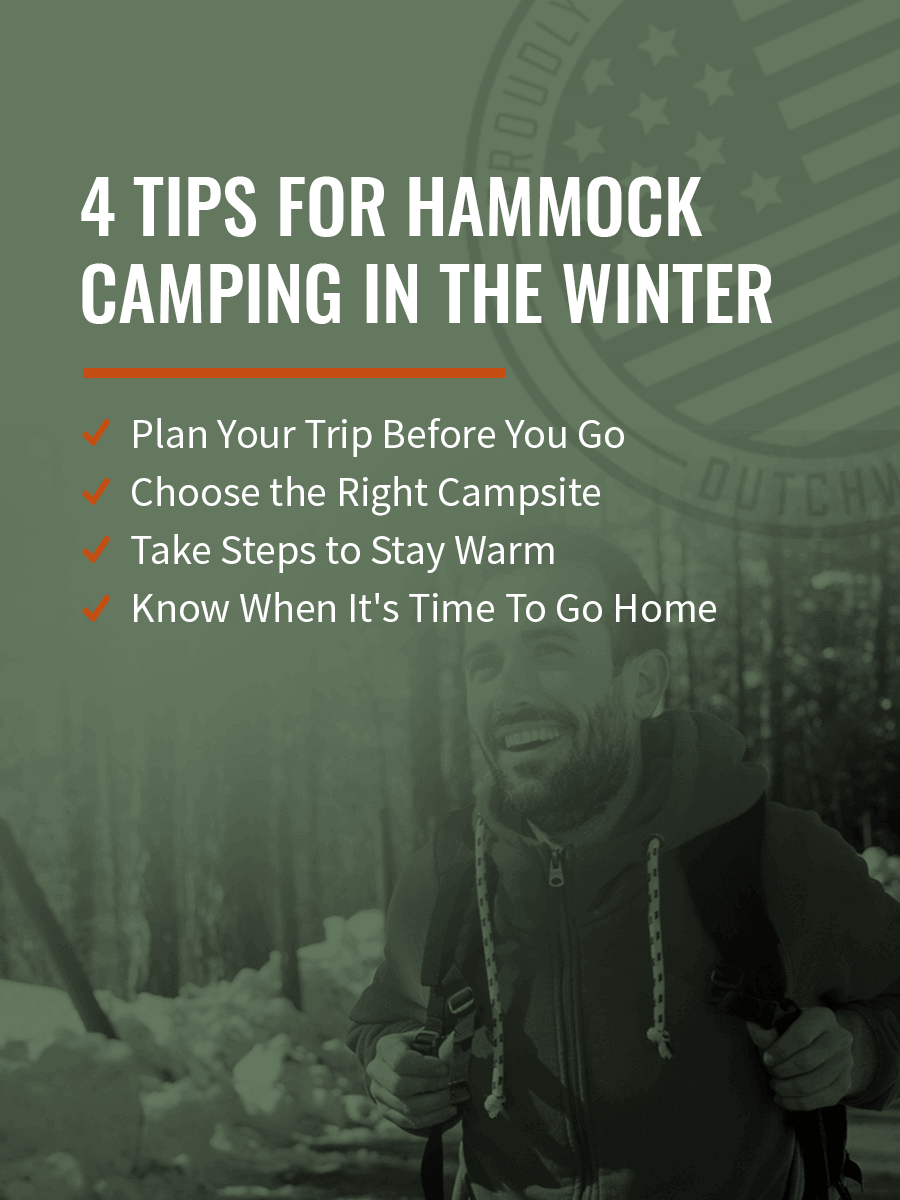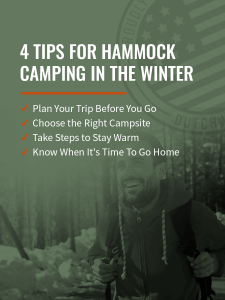 1. Plan Your Trip Before You Go
Though one of the biggest advantages of hammock camping is the amount of freedom you get when choosing when and where to camp, winter camping calls for a little more preparation than warm-weather outings. Snow, ice, and extreme temperatures can be dangerous if you're not equipped to handle them.
Before you pack your bag, make sure you do the following:
Choose a familiar spot: Getting lost while exploring new parks and trails can be a lot of fun for hammock campers, but if you're expecting a lot of snow or low temperatures, it's probably a good idea to stick with familiar places. This way, should anything go wrong or the weather worsens, you know exactly where to go.
Tell someone you're going: You should always let someone know before you head into the wilderness for a weekend trip, but this is especially important during the winter. Let a loved one know where you're going and when they should expect your return.
Check the weather: Check the weather before winter camping so you don't get caught in a blizzard or deep freeze. If possible, continue to monitor the weather while you're on your trip to avoid any surprises.
2. Choose the Right Campsite
The right campsite can make or break a winter camping trip. Before you set up camp for the night, choose your spot carefully. Consider these factors:
Wind: Don't let a frigid winter wind keep you up at night. Before you choose where to hang your hammock, pay attention to how much wind you can feel from between your selected trees. Look for spots surrounded by cliffs, rocks, or trees — these things will absorb a lot of the airflow. If you can't find a suitable place away from the chill, make sure you hang a tarp above your hammock to break the wind before it reaches you.
Sunlight: Sunshine is nature's alarm clock, so pitching your hammock in a sunny spot is one way to guarantee you won't sleep through your planned activities. A sunny campsite also helps you stay warm and dry.
Branches: Take a few minutes to inspect the trees around you. Watch out for weak or low-hanging branches — if they get overburdened, they could drop snow on you or snap and fall on your hammock.
View: A great view isn't necessary for a good campsite, but it is one of the benefits of camping in a hammock. Look for a spot where you can enjoy sweeping views of foggy mountains or snow-topped trees.
Once you've found the perfect spot, don't waste time setting up camp. The sun sets earlier in the winter, and you don't want to try to pitch your hammock in the dark.
3. Take Steps to Stay Warm
The most important part of hammock camping in the cold is knowing how to stay warm, especially through the night. Keep the cold at bay with these winter camping tips:
Use a hot water bottle: If you're camping somewhere with access to hot water, fill a hot water bottle and stick it inside your top quilt just before you go to bed. This will help keep the edge off the chill overnight.
Store your extra stuff: If you can't use a hot water bottle in your hammock, roll up your jacket or extra sweater and put it by your feet as a type of sleeping bag insulation. The extra padding will keep your feet warmer, which will minimize how much heat your body loses overnight.
Always go to bed dry: Winter camping often means snow and rain, especially if you're out exploring snowy trails or participating in snowsports. Always change into dry clothes before you crawl into your hammock. Sleeping damp is more than uncomfortable — it can also be dangerous in freezing temperatures.
Wear layers: Wear layers during the day and overnight, including wool socks, long sleeves, and thermal underwear. Winter accessories, like gloves and a hat, are good ways to keep the heat close to your body.
4. Know When It's Time To Go Home
The most important thing to know before embarking on a winter camping trip is when it's safer to head home. If you feel too cold or begin to experience symptoms of hypothermia or frostbite, seek warm shelter and medical attention immediately. Though both of these conditions are unlikely if you've prepared ahead of time and brought the correct gear, temperatures can change quickly overnight, often with little warning. If this happens, it's safer to head home for the night and try your trip again when temperatures get higher.
Symptoms of hypothermia include:
Excessive shivering.
Slowed pulse.
Slurred words.
Low energy.
Symptoms of frostbite include:
Numbness.
Blistering.
Red, blue, or grayish skin.
Tingling.
Pain.
Essential Gear for Hammock Camping in Winter
Hammock camping usually means packing light, but never sacrifice safety for space. At the minimum, remember to bring along the following winter hammock camping gear.


Underquilt
An underquilt is a large quilt that you hang below your hammock to help lock your body heat inside, instead of losing it to the cold underside of your hammock. Underquilts are designed to wrap around the lower curve of your hammock once you're inside, creating a layer of warm air that blocks out drafts. Compared to a regular blanket, underquilts are lighter and easy to carry in your pack. They are made of different materials, depending on the type and the manufacturer. Each one comes with a specific temperature rating, so choose the warmest one you can find for winter camping. You can also opt to make your own underquilt if you enjoy making your own camping gear.
Top Quilt
Top quilts are specialty blankets you use to cover the top of your body while sleeping in a hammock. Most are designed similarly to sleeping bags, with a foot box at the bottom to keep heat in. These foot boxes open via a drawstring or snap buttons. They are constructed with thick insulation, usually made of down or a similar material. Like underquilts, top quilts have a temperature rating, so you can choose the right strength for your trip. Although standard blankets and quilts can take the place of a top quilt in a pinch, you should not skip out on this investment if you're camping in cold weather. Top quilts are designed specifically for hammocks and hammock campers, and — when paired with an underquilt and winter tarp — are the best way to stay warm through the night.
Winter Tarp
Winter camping tarps are one of the best investments you can make for your hammock campsite because they are multi-functional. A tarp will protect you and your hammock from rain and falling snow, while also breaking frigid winds before they reach you. They can also keep you warm because the addition of a tarp over your hammock setup helps lock in the heat.
There are several types of hammock tarps on the market, but for cold weather camping trips, look for tarps explicitly intended for winter use. They are usually labeled as either winter tarps or four-season tarps. Manufacturers design winter tarps to be extra durable and resistant for harsh weather conditions, with full-coverage flaps on the side for additional protection. They are constructed out of a firm fabric with minimal stretch, so it stays tight and repellant. When choosing your winter tarp, don't forget to pick up plenty of 
tarp stakes
 for each side and a few extra just in case.
Other Winter Gear & Equipment We Recommend
While some of the following camping gear is optional, we recommend bringing along as much as you can comfortably fit in your pack for a safe and enjoyable outing:
Hammock hardware and accessories: Hammock hardware and accessories will enhance your trip and make setup a lot easier, including ridgelines, tree straps and webbing, clip and buckle hardware, tieouts, and suspension systems. Other accessories, like ridgeline organizers, storage packs, and tarp sleeves, will help you stay organized and haul your items easier. If you're camping with someone else consider a 2 person camping hammock.
Drinking water: If you're pitching your hammock in a campground, drinking water is probably accessible at your campsite or a nearby facility. If you're camping in the wilderness, you need to bring along a large water bladder or water filter to stay hydrated, wash up before meals, and cook your food. Make sure whatever receptacle you use to store and transport your drinking water is insulated and will not freeze overnight.
Campsite snacks: In addition to hot food, you also need some snacks to maintain energy while you're exploring. Opt for backpack-friendly energy bars, granola, dried fruit, nuts, hardy fruits, candy, hard cheeses, crackers, tortillas, jerky, and bread.
A local guide book: Bring along a local guide book to learn more about the area, including wildlife warnings, plant identification, points of interest, and safety and contact information.
Trekking poles: Trekking poles are useful to have around anytime your camping trip involves hiking, but they are especially handy in the snow because they can help you maintain a grip on the ground as you walk. This added stability will take some of the strain off your body and help keep you upright when you encounter slick areas.
Navigation equipment: Use a compass, map, or portable GPS to help you find your way around your destination. Navigational equipment is especially important if you're camping in a new area.
A portable radio: A battery-powered portable radio is a great way to listen for weather updates while outdoors.
A utility knife: A utility knife or multi-purpose tool is good to have on hand — you never know when you'll need to cut something like rope or bandages.
A way to pass the time: Winter camping isn't all ice fishing and trail hiking. You also need something to do while you're back at your campsite. Bring along something compact and lightweight, like a book, small instrument, card game, or binoculars for birdwatching.
Winter Camping Hardware We Recommend
Cold Weather Clothing Tips
You might think it'd be all about the bulky clothing, but the real trick to cold weather backpacking is in the layers. Gear up with a three-part system that includes a moisture-wicking base layer that won't get damp when you perspire. You'll want to add a warm, insulating middle layer, and finally, a water-resistant outer layer that will protect you from the elements.
Opt away from cotton, which can be difficult to dry once it gets damp. Lastly, make sure as much skin as possible is covered:
If you're not staying at an established campground with laundry facilities, you'll need to bring enough clothes to last you through your trip. Remember to account for the fact that some of your clothes will likely get wet, especially if you're participating in any recreation. Use your hammock's suspension system to double as a clothesline to hang wet clothes.
Stock your pack with the following winter essentials:
A waterproof winter coat
Get a windproof jacket
Several pairs of wool socks
Gloves
A scarf
A knit hat
Thermal underwear
Water-resistant boots
Fleece or flannel pants
Water-resistant pants
Sunglasses — sunlight reflecting on snow or ice can make it hard to see and can eventually damage your eyes, too.
Hot Food
Hot food is a necessity for winter camping. It will give your body the energy it needs to produce heat, and it will warm you up on cold nights. Because most hammock campers tend to go on backpacking trips, you're probably not going to bring along everything you need to whip up burgers or a barbecue at your campsite. Backpacking meals need to be small, lightweight, and easy to prepare with nothing but a skillet and some hot water.


Here are some of our favorite backpack-friendly foods for cold-weather hammock camping:
Packaged soup
Boxed pasta
Pre-cooked meals
Camping stew
Instant oatmeal
Hot cocoa mix
Freeze-dried meals
Instant rice
Instant potato flakes
Hot cider
Instant coffee
Sturdy vegetables
Canned beans
Pancake mix
Various "just add water" meals are available at camping outlets and in grocery stores to satisfy breakfast, lunch, dinner, and snack cravings.
Take Steps to Stay Hydrated
Whether you're backpacking in summer or winter, you need to stay well-nourished and hydrated. Follow these tips to ensure you're eating and drinking well no matter the temperature:
Without the blistering heat to make you feel thirsty, it can be easy to forget to drink enough water. Get into the habit of taking regular breaks for snacks and water.
Drink from your water bottle or tube frequently to keep the water from freezing.
Keep your bottle inside your pack instead of an outside pocket to keep it warmer.
Bring a thermos filled with a hot drink of your preference.
Find Hammocks and Hammock Camping Gear at DutchWare
When you're planning a winter hammock camping trip, you need gear that you can count on. At DutchWare, we construct all of our hammocks, hammock accessories, and camping gear out of top-quality materials using innovative techniques that ensure your products will last a long time and keep you safe and comfortable. We also use local and United States-based manufacturers, as well as recycled materials and packaging, so you can feel even better about your investment.
Explore our website to find your hammock and accessories, and shop our complete inventory of camping gear today!
Related Hammock Camping Articles
Sign up for news & events