Take a look outside. You know there are two perfect trees out there somewhere, waiting for you and your
hammock
. Figure out how many vacation days you can take, mark off the weekends on your calendar, make a camping gear checklist, and get ready to reunite with the outdoors! Temperatures, weather, and seasons are no excuse, because it's always a great time to get outside and experience nature. Light summer camping quilts will keep you comfortable on warm nights, and winter quilts will provide a cozy cocoon in freezing temperatures. It's time to hang your hammock, enjoy the aroma of a crackling wood fire, eat some delicious camp food, get a fantastic night of sleep, and let the fresh dew of the forest greet you in the morning.
If you have camped in a hammock before, you know how incredible hanging above the ground can be in warm weather. You can let cool breezes keep you comfortable from all sides. You can get creative and pitch your hammock wherever you please — over a mossy knoll, a babbling brook, or a clear patch of forest floor — and you never need to worry about rain soaking you from underneath. A hammock provides an automatic solution to the biggest problems tent campers face, and it's the perfect shelter system option for anyone who loves to make every trip an adventure. As long as there are trees, your hammock will never let you down.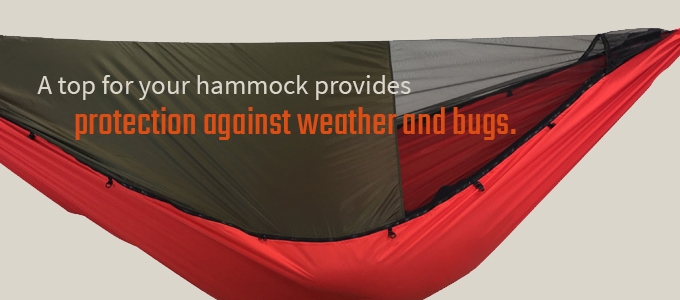 A breathable fabric top cover helps you take your hammock camping to the next level, extending your hammock's range into cooler climates and expanding your camping season into the fall and winter. A top cover provides protection against both weather and insect pests. It affords you privacy, and it can even add extra storage space in your hammock. Dutchware Gear offers a variety of different hammock top covers, and we continually innovate and expand our selection of products with new models to meet your needs — all compatible with our modular Chameleon hammock system. This guide presents our range of top covers and bug nets in detail to showcase the ultimate level of protection they afford between you and the world around your hammock.
If you are new to the world of hammock camping, we extend our warmest welcome; you may have many questions about your hammock sleep system and may benefit from some helpful fundamentals. If you've only lounged in hammocks previously, you may find yourself thinking "Sure, a hammock is comfortable, but wouldn't it wreck my back to sleep in one overnight?" The definite answer is "No!" A properly designed hammock such as those we sell, constructed from the right materials and pitched correctly, is extremely comfortable all night long, and it possible to have lots of space and to maintain a healthy posture while sleeping in one.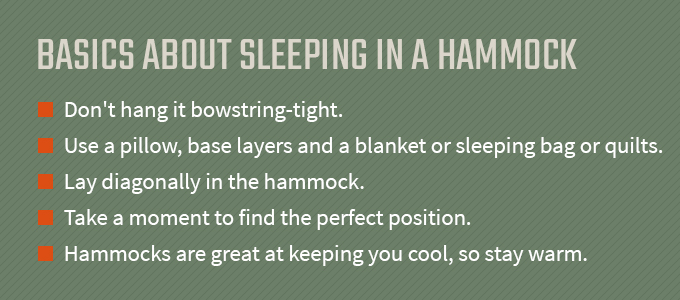 Here are five easy tips for sleeping soundly all night long in a hammock:
Hang loose. Don't hang your hammock "bowstring tight". A tightly pitched hammock is under undue stress, and it forces you to its center with less room to move around for comfort. Your initial temptation may be to hang your hammock tight in order to minimize any sagging, but the right amount of sag is beneficial — structurally more sound and a necessity for your best sleep — so keep it loose. Our Chameleon hammock features a structural ridge line to help you hang it right every time.
Use a pillow, base layers, and blankets or quilts. Just like a bare mattress, you hammock needs to be optimized for a comfortable overnight sleep with proper accessories. You'll want a small pillow or something like it. Wear breathable base layers to stay comfortable, and sleep between a top quilt and an underquilt. It's possible to get too cool in a hammock — this is true even in warm weather — so if you're at just the right temperature when you fall asleep, you may wake up a little cool. Therefore, it's useful to have your top insulation ready to throw over your body, or you can keep an extra clothing layer handy.
In almost any weather, you will need some bottom insulation to stay comfortable in your hammock. Typically, this is an underquilt or sleeping pad, but in a pinch you can wrap a blanket around yourself or lie on top of one for warmth underneath, which also protects from abrasion and biting insects while you're in your hammock.
Adopt a diagonal lay in your hammock. This beneficial trick is one virtually all seasoned hammock campers use. If you lay parallel to the centerline of hammock, your sleeping position will not be flat or comfortable, but if you move your head to one side of the hammock's centerline and your feet to the opposite side, your sleeping position will be as flat as a pancake. This is probably the most important tip for staying comfortable and getting a great night of sleep.
Take a moment to find the perfect sleeping position. Hammocks are almost magical; as soon as our bodies land in one, we often find ecstatic comfort and a sense of leisure that makes it easy to commit to resting for the next 12 hours. However, take a minute to get completely comfortable before drifting off to sleep. Dial in your pillow just right, have your blankets ready, and find the perfect angle for good back support and sound slumber.
If you are hammock camping in colder weather, the Chameleon Symmetrical Top Cover may be the ideal accessory for you — particularly if you're new to hammocks and still experimenting with your position — because it's designed for versatility and comfort when temperatures drop. A perfectly sized mesh window at the head end of the cover gives you excellent ventilation and views while protecting you from persistent bugs on cool nights deep into autumn. This cover's available Moonlight option provides adjustable zippered flaps across the window, giving you the ability to close your mesh vent partially or fully. When zipped, the flaps create a breathable, enclosed space inside your hammock, allowing you to control both temperature and humidity. If you need to build warmth inside the hammock, you can zip up the Moonlight flaps and keep the wind out. Once you're comfortably warm, you can open them as necessary to allow any moisture from respiration to escape, or you can let the flaps hang down to redirect the moisture from your breath to the outside (similar to our Breathalizer accessory (see below)).
At Dutchware, the cornerstone of our modular sleep system that accepts this top cover and all the others is a hammock we call "the Chameleon" because it's adaptable like its namesake.  The Chameleon easily accommodates diagonal sleeping with your feet to the left or to the right. When you wake up in the middle of the night, you may feel like switching sides to distribute pressure to other parts of your body. Our Symmetrical Top Cover makes switching your lay direction completely effortless.
Our top covers are made from Dutchware's own Argon 90, an innovative fabric unique to our company's product line. Argon is what all hammock campers dream of — resistant to the wind yet lightweight and highly breathable — allowing our top covers to provide superb ventilation without chilling you.
Chameleon Symmetrical Bugnet
Everyone has awakened in the middle of the night and flipped the pillow over to the cool, comfortable side before returning to sleep. In a hammock, similar joy can be found in changing the direction of your diagonal lay, switching your sleeping position from head left/feet right to head right/feet left (or vice versa). Netless hammocks allow this freedom to change position, but many netted hammock designs do not. We solved this problem when we designed our Chameleon hammock — and now we have symmetrical top covers and bug nets to match, affording you this same freedom and ease of use.
The Chameleon Symmetrical Bugnet comes with eight ergonomic pulls on smoothly gliding double-tab Vision zippers for easy installation, entry, and exit. This bug net attaches to your hammock and provides complete protection against all types of insects. Its symmetrical shape gives you full freedom to change your orientation inside your Chameleon hammock without ever opening it up to mosquitoes or other flying pests.
In hammock camping gear, weight can be important. At just 130 grams, our Symmetrical Bugnet provides total insect protection without adding significant weight to your hammock system, so you can bring the same gear on backpacking adventures and car camping trips.
Chameleon Asym Top Cover
When the temperature drops, be prepared and enjoy cold-weather camping with the Chameleon Asym Top Cover. Stay snug and warm inside your hammock while the crisp cold settles on the world around you. This breathable asymmetrical top cover is made from lightweight, wind-resistant Argon 90 fabric to help keep you warm.
The Asym Top Cover zips onto the Chameleon hammock in your prefered lay direction, and patented Vision zippers make it fully reversible to lay the other way. It creates a cocoon of warmer air around you for comfort, no matter what the weather is like, and the tailored parallelogram shape maximizes interior room and keeps weight down.
Our Asym Top Cover includes a thoughtfully designed  dual-purpose mesh vent; this linear window allows fresh air in as your breath escapes, and it offers you lateral and sky views of the world outside.
Insects are an integral part of nature and our larger ecosystem, and they are typical of most camping experiences. Waving away the occasional gnat reminds us to be glad we're not at the office. However, being beset by biting insects like mosquitoes can ruin your camping trip, and sleeping is an activity best enjoyed bug-free.
For simple, reliable insect protection, we designed the Chameleon Asym Bugnet. This top cover is made of nanoweave mesh to repel the smallest flying and crawling bugs. It's your safe haven in the woods, a sanctuary where you can relax as you lounge in your hammock and enjoy a good night's sleep completely free of bites, stings, and itching.
Our fully reversible Asym Bugnet zips easily on your Chameleon hammock in either lay direction, shaped to allow maximum interior space. It's durable and lightweight at just 122 grams, and the nanoweave mesh offers excellent visibility and airflow. Don't surrender to bloodthirsty black flies or marauding mosquitoes. Fight back with the best bug net on the market.
Storage space is the only area where hammock camping always ran into problems — but that was before we invented the Chameleon Sidecar!
The Sidecar solves the problem of "Where do I put my shoes/socks/jacket/etc. in my hammock?" It's a generous add-on pocket that zips onto any Chameleon hammock in multiple locations for versatility. Keeping your shoes safe and off the ground but not in your hammock is simple with the Sidecar, and it also offers space for clothing, quilts, personal items, or anything else you want to keep convenient at arm's reach in your hammock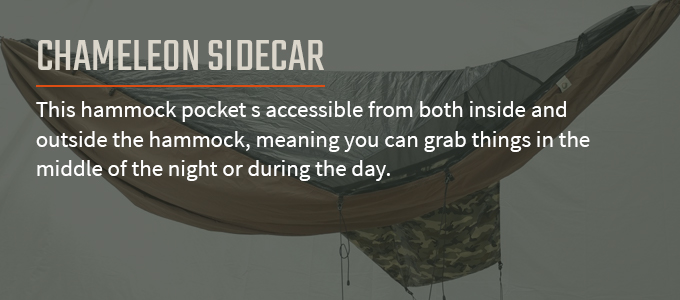 Adaptable like the Chameleon hammock, the Sidecar is accessible from both inside and outside of the hammock, so you can grab things easily while you camp day or night. You can also attach it in four convenient locations, at the head or foot end on the right ot left side — wherever you want it! If you require more storage, you can even install a second Sidecar on the opposite side of your hammock. Two tie-out points on the Sidecar allow you to stake it to the ground, holding it stable so you can view and access its contents more easily. Available in Argon 90 or bug mesh, you won't want to camp without one!
The original Sidecar offers you abundant usable storage for your hammock whenever you want it — just zip one on! However, many folks wanted the Sidecar's storage benefits full-time in a more streamlined package, so we created the Chameleon Integrated Sidecar Top Cover.
We integrated the generous Sidecar pocket seamlessly into our vented fabric top cover. We placed the pocket in the head end of the top cover near the vent, located exactly where you need it most often, so grabbing a book, your shoes, your headlamp, a water bottle, or your jacket is a cinch.
Our Integrated Sidecar Top Cover is made from our proprietary wind-blocking Argon 90 lightweight breathable fabric to create a warm microclimate inside your hammock. The vent at the top even serves as a tiny window, while the fabric gives you plenty of privacy. An all-mesh version is also available for warm weather.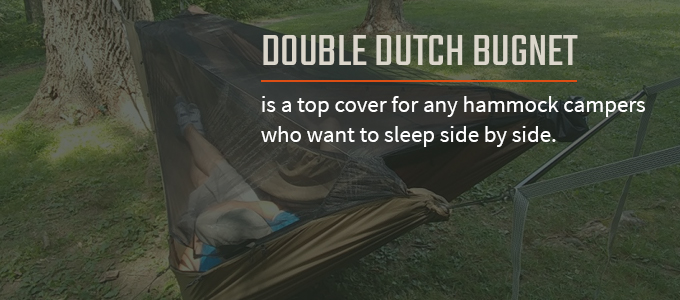 The Double Dutch Bugnet is a deluxe specialty top cover for campers who want to sleep in two Chameleon hammocks side by side. It is full of cool features.
The Double Dutch Bugnet works with two Chameleon hammocks set up next to one another, sharing the same two trees, each on their own compatible suspension (such as our Dutchware Titanium Beetle Buckles) and separated at the head end by a spreader bar. The bug net zips around both hammocks to create a shared interior space, and an additional Argon strip zips down the middle between the two hammocks, forming a continuous surface between them and sealing the bug-free environment. The net is suspended over two ridgelines, creating a "no-fly zone" much bigger than the sum of two separate nets.
The Double Dutch Bugnet comes with a double-size stuff sack to hold your complete system, and it permits the use of other modular Chameleon accessories. This net makes hammock camping twice as fun!
Our Breathalizer is a miraculous add-on item for our line of top covers that solves the very common hammock camping problem of managing condensation from your breath.
Imagine camping in your hammock on a really cold night. You jump in, zip up your top cover, and get snug in between your top quilt and underquilt. Soon, inside your top cover your body heat brings your hammock's interior up to a blissful temperature, and you drift off to sleep. Unfortunately, you wake up in the morning to find dripping excess moisture inside your hammock; it is condensation, the unwelcome effect of your body's overnight respiration in cold weather, when moisture from your breath is trapped by your hammock's top cover and condenses on the underside of the cool fabric.
The Breathalizer is an extremely lightweight, low-profile flap that attaches to your hammock's ridgeline and sides, separating your moist breath from the dry air inside the rest of the hammock, redirecting it out the vent in the top cover, and permitting the moisture to escape while retaining the warmth you've built up. Experience the joy of waking up snug, warm, and dry — without condensation.
At Dutchware Gear, we have distinguished ourselves as industry leaders in hammock camping. We use our own products in the field, and we are constantly innovating and improving our designs with new materials and technologies to make lighter, stronger, less complicated gear that is affordable and reliable.
Visit our website and explore our full selection of hammock camping equipment, including top covers, weather protection, suspension and hardware, and our complete line of modular Chameleon hammocks and accessories.
Contact us with any questions you have about our products — because we love to talk about our gear! — and let Dutchware help you take your outdoor experience to the next level of comfort, convenience, and enjoyment.
Written & Reviewed by Josh
Sign up for news & events