9 Hammock-Sleeping Tips for Beginners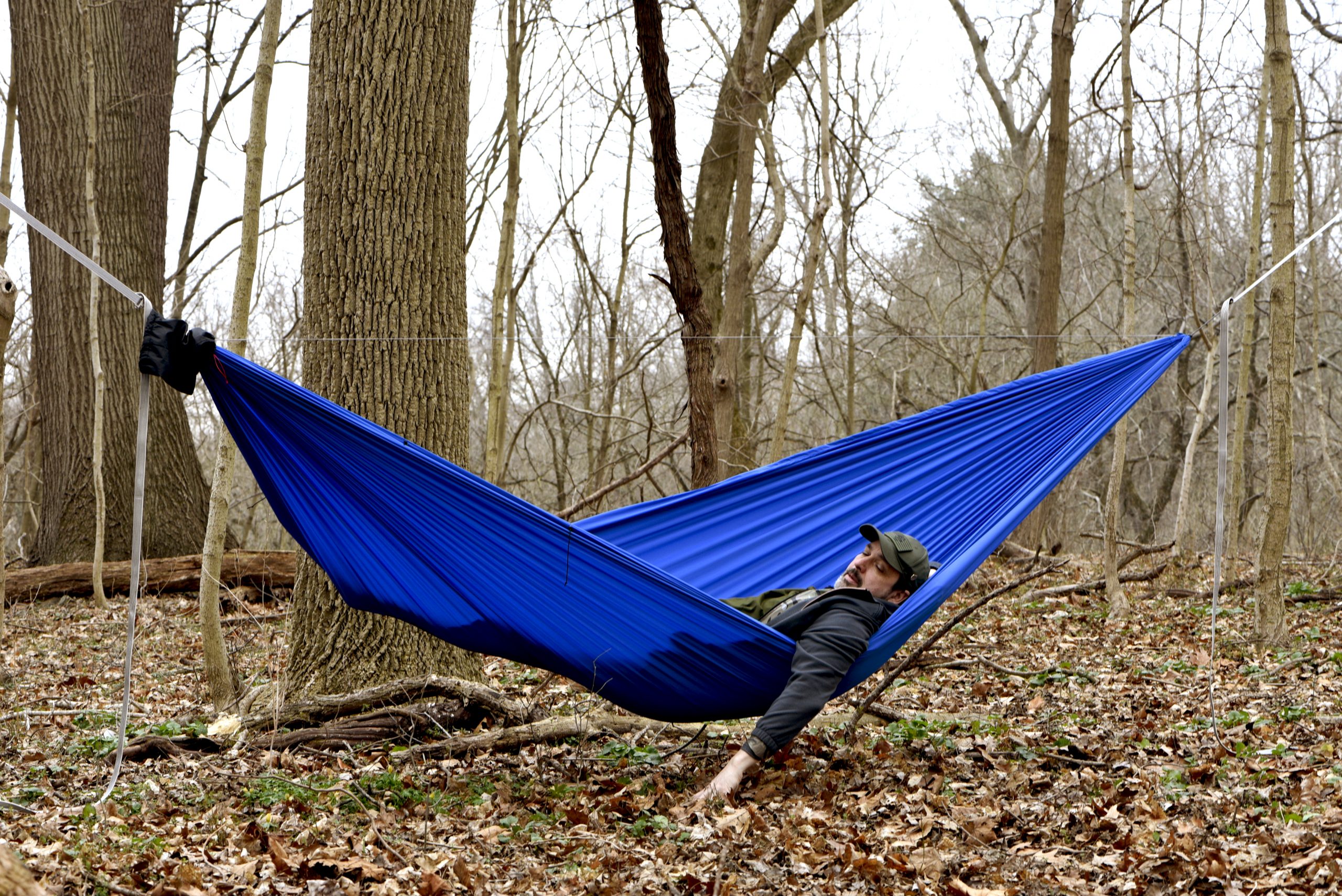 Once you start sleeping in a hammock, you'll discover why so many people are embracing this fast-growing camping and backyard trend. A night gently hanging under the stars sure beats dealing with uneven, rocky ground — not to mention critters and nosy non-flying insects. Sleeping in a hammock has tons of unknown benefits as well!
To help you get a master's-level education in understanding how to hang in a hammock properly, we've come up with six awesome hammock-sleeping hacks.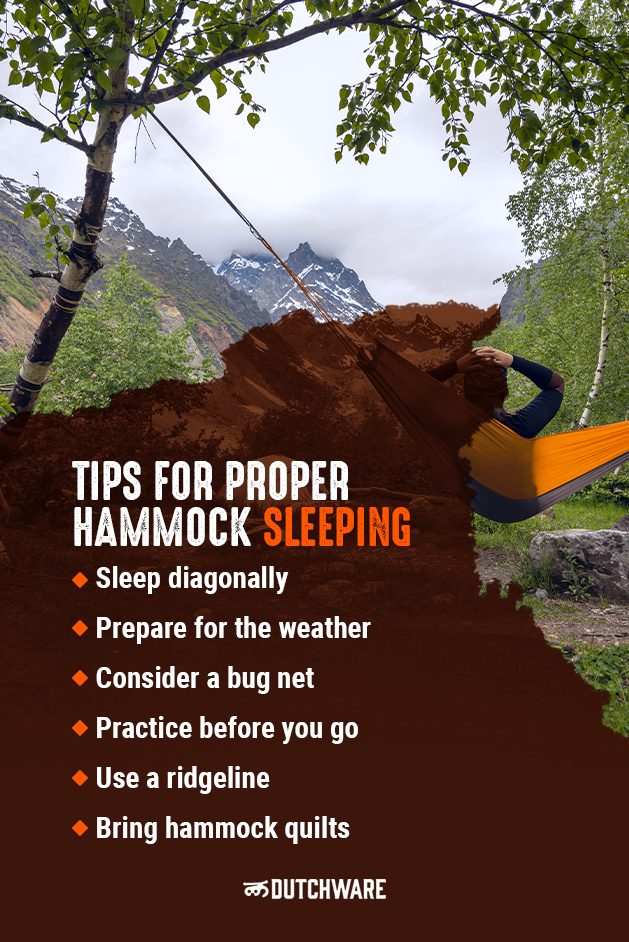 1. Sleep in Your Hammock Diagonally
What's the first thing many people do when they see a hammock? Try to plop into it with their head pointed toward one anchor and their feet at the other anchor. Though some folks don't mind sleeping in this position, it's a little too bowed for most hammocking enthusiasts.
A better way to sleep comfortably in a hammock is to slide in on the diagonal. This makes your "bed" surface flatter and less curved. It'll also avoid the sensation that you're in a too-tight cocoon.
2. Prepare for the Weather
Weather is unpredictable so always be prepared for the worst. We recommend having a rain tarp to protect you from the rain and a top and bottom quilt to protect you from the cold.
3. Use a Bug Net
They don't call them "bugs" for nothing. When you're camping in a place with plenty of buzzing and biting insects, you may not love being in a breathable hammock. That's where a bug net comes into play.
Either purchase a hammock with a bug net already installed or buy one separately to use as needed. Bug nets will add barely any weight to your packing and they'll help you sleep more soundly even on humid, buggy nights.
4. Practice Your Hammock Sag Before You Go Hammocking
If you thought tightening your hammock was the secret to a good sleep, you've been misinformed. A better way to peaceful hammock slumbers is to rig up your hammock with a generous sag.
Try to make sure your sag is around a 30-degree angle or greater. When you pair a good sag with diagonal sleeping, you're in for a terrific night's snooze.
5. Use a Ridgeline
Using a ridgeline on your hammock will release tension off the trees and onto the ridgeline making your hammock saggy and comfortable.
6. Try Hammock Quilts
As we mentioned above, hammock quilts are essential for staying warm while hammock camping. They insulate your hammock while not packing on a ton of weight. They're also much more comfortable than sleeping bags/pads because they go underneath your hammock allowing you more freedom of movement.
7. Create Extra Support
Sometimes you want a bit of extra cradling on some parts of your body. These can include your neck, legs, knees and even feet.
So how do you sleep in a hammock when your neck's getting stiff and your knees feel like they're unsupported? The answer's as easy as putting a pillow or even your wadded-up daytime clothes under different body zones. Experiment and you'll find the right mix of cuddling and natural hammock fabric tension.
8. Try a Sleeping Pad
Before you think you can throw away your sleeping pad if you're ditching the tent life for hammocking, think again. Your sleeping pad can provide insulation on chilly evenings, helping you chill out figuratively instead of literally.
Just put the sleeping bag inside your hammock and lay on top. If you find yourself sliding to the middle of the hammock and getting all bunched up in the sleeping pad, raise the hammock a few inches at the foot base. Then crawl back in and get all the coziness you need.
9. Make a Drip Line
Sleeping in a hammock when it's rainy can be tough if you don't rig up a drip line on your tarp. A drip line is just a piece of knotted rope that's positioned about six or eight inches away from the tree or other tarp-anchoring source.
When water starts rolling toward the tarp along the attachment lines, it will quickly divert to running down the drip line. This keeps droplets from getting under the tarp and waking you up.
Is Sleeping in a Hammock Comfortable? Absolutely!
Getting the sleep you deserve when you're out camping is as simple as rigging up a lightweight hammock and understanding how to hang in it for maximum security and comfort.
Of course, if you ever have questions about sleeping in hammocks from DutchWare, let us know. We'd be happy to make your hammocking dreams come true.
Check Out These Hammock Sleeping Articles
Sign up for news & events