While others may feel that raining during camping is a hassle, it's actually not that bad. Sure, there are disadvantages every time it rains while you're in the woods, but there are certainly a lot of great things that you can do when this happens. Here are some tips that you can apply when you are camping on a rainy day.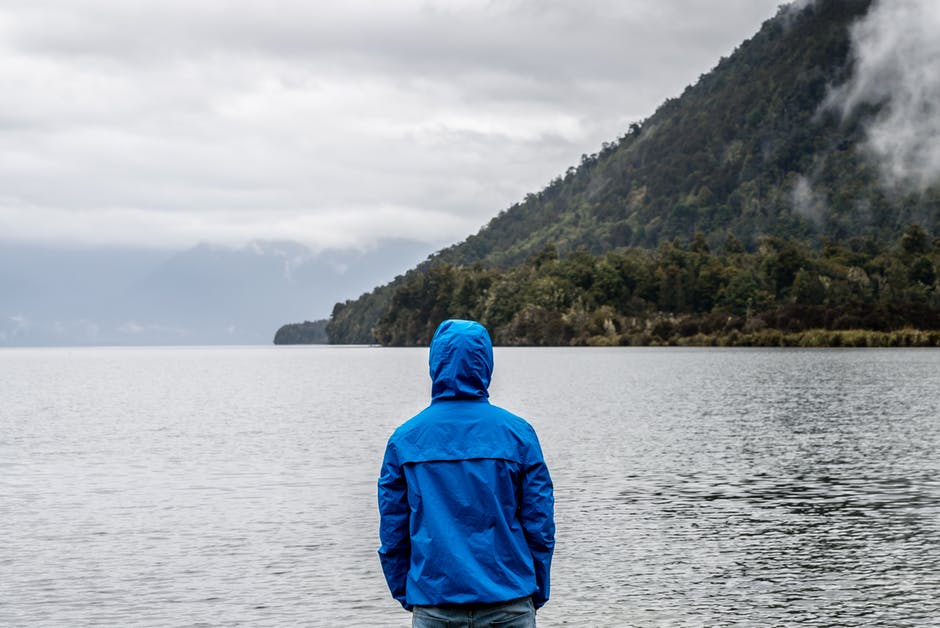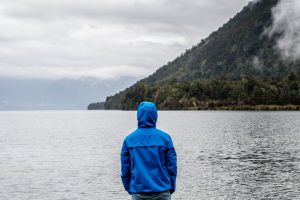 Tip 1: Layer your Hiking Clothes and Gears
Before you embark, you'll need to prepare an appropriate set of hiking clothes and gears. This is important because this will not only keep you dry but also maintain your temperature the whole time. Thus, it's essential that you only wear and bring what's suitable for a rainy day.
First, prepare your underclothes. You can pick clothes made of wool or polyester as they are warmer or dries easily compared to cotton. For your hiking layers and gear, a waterproof backpack, jacket, or a rain poncho would do. Lastly, it may not be necessary, but wearing bright colors can help if you're with a group and you'd like to get spotted easily.
Tip 2: Installing a Hammock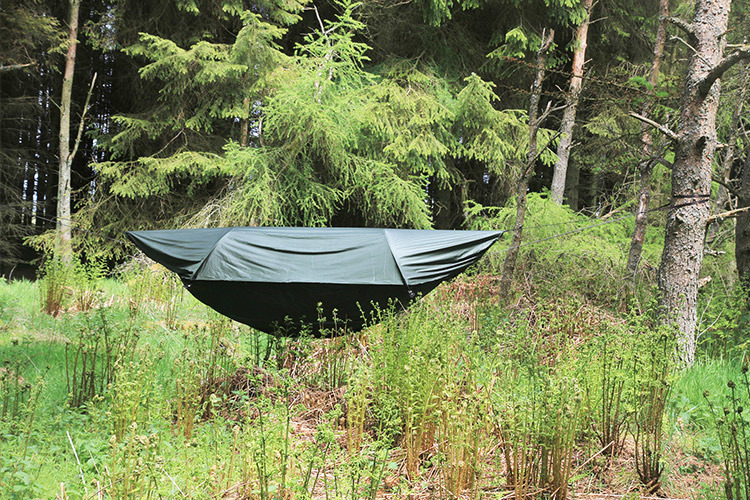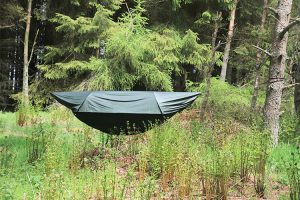 You might be questioning what good would it do if you bring a hammock while camping. Well, there are surely a lot of reasons why a hammock is a great idea on a rainy day. First of all, it's an awesome alternative when you want a cozy sleeping area, especially when it gets too cold because of the rain. Second, hammocks are versatile and you will have greater site selection as long as there are suitable trees. You can certainly attach it to almost anything as long as it's stable and can sometimes be even hanged inside a shelter. Lastly, with a hammock and tarp as your main shelter, in the morning you will be able to pack up under a tarp instead of trying to put away a wet, muddy tent while your gear is all exposed.
It is very important to have a tarp on top of your hammock and make sure that you have enough room under it. A tarp should be waterproof and at least 1 foot longer than your hammock.  Common shapes are rectangle or hex. Some tarps may have a door on the ends that closes for an additional 360-degree protection, so you can opt for this too. Tarps will not only protect you from the rain but also give a generous dry area to cook, lounge, store gear, and pack up under.  
In a hammock, you should not wind up in a puddle at 2 am like it usually happens in a tent when it is raining, so your tarp should be the first thing you set up and the last thing you take down. A neat trick to prevent water from running down your suspension is to tie a string on it close to the hammock.  If water is running down it will stop at the string and drip off.   
Tip 3: Finding the Right Area
Choosing the ideal spot is essential when you want a good time camping in the rain. That's why you are encouraged to choose areas that are slightly elevated and are away from bodies of water like lakes or rivers. There's a high chance that flooding would occur in the area especially when it's raining hard.
Also, don't camp under a tree. If it can't be helped especially when you are bringing a hammock and you'd need to attach its ropes, stay out of the tree's leaves or branches as much as possible. After a heavy downpour, water would still keep on dripping and you might find this annoying, or you might get injured from falling branches because of the wind. You can resolve this by prolonging your hammock's ropes.   
Lastly, face your hammock towards the sun's direction. You'd want to be hit by the sun's rays first thing in the morning. This will surely help dry your stuff as soon as possible.    
Tip 4: Adding Light Fixtures
As it's raining, making a fire pit would be difficult. That's why installing simple lighting is a great alternative. You can simply bring LED lights, lanterns, or even just flashlights would do.
Some lighting fixtures also have that aesthetic appeal to them, so they're great for creating an ambiance in your area.
Tip 5: Bringing Warm and Comforting Food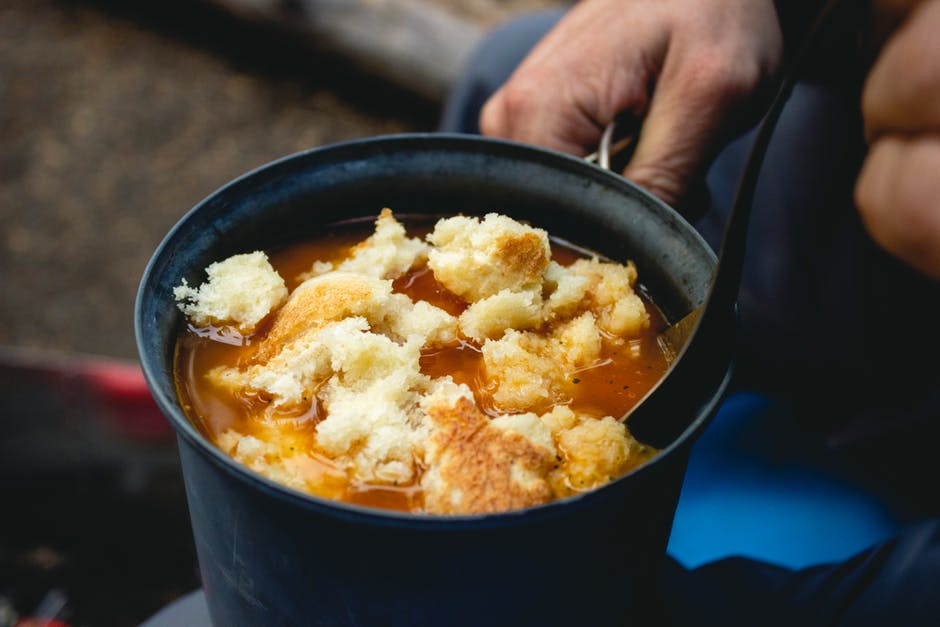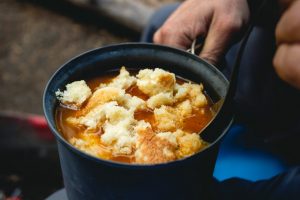 Nothing beats a cup of hot cocoa during a rainy day so might as well bring it during camping. Hot drinks and food are great during this time. These will not only keep you warm but will also give you that comforting feeling.
It's also a good idea to bring foods that are rich in carbohydrates. Because you are not only using your energy from setting up your camp and hiking along the way, calorie-rich foods are a satisfying treat when you want to maintain your body's temperature.
Keep in mind that the colder the area, the more energy is being used to keep you warm. Thus, don't feel guilty that you're bringing a sinful snack or two. It'll actually make your camping time even more enjoyable and worthwhile.   
Conclusion
Camping in the rain is not as bad as it may seem. In fact, other people even prefer this kind of weather over a hot and sunny day. Thus, if you would love to give this a try, you can follow the tips mentioned above to enjoy the rain.