A successful camping trip requires sufficient planning. From selecting your meals to picking a tent site, these decisions can make or break your trip.
A massive consideration for camping is your clothing. Packing camping attire differs from packing for other vacations because you spend most of your time outdoors. Functional and comfortable apparel helps you enjoy the outdoors to the fullest. Learn more about how to dress for camping with our guide.
Why Is It Important to Pack Carefully for a Camping Trip?
The best clothes for camping boost your enjoyment of outdoor adventures. Packing carefully helps with:
Preparing for weather: Outdoor weather is unpredictable. Sunny skies can quickly turn into rainstorms, and warm temperatures can suddenly drop. Without protective layers or extra clothes, you might be uncomfortable or even feel sick. It's crucial to look at the weather forecast and pack accordingly.
Protecting against bugs: If you camp in an area with many bugs, you can minimize their effects with protective clothes. Mosquitos, ticks, and other bugs can quickly make your trip uncomfortable. Long-sleeved shirts and pants keep bugs from reaching your bare skin.
Equipping for activities: Whether you hike, swim, kayak, or anything in between, various camping activities require different clothes. By planning ahead, you can pack the apparel for all of your plans.

Camping Clothing for Every Season
Your camping trip season has the biggest influence on what clothes to pack for camping. When you pick clothes according to the temperature and weather conditions, you can enjoy optimal comfort during your trip.
Summer Camping Attire
Summer is a popular travel season for many because of the warmer temperatures. Campers can enjoy the beautiful outdoors without needing to bundle up. However, summer temperatures can vary from day to day, making it vital to plan your clothing appropriately.
Here are some essential summer clothes to bring camping:
Rain gear: Even if the forecast looks dry, it's best to prepare for rainy weather. A sudden rainstorm could soak through your clothes and leave you extremely uncomfortable for the remainder of the trip. Pack a rain jacket or poncho in case rain strikes. You might also consider extra clothes in case some of them get wet. Options like waterproof pack covers keep your backpack or other possessions safe.
UV Protection: If you plan to hike in an area that does not have a lot of shade, maybe the desert or scrubland areas, then opt for long sleeve shirts, even in summer. A good UV protective shirt will shield your skin from sunburn and UV damage.
Moisture-wicking clothes: If you're out in the sun all day, you might start to sweat. Breathable and moisture-wicking fabrics keep you cool during summertime activities. They also dry quickly, letting you reuse apparel if necessary. Choose tank tops and T-shirts with moisture-wicking abilities to optimize your comfort.
Sun hats: Hats keep the sun out of your eyes while you swim, fish, hike, or complete other hiking activities. They also keep bugs away from your eyes and face. Whether you choose a wide-brimmed hat or a simple ball cap, it can significantly increase your comfort levels.
Layers: During the day, you'll likely experience high temperatures. But evening and night temperatures can drop once the sun descends. By packing extra long-sleeve layers, you prevent yourself from becoming too cold.
Swimming gear: If you're planning on any water-based activities, remember to pack the proper gear. You might need a swimsuit, water shoes, or similar items.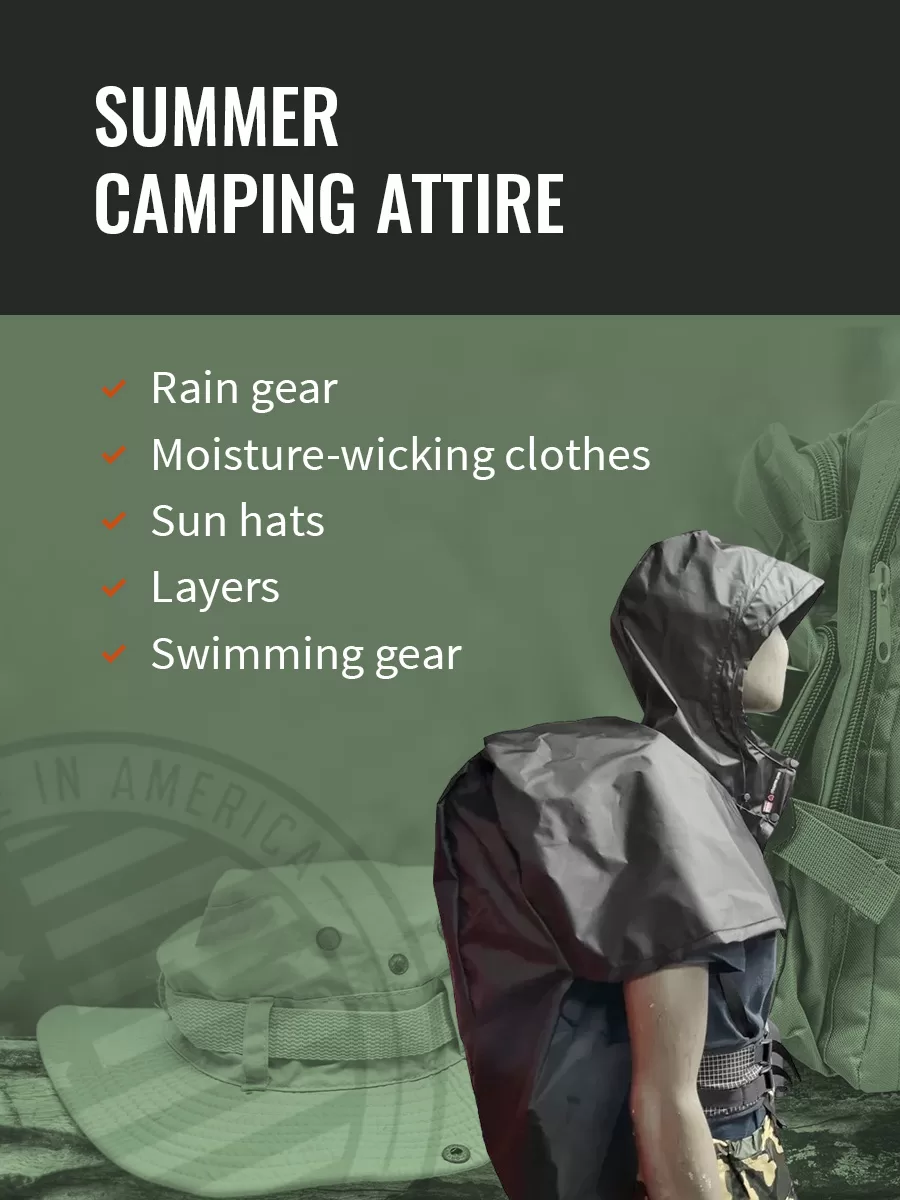 Winter Camping Attire
Winter packing looks different from summer packing. Low temperatures and snowy conditions require extra layers and warm accessories. These are a few necessities for your winter camping trip:
Wool socks: Warm socks are critical for keeping your feet and toes warm. Wool is a thick and durable material that regulates the temperature in your feet, allowing for optimal comfort.
Gloves and winter hat: It's also important to remember your gloves and winter hat. These shield your ears and hands from extreme cold. If you're expecting snowy or rainy conditions, waterproof materials are excellent.
Layers: Like summer packing, layers are a necessary addition to your winter packing. Campers often rely on three layers — the base, middle, and outer layers. The base layer is the first long-sleeved layer, such as a warm thermal shirt. The middle layer could consist of a flannel shirt or fleece, while the outer layer is your winter coat or jacket.
Waterproof boots: If you plan to hike or interact with water on your trip, waterproof boots are essential. They keep your feet from getting wet as you walk through puddles or other wet areas.
What Not to Wear When Camping
While some items are essential for a camping trip, others are better left behind. These items can decrease comfort and functionality on your journey:
Flip-flops: Flip-flops are easy to slip on and off, but they're often unhelpful while camping. They don't shield your feet from the earth or weather conditions. It's better to bring a sturdy pair of sneakers or biking shoes.
Jeans or denim: Denim is heavy and doesn't respond well to moisture, making it an ineffective choice for camping gear. Synthetic materials are usually better choices for your pants or jackets.
Expensive or cherished clothing: In most cases, it's best to leave your favorite or most expensive clothes off your camping clothes checklist. They could become dirty, or you face the risk of misplacing them.

General Tips for Packing Camping Clothes
Here are a few more tips for camping clothes:
Pack separate outfits for morning and night: It's usually best to have different clothes for day and night. Daytime clothes might become sweaty during the day, and having a fresh pair of clothes would make you more comfortable. Remember to bring layers for nighttime in case temperatures drop.
Bring sunscreen: Whether you camp in the summer or winter, it's important to protect yourself from UV rays. Using sunscreen and wearing protective clothes helps shield your skin. Sunscreen can reduce the chance of skin cancer and prevent irritation.
Remember bug spray: Bug spray keeps away annoying or dangerous bugs during your camping activities. Pack enough for multiple applications each day. You can keep it in your backpack or tent for easy access.
Shop for Camping Gear With DutchWare Gear Today
The right packing techniques and clothes for camping improve your camping experience. No matter the time of year, extra packing preparation helps you stay comfortable during your trip.
If you need high-quality and durable camping gear, shop with DutchWare Gear today. We carry a wide range of hammocks, camping gear, tarps, and other outdoor gear. We are committed to limiting our environmental impact, and we use a minimalist approach in production.
Browse our camping apparel today for high-quality, moisture-wicking materials. Choose our waterproof materials to protect against wet conditions. Use our search and filter features to narrow options to the products you need.

Sign up for news & events