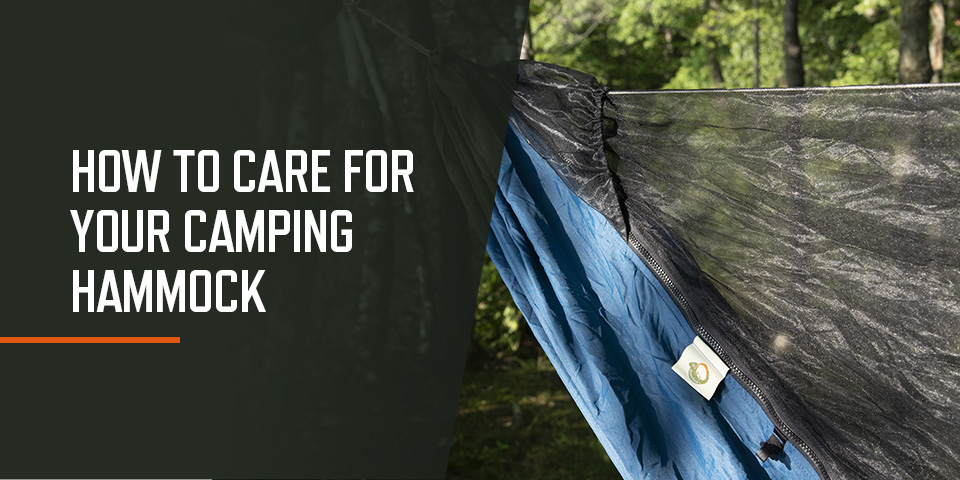 How to Care for Your Camping Hammock
Congratulations! You've just purchased your first hammock. To keep your new investment performing for years, you'll want to learn the best hammock care recommendations. After all, your hammock is going to get dirty — and that's part of the fun!
Below are a few hammock tips covering how to wash a hammock and ensure yours will look its best and function exactly as planned for the long haul. (Spoiler alert: Washing your hammock is a pretty easy task and only has to be done occasionally unless you're camping every weekend!)
Can You Wash a Hammock?
You can wash any outdoor camping hammock. Rinse synthetic nylon materials by hand or machine, and hand-wash all braided rope hammocks to maintain the same texture. Cleaning your hammock creates a nicer appearance and fresh smell without buying a new one.
Your detergent choices and how often you wash your hammock will keep it in excellent condition. If you aren't sure what material your hammock contains, read manufacturer instructions to choose the right soaps. When you wash the materials regularly, you can enjoy swinging in a like-new hammock for years.
How Often Should You Wash Your Hammock?
How often you wash hammocks depends on how frequently you use them and the conditions. You may not need to wash it if you only use it for one short trip. If you use your hammock a few times, wash it at the beginning and end of each season for great results. Consider washing your hammock every few weeks if you sleep in it daily or use it weekly.
Cleaning a hammock maintains the appearance and removes any potential contaminants. Clean and dry outdoor hammocks thoroughly for the best results.
How Do Keep You Hammock from Molding?
You can keep your hammock from molding with some preventative steps. Make sure to thoroughly wash rained-on hammocks and let them air dry completely in the sun. Wait for total dryness before hanging your hammock and laying in it again.
If you find traces of mold and mildew, create a half water and half vinegar solution and pour it over the areas before washing your hammock with laundry detergent. Remove any lingering odors with baking soda applied to the fabric. The baking soda soaks up the smell and leaves your hammock with a refreshed scent.
Always Read Manufacturer Instructions
Before assuming you know how to make your hammock spotless, take a few minutes and read the manufacturer's information. Spending just a little time getting to know the best way to return your hammocking equipment to like-new condition will ensure you don't void any warranties or ruin the fabric.
Choose the Right Soap and Detergents
Chances are good you'll be scrubbing down your hammock fabric by hand. Even if you've purchased a hammock that can be thrown in the washing machine, you'll want to select the right sudsing agent.
Select gentle cleaning products that are either suggested for your hammock fabric or are safe for just about any fabric use. Some campers wash their hammocks with classic soap and water. Again, this depends on where and how you'll be washing your hammock. A washing machine typically performs best when you pick milder, low-sudsing cleaning formulas.
Be sure you always rinse away any soapy residue so it doesn't build up and leave a funky-smelling film on your hammock. And if you're not a fan of soap, you may be able to get away with washing your hammock with a mixture of equal parts white vinegar and water.
Want a couple of extra hammock tips? Skip the fabric softener and never use bleach on your hammock, even if its color is a vibrant white.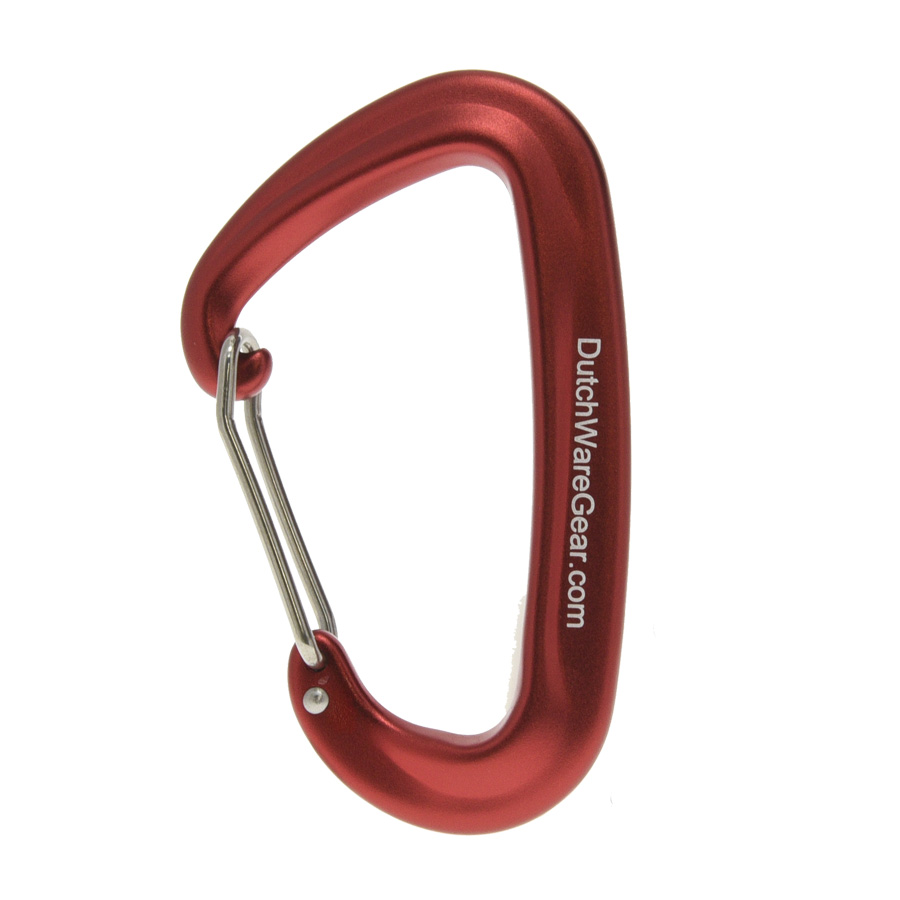 Remove Carabiners When Washing
All those carabiners make it easy for you to hang your hammock properly. However, they're only going to get in your way when washing your hammock.
Take enough time to carefully remove all the carabiners and anything else that's not fabric or rope from your hammock prior to washing it. A carabiner in your washing machine could damage the machine or rip the hammock fabric. Even if you're washing your hammock by hand, you won't like manipulating around the carabiners.
Machine Washing vs. Hand Washing
Can hammocks be washed? Of course, and they should be. But don't head to your laundry room with your dirty or mildewy hammock just yet. Regular washing machines aren't best-suited for getting all hammocks clean. Even hammocks that are washing machine-safe may require you to use a front-loading machine rather than a top-loading one for the best outcomes.
This is why reading the hammock manufacturer's label is so important. Certain materials just don't hold up under the agitation of a washing machine. Additionally, many home washing machines are simply too small to get your hammock thoroughly clean, even if they're technically the right kind of machines for the job.
Even if you do find out that you can machine-wash your hammock, you may be better off hand-washing it in your bathtub. That way, you can see what you're doing and remove any spots or stains that you notice.

Opt for Air Drying
It's rare that any hammock maker would tell you to put your hammock in a dryer. Plus, if you put your dryer on the lowest temperature setting, you could cause irreparable harm to the integrity of the fabric.
Rather than risk your investment, either hang your hammock up or lay it flat to dry. This can be outside in the fresh air, if possible, or indoors. Many hammocks dry super quickly as long as they're in low humidity conditions. Within a few hours, you'll be able to pack up your clean hammock for storage or travel, or set it up again in your backyard.
Making Hammock Care a Top Priority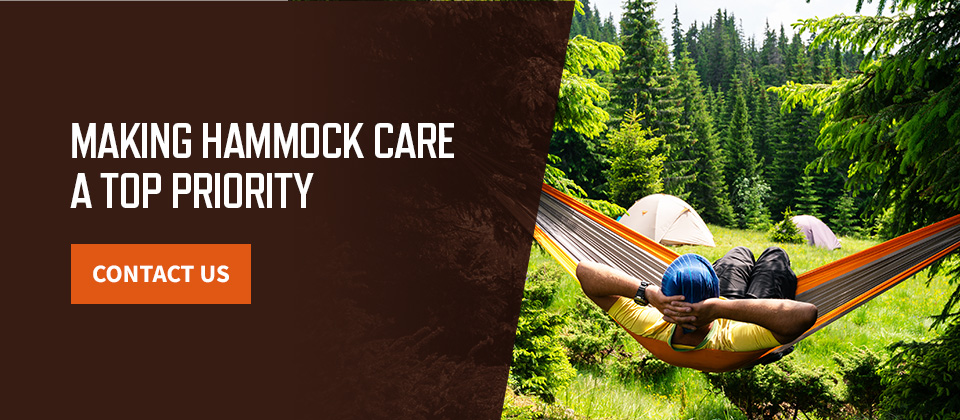 The more love and attention you give your hammock while hammock camping, the longer it will support and protect you. If you have any other questions about your hammocking equipment from DutchWare and how to clean outdoor hammocks feel free to give our professional team members a jingle.
Sign up for news & events