7 States That Are Perfect for Hammock Camping


According to the National Park Service, a camping trip can help you build life skills, improve your health, and give you a chance to participate in a tradition that has been passed down for generations. Camping has always been one of the most popular outdoor activities in the United States, and that popularity continues to grow due to the rising interest in alternative camping methods, like hammock camping.
What Is Hammock Camping?
Hammock camping is no different from tent camping — except instead of sleeping in your tent, you sleep suspended above the ground. Intrigued? You should be. Many campers who opt for hammock camping over traditional do so because it's a more comfortable, adventurous, and rewarding camping experience.
Where Do You Camp in a Hammock?
You can go hammocking anywhere that allows backcountry or dispersed camping, as well as many designated and public campgrounds. Some of the best places for hammock camping in the U.S. are national and state parks and national forests because they offer endless outdoor recreational opportunities, as well as beautiful scenery and diverse wildlife.
Why a Hammock?
Although tent camping has its time and place, hammock camping is a worthwhile endeavor because:
Hammocks take up less space: If you've ever gone backpacking, you know every single ounce of weight in your pack matters. Most hammocks take up less space than tents, making them easier to carry. Use that extra space in your pack for something else, like snacks or an additional blanket.
Making camp is easy: Setting up camp doesn't require finding the perfect patch of flat, dry, or root-free ground. All you need is a couple of stable trees, and you're ready for a good night's sleep.
You might sleep better: Speaking of root-free ground — have you ever tried sleeping with rocks or roots underneath the tent floor? Even the best camping pads are no match for things like damp tents or sloped ground. Sleeping in a hammock eliminates these concerns — as well as the pressure put on your body — so you can find the most comfortable position possible. Because hammocks are off the ground and surrounded by moving air, you'll stay a lot drier, too. Research shows that sleeping outside in the fresh air can help also help combat poor quality sleep.
The view is unmatched: There's something extra special and immersive about sleeping under the stars. In a tent, you get to hear the sounds of nature around you. In a hammock, you get to be a part of it.
Why You Should Plan a Hammock Camping Trip
Hammock or no hammock, camping is good for mind, body, and soul:
Being in nature is beneficial: You already know that spending time in the great outdoors is peaceful and exciting, but there are proven health benefits associated with nature and fresh air as well. Being outside for as little as 10 minutes can have profound stress-reducing effects. Fresh air also helps energize and refresh your body. Some studies even suggest that spending time outdoors can make you a happier, more creative person overall.
It's a chance to unplug: In today's world, it can be challenging to find an opportunity to unplug and disconnect from social media, work, school, and the demands of everyday life. Taking time to disconnect is vital for our wellbeing and can lead to better sleep, deeper connections with other people, and a greater awareness of the present moment. What better time to reset your mind and focus than with a hammock camping trip?
It's fun: Let's be honest — the biggest reason you should plan a hammock camping trip is because it's a lot of fun, especially if you've never tried hammock camping before. Grab your closest friends, your favorite pet, or head out for a solo trip and pitch your hammock wherever your journey takes you.
Where Can You Go Hammocking?
Wondering where the best places are for hammock camping in the U.S.? You can find unique spots and breathtaking trails all across the country — but these seven states stand out as some of the best hammock camp locations:
1. California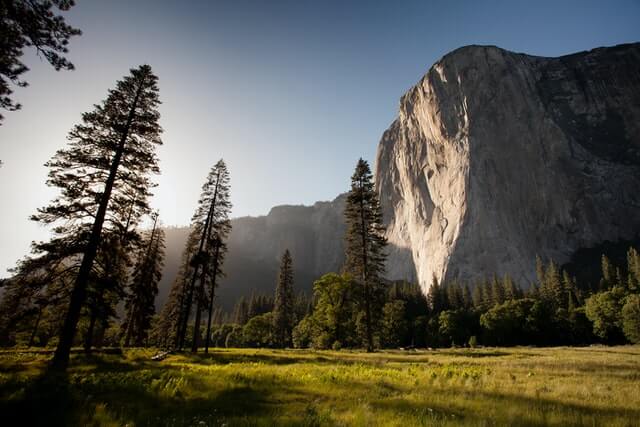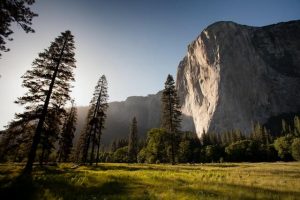 California has a little bit of everything, including sun, sand, lakes, forests, and mountains.
Yosemite National Park: Yosemite National Park is known for three things: enormous sequoia trees, an abundance of gorgeous waterfalls, and awe-inspiring views of the Sierra Nevada mountain range. Where can you hammock camp in Yosemite? The park has more than a dozen designated campgrounds, or you can get a wilderness permit to overnight camp almost anywhere in the park. Wherever you choose to hammock, you'll find no shortage of things to do, whether it's rock climbing, birding, stargazing, or winter activities.
Joshua Tree National Park: Explore California's desert wilderness at Joshua Tree National Park and camp in one of nine established campgrounds. You can also set up your hammock outside of the park, which is still close enough for easy access to rock climbing, hiking, and — of course — the Joshua trees.
Malibu: If your idea of an outdoor vacation calls for sweeping views of the ocean and endless miles of sandy shore, look no further than Malibu. Set up your hammock at one of two campgrounds: beachfront Leo Carrillo State Park or Malibu Creek State Park, which is a hot spot for filming locations and California wildlife.
2. Utah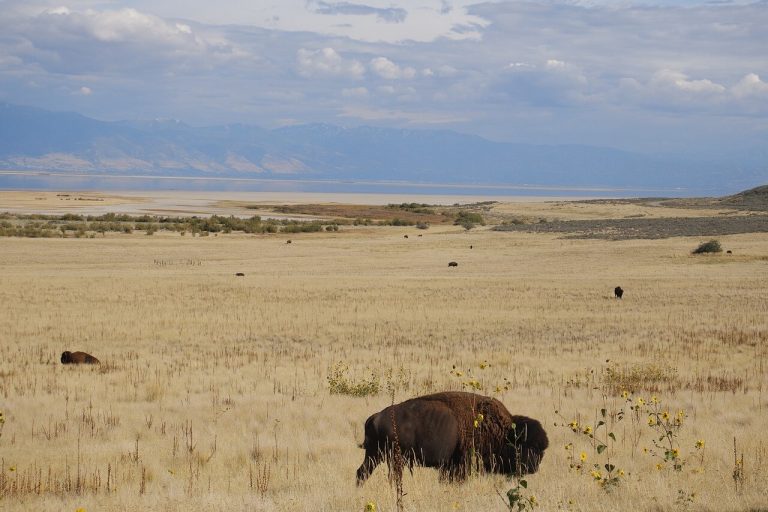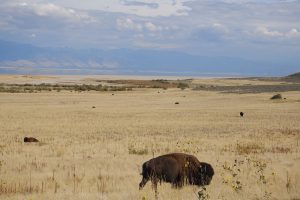 Utah has some of the country's tallest peaks, and the best place to see those is from one of the state's numerous state parks.
East Canyon State Park: Hikers, campers, and hammockers flock to East Canyon because of its access to East Canyon Reservoir, a popular boating and fishing destination. For a fun spin on hammock camping, reserve a stay at one of their hammock structures, which accommodate up to eight people.
Antelope Island State Park: Antelope Island State Park is a go-to location for hiking, horseback riding, and wildlife viewing. Head to one of the park's designated campgrounds, and you might just see a bison, bighorn sheep, or antelope along the way.
Red Fleet State Park: Red Fleet State Park is located in the heart of Utah's "Dinosaurland," a name given to the region because of how many dinosaur fossils and bones have been unearthed there. Hammock where dinosaurs once roamed and get spectacular views of sandstone and desert landscape.
3. Tennessee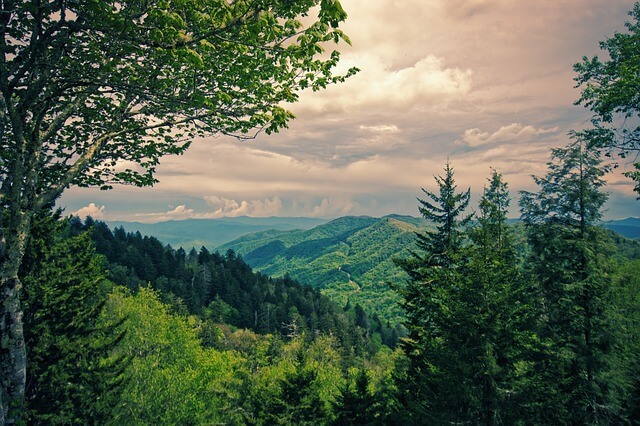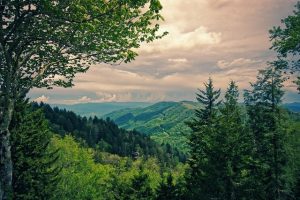 Tennesse is a state full of history and nature, including one of the country's most visited national parks: Great Smoky Mountains National Park.
Great Smoky Mountains National Park: The Great Smoky Mountains National Park delivers on its name — mist, natural smoke, and towering mountains surround you everywhere you go. The park has several camping options, including backcountry, frontcountry, group campgrounds, and horse camps. One of the most visited attractions in the park is Cades Cove, an 11-mile loop that takes you through beautifully preserved land and historic settlements. Wherever you hang your hammock for the night, keep your eyes open — black bears are abundant.
Cherokee National Forest: Cherokee National Forest is Tennessee's largest tract of public land, and it's especially beautiful in the autumn when all 650,000 acres of forest change color. The forest is home to hundreds of hiking trails, creeks, rivers, and waterfalls. You can camp in a hammock from the comfort of a designated campground, or you can set up camp almost anywhere in the forest without a permit.
Fall Creek State Park: This state park is named for Fall Creek Falls, a 256-foot waterfall that is one of the largest falls in the eastern part of the United States. It isn't the park's only tourist location, however — any camper looking to spend time in or near the water will feel right at home among the park's several rivers, lakes, and gorges.
4. Washington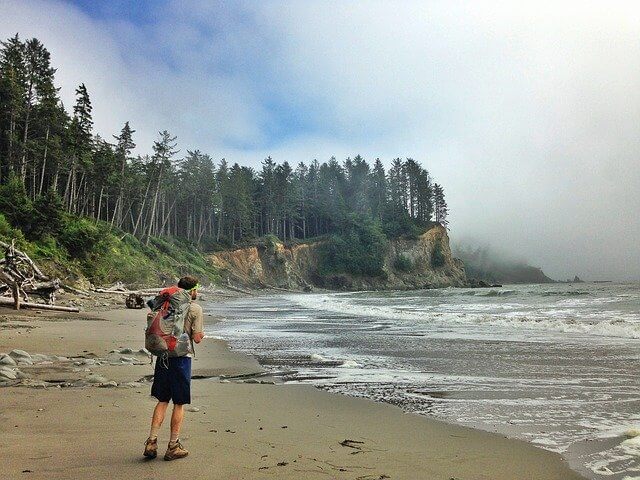 Whether you're heading to Washington State for a vacation on the seashore, fishing for wild salmon, or just want to learn more about the region's rich history, there is no shortage of places to stop for the night.
Olympic National Park: Olympic National Park contains almost 1 million acres, ranging from rainforest and natural coastline to glacier-capped mountains. For backcountry hammocking, you'll need a wilderness camping permit. One spot you can't miss in Olympic National Park is Lake of the Angels, named for its ethereal scenery and seclusion. The journey to Lake of the Angels is very challenging, ideal for the experienced hiker looking for a true outdoor adventure with huge payoff.
Skyline Lake: Snow-sport enthusiasts love Skyline Lake for its snowshoeing trails and winter camping opportunities — just be sure you learn the basics of winter hammocking before you go.
5. Maine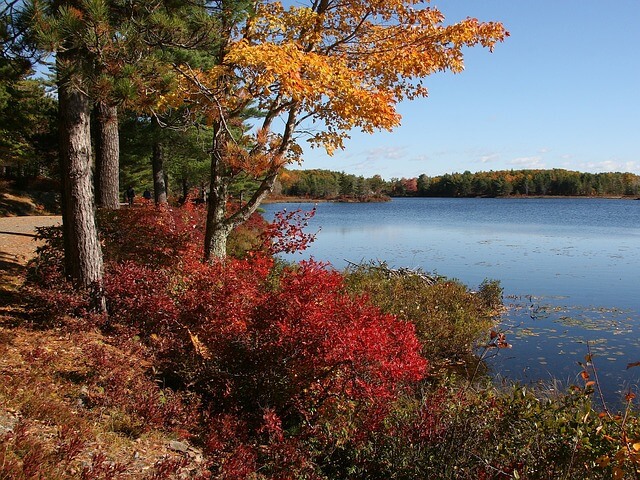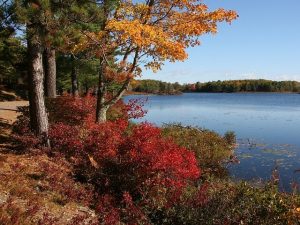 Maine is more than just lobster and lighthouses — though you'll find plenty of those, too. It's also home to some of the United States' most beautiful parks. As you choose where to hammock camp, always keep in mind the season and local climate. Winter, spring, and autumn can bring heavy blankets of snow and ice to many northern states, including Maine.
Acadia National Park: To get to Acadia National Park, you have to drive or take a ferry from the mainland to Mount Desert Island. The journey is well worth the reward. Acadia National Park is where you'll find Cadillac Mountain, the tallest mountain on the east coast. The region is also rich with wildlife — including seals and peregrine falcons — as well as rocky coastlines, wild gardens, and picture-perfect lighthouses. Although backcountry camping is not permitted here, Acadia has several public and private camping sites available to set up your hammock and enjoy the sights and sounds of the park.
Baxter State Park: If you're looking for a backcountry experience, head north on the mainland to Baxter State Park. The park prides itself on being best accessed by foot, rather than a car, making it the ideal destination for hikers and campers looking to really connect with nature. You should have no trouble finding the perfect trees to attach your hammock to — the park has one of the most extensive forest management systems of the country.
6. Wyoming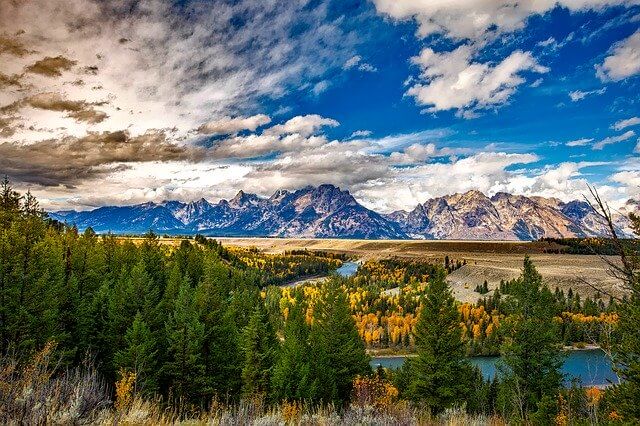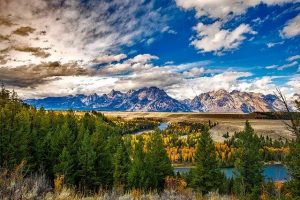 Wyoming is known as the Cowboy State, and you'll certainly feel as adventurous as one while hammocking in one of these national parks:
Grand Teton National Park: Grand Teton National Park is a paradise for both history buffs and nature enthusiasts. The park celebrates the multiple facets of its cultural past, including the culture of the nomadic paleo-Indians who came to Jackson Hole shortly after the Pleistocene Ice Age more than 11,000 years ago. In a single trip, you can witness both swampy wetland and ice glaciers, making it a great hammocking destination for people who enjoy a little bit of everything.
Yellowstone National Park: Yellowstone National Park is one of the most recognized national parks in the U.S., thanks in large part to its dedication to restoring the local wolf population — a fact you might want to keep in mind while you camp in the backcountry. Although no one can deny the beauty and adventure of the park's numerous hiking trails, the real showstopper is exploring Yellowstone's thermal basins. Spend your day witnessing active geysers and hot springs, then relax under the endless Wyoming sky from the comfort of your hammock — you'll be hard-pressed to find a better way to spend a vacation.
7. Florida
Florida camping offers something a little bit different from other parks, thanks to its southern coastal location, barrier islands, and access to the Florida Keys.
Check Out These Hammocking Destinations
Find Quality Hammocks and Camping Gear at DutchWare
DutchWare has everything you need for a backcountry hammocking adventure, including hammocks, hammock accessories, camping gear, and more. DutchWare also offers DIY hammock camping kits, so you can get exactly what you need for your next trip. All DutchWare products are durable, reliable, and crafted with real hikers and backpackers in mind, including high-quality, lightweight gear suitable for all types of outdoor excursions.
Sign up for news & events