If you're an outdoor enthusiast on a budget, love using something you created, or want highly personalized gear, make-your-own-gear (MYOG) projects may be for you. Making your own outdoor gear gives you to freedom to be innovative, save money, and have a sense of pride in the gear you use. From hammocks and quilts to pots, packs, and accessories, you have many options for MYOG. You may even reach the point where most of your gear is homemade.
Understanding the world of DIY outdoor gear is vital for creating effective gear. Explore these tips, materials, and supplies to learn how to make your own outdoor gear.
5 Tips to Get Started
If you're an outdoor enthusiast, camper, or backpacker, you understand that you get what you pay for when it comes to outdoor gear. In many cases, making your own gear can be more affordable than paying high prices for a comparable product. You may not know where to start if you're new to making outdoor gear. To make getting started easier, here are a few tips to remember when learning how to make your own gear.
1. Start Small
As you dive into DIY backpacking gear projects, start with smaller projects and work your way up. Starting with a project that's too complicated or requires skills you still lack can feel discouraging and frustrating. Smaller, simpler projects allow you to build skills and experience before challenging yourself with a bigger project. For example, beginner DIY projects like a drawstring bag offer a nice starting point for newbies.
The more you practice, the better you'll get. Before you know it, you could be making hammocks and quilts.
2. Accept That You'll Make Mistakes
You should anticipate and accept mistakes like anything else you're trying for the first time. You'll likely experience a learning curve, which is normal since many people have limited to no sewing experience. Making mistakes while creating your gear allows you to learn from those mistakes and make adjustments so your gear can be even more effective. Mistakes are also a great way to see how far you've come and how much your skills have grown. The most critical thing is to stick with it when you make mistakes.
It's also important to note that you can and should ask for help when you're stuck or have questions. For example, using a sewing machine for the first time can be confusing, so you may ask your parents, aunts and uncles, grandparents, or friends for help getting started. Remember that you don't need to make your gear alone — having someone else's help can make it more fun.
3. Practice Sewing and Working With Tools
When making your own gear, you typically have to use several different tools depending on what you're making. Many projects require a sewing machine, which requires a lot of practice to use well. Practice using a sewing machine and other DIY tools like fabric shears, a seam ripper, a corner turner, sewing needles, and thread on sample fabric or materials you can get for free or cheap. This allows you to practice and make mistakes without wasting high-dollar materials.
As you gain confidence with the sewing machine, use thread that matches the color of your fabric so messy stitches blend in and are less noticeable. This allows you to give yourself some freedom to be a little sloppy while you're practicing without worrying about it being seen.
4. Learn Basic Techniques

Another great way to learn how to sew is to learn and practice various sewing techniques. Different techniques are used to achieve different designs, effects, and quality. Practice your stitches on cheap material and keep a glossary of all the ones you try so you can go back and refer to them when you have to use them in a project. For example, you may need to reference how you did a certain stitch or how to attach a zipper.
5. Choose Materials Based on What You're Making
Once you begin shopping for the materials for your project, you should choose materials based on your final product. For example, fabric weight, thickness, and insulation can significantly affect the weight, comfort, and durability of your gear. To make ultralight gear, you'll need lightweight fabric and materials. Thicker materials tend to be stronger and more durable.
You'll also need to consider insulation and down fill for gear like jackets or sleeping bags. Insulation can be easier to work with, though the right level of down fill can be lightweight and warm.
Sourcing Your Own Materials
So, where should you source your materials from? Depending on the supplies you're looking for and your budget, you have some options. Here are a few places to check out, whether you prefer to browse in-store or online.
DutchWare
When looking for materials for your final products, you'll want high-quality materials designed for MYOG projects. DIY gear supply stores like DutchWare are your one-stop shop for MYOG needs. DutchWare specializes in lightweight outdoor gear materials, from durable hardware and gear repair equipment to insulation and heavy-duty thread. Whether you only need a few feet of rope or an entire roll, Dutchware has options that allow you to purchase what you need without wasting supplies.
Walmart or Lowes
Traditional brick-and-mortar stores like Walmart or Lowes can be great spots to find materials at affordable prices. While their selections can be limited, and some supplies may be of lower quality, you should check these stores for practice materials. For example, if you're testing a new design, you may want to experiment with cheaper materials in case you mess up or want to make changes.
Walmart can be a great spot to find affordable fabric, buttons, buckles, and similar accessories. Some DIY gear makers also look for products at Walmart that can be used for parts. For example, rather than purchase bulk insulation or padding, you may purchase a cheap sleeping bag from Walmart and use the internal stuffing for your own insulation. Lowes and other hardware stores have affordable options for parts like metal poles or bars for framing.
Fabric Stores
Big box fabric and craft stores like Hobby Lobby, JOANN, and Michael's often have great deals on fabrics and other useful gear-making supplies. These stores are best for stocking up on sewing supplies or cheap practice fabrics. For example, you may shop here for thread, needles, fabric scissors, tape measures, or other supplies necessary for prototypes. These stores likely won't have the materials you want for your final gear product, but with coupons and sales, you can get prototype materials for great prices.
Common Supplies Needed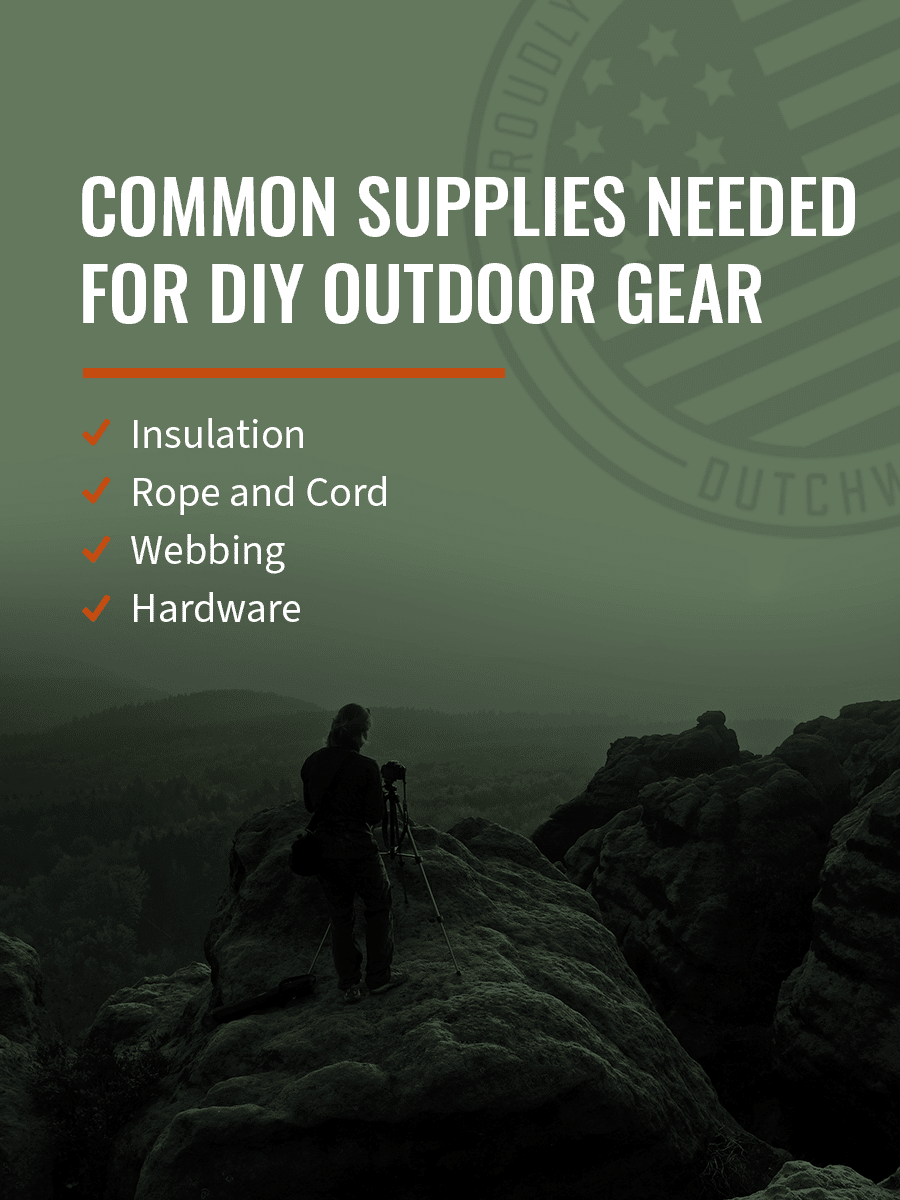 Many MYOG projects require some of the same supplies and materials. You'll likely encounter various types of hardware, rope, insulation, webbing, and more when searching for supplies. Understanding your options can help you find the right supplies for your projects. Here's what you should know about some common supplies you may need for your projects.
Insulation
Insulation is used for projects where additional padding or warmth is needed. For example, you may use insulation in sleeping bags, quilts, hammocks, or backpack straps. Insulation is available in different weight options — the heavier you go, the warmer it will be. So 6.0-ounce insulation will be ideal for winter gear, while 2.5-ounce insulation is often preferable for summer gear.
You should also consider what type of insulation you need for your project. For example, you could choose down insulation or continuous filament insulation. Down insulation is loose, typically packaged in bags, and can be stuffed into your quilts or other gear for warmth. Continuous filament insulation comes in sheets and can be sold by the yard. This type of insulation is commonly used for padding warmth in MYOG projects.
Rope and Cord
You may need rope and cords for numerous applications as a backpacker or outdoor enthusiast. For example, ropes can be used for anything from hanging hammocks or netting to hauling or securing gear. Ropes are a versatile material for MYOG projects, and they're available in a wide variety of colors, lengths, strengths, and other options so you can find the right rope or cord for your needs.
For example, ropes can be water-resistant, mold- and mildew-resistant, durable under heavy use, or reflective. Some rope qualities like length or durability may be ideal for certain gear needs, while others are more for aesthetic and personal preference.
Webbing
Webbing is often used for straps and tie-downs. For example, you may use webbing to create backpack straps or tree huggers for your hammock. You should opt for high-quality webbing that will resist fraying after high use. For example, when used for tree-hugging, the webbing will be wrapped around tree trunks. Low-quality webbing will begin fraying after a couple of uses because a tree's bark is rough.
Look for webbing that does what you need it to do. If you need it to hold the weight of your backpack or your body in a hammock, pay attention to break strength. These supplies are versatile and have various qualities like color, reflection, and stitch patterns.
Hardware
Another vital piece of material to have is the hardware. This includes everything from buckles and clips to poles and hooks. Hardware is typically either plastic or metal — metal is usually more durable and relatively lightweight, while plastic can be a more affordable and lightweight option. Hardware is necessary for nearly every MYOG project, including hammocks, tents, suspension systems, and more.
The right hardware can help make your gear more durable and reliable for many outdoor adventures to come. Low-quality hardware can make a fun trip frustrating if it causes your gear to break or malfunction, so carefully considering your hardware needs is essential.
Try Starting With a DIY Kit
Entering the world of MYOG can feel overwhelming and confusing at first. Consider DIY kits if you're interested in making gear for yourself and unsure where or how to start. DIY kits come with all the materials and detailed instructions necessary for a project, taking much of the stress out of sourcing your materials and putting pieces together for the first time. DIY kits can range in difficulty from beginner to advanced, allowing you to find something you're comfortable with based on your experience level.
Here are some great DIY gear kits from DutchWare that you should consider starting with.
DIY Pack Cover
Consider starting with this simple pack cover DIY kit. This kit allows you to create a waterproof pack cover to protect your pack from the elements. You can choose from various fabric colors and types depending on your preferences, and your kit will come with everything necessary to create the pack cover, including a yard of fabric, 4 feet of shock cord, and a cord lock. You'll need your own tools like a sewing machine, scissors, and measuring tape.
While the kit comes with thorough instructions, you'll essentially measure your full pack, cut the fabric to size, hem the corners and edges, feed the shock cord through the hem, and add the cord lock. This kit is great for beginners, and the steps are simple enough to follow with prototype materials before working with the real materials.
DIY Pillow

This DIY pillow kit is another great project to dip your toe into the world of MYOG. If you're backpacking and want something a bit more comfortable than laying your head on your folded-up jacket, this pillow project is for you. Choose from a list of breathable fabrics and colors, and it comes with insulation and a Grosgrain strap. Grab your sewing machine, scissors, tape measure, thread, and fabric marker. On a basic level, this kit involves cutting your fabric to size, stitching the perimeter, stuffing the fabric with insulation, and sewing it closed.
Other DIY Kits
Other DIY kits from DutchWare include a stuff sack, asym tarp, tarp sleeves, pot kits, and more. You can also find numerous DIY instructions for any gear you want to make online. DIY kits are great for understanding how different materials and supplies work together without having lots of wasted materials. You'll find that as you successfully build DIY kits, you'll gain confidence and inspiration for future projects.
Shop DIY Supplies and Kits From DutchWare
At DutchWare, we take pride in creating innovative hammocks, outdoor gear, and supplies. Our products are ultralight, high-quality, and easy to use. We create top-of-the-line hammock camping gear and DIY supplies that are backed by a guarantee against defects — that's how confident we are in our products. Whether you're new to creating outdoor gear or have been DIY backpacking for years, we have what you're looking for.
Explore our inventory online and enjoy fast shipping on all orders. If you're not sure what you're looking for or where to start, contact our team online or visit our store in Lancaster, Pennsylvania.
Sign up for news & events