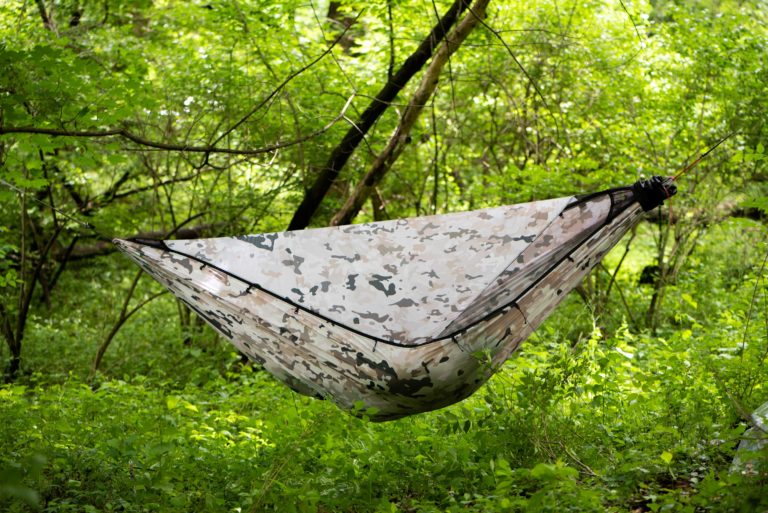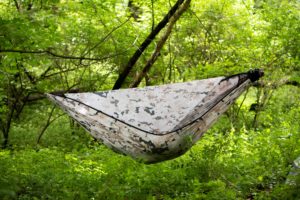 There is no hammock like the Chameleon for offering comfort and easy setup for your next camping adventure. Designed for function at every level, the Chameleon is a full-featured hammock made to be completely customizable and adaptable to any environment. Because of its modular structure, you can swap out components of your Chameleon hammock setup to fit your needs. 
Features of the Chameleon Hammock
The DutchWare Chameleon hammock is sure to please beginner and seasoned campers alike with its outstanding features, comfort, and versatility. Benefits of the Chameleon hammock include:
Customizable: 

The Chameleon is equipped with many customizable features to let you adjust for changing climates and resting conditions. Products designed for the Chameleon include the attachable 

nanoweave bugnet

, the 

wind-resistant top cover,

 and 

a variety of tieouts

. You can change the orientation of both the top cover and bugnet to suit your environment — simply unzip the covers and flip them over so that you can change the direction of your hammock.

Versatility:

 The zippers on the Chameleon are double-sided and 

will

 open on both sides of the bed and in both directions. DutchWare also manufactures a reversible sidecar pocket that zips to the same track as the top cover or bug net. 

Because you can change out components at any time, the Chameleon offers a year-round solution to all of your hammock needs.

 

Quality materials: 

The Hexon proprietary fabric that makes up the body of the Chameleon is lightweight, durable, and incredibly comfortable. Depending on your body weight, you can choose from a variety of material thicknesses for a truly customizable fit. 

Comfort: 

The Chameleon is made of ultralight material

 to provide you with a superior night's sleep. 

Adaptability: 

The special-designed zipper 

lends extreme 

modularity 

to

 the Chameleon, 

making it ideal 

for campers who want to purchase components at a later date. With the vented top cover, you can take your Chameleon 

out in colder weather

 because it will vent out the moisture produced by your breath while creating a comfortable micro-climate. 

Sleep solo or with a partner:

 With the Chameleon's unique beetle buckle system, you can connect two hammocks by adding a spreader bar. With this bar, you can set both beds up side by side under the same tarp and off the same two trees. Or, if you prefer to sleep solo, you can do so without altering anything on either suspension. 

Durable: 

The 1.6-ounce fabric of the Chameleon hammock is soft to the touch yet sturdy.

Easy to set up: 

The quick and intuitive suspension system of the Chameleon hammock makes it incredibly easy to assemble. 
For complete instructions on how to set up the Chameleon, check out our guide for how to use a brand new Chameleon hammock. You can also find tips for selecting the appropriate top for your Chameleon here.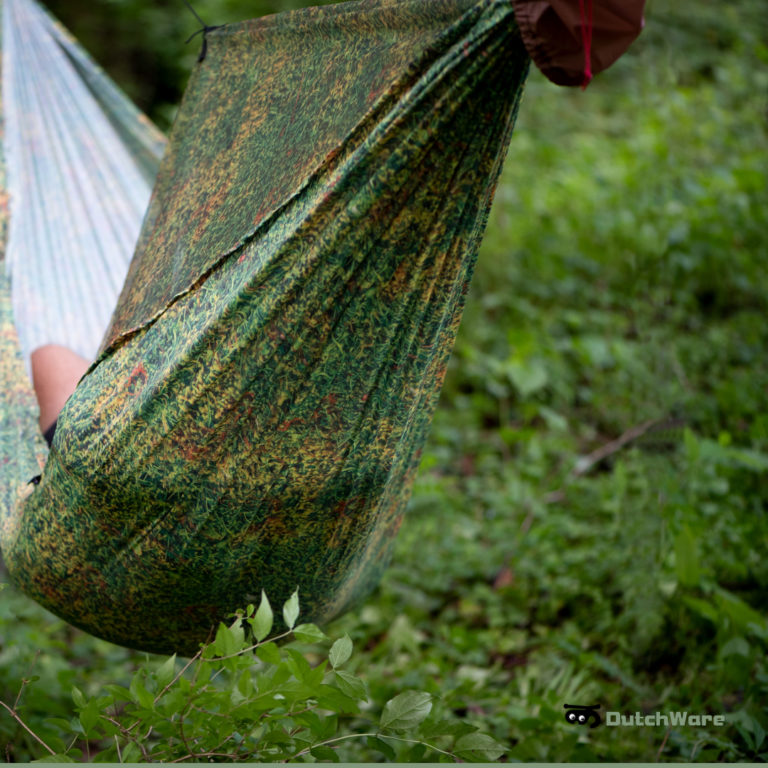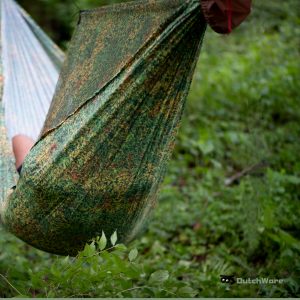 Get Your Chameleon Hammock Today From DutchWare 
Hammocks are popular modes of sleeping due to their versatility, lightweight feel, and breathability. There are numerous benefits to sleeping in a hammock, and at DutchWare, we make setting up your hammock easy with our no-knot hardware. As a U.S. manufacturer, we offer the highest quality hammocks on the market, reducing their weight with rope, webbing, and cutting-edge materials. 
Shop online today and see for yourself why our customers love our ultralight, easy-to-use, and innovative lounging and camping hammocks. Or, contact us about our Chameleon hammock and let DutchWare take your outdoor camping experience to the next level. 
Written & Reviewed by Dutch
Sign up for news & events