This recipe is to make a Philly cheese steak wrap and was provided by Backpacking Adventures.
Recipe Overview
 Step 1: Place all ingredients in ziplock bag.
Step 2: Add 3 ounces of water to pot and bring to boil.
Step 3: Pour boiling water into ziplock bag with food and let sit for 10 minutes. Shake the bag a little bit around the halfway point (5 minutes).
Step 4: Empty food from bag onto tortilla. This will fit on two 6 inch tortillas or one larger tortilla.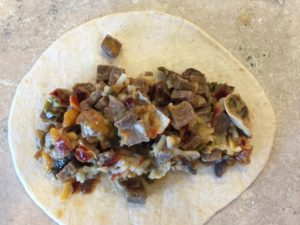 Step 5: ENJOY!!!