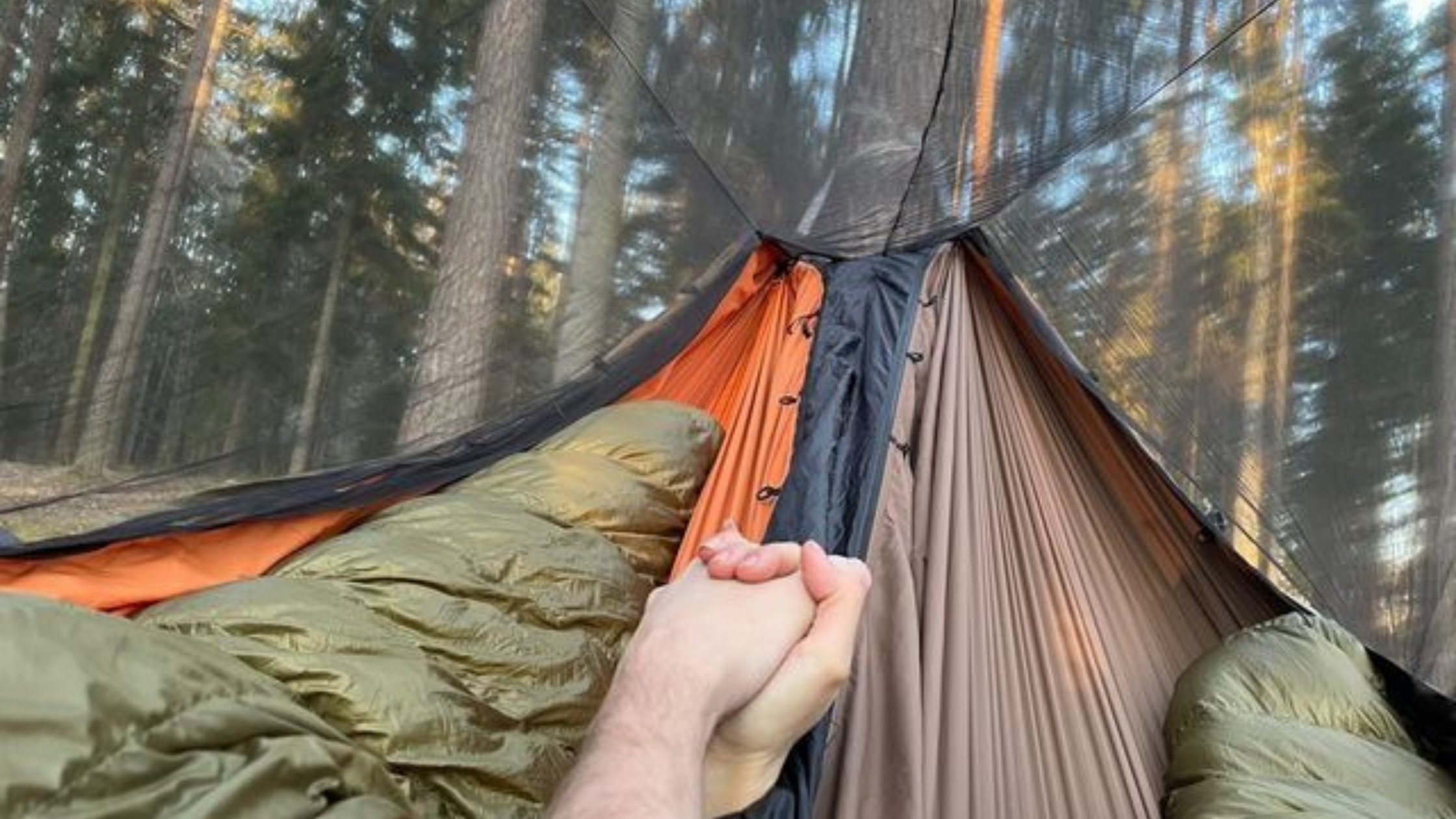 What could be cozier than hammocking for two? Sharing a hammocking experience with someone else can turn a regular camping trip into an opportunity to take togetherness to new heights — literally! Nevertheless, the key to making two-person hammock camping work is having the right equipment.
Why not just sleep in the same hammock? Although the thought is cozy, it can be logistically unfeasible. Hammocking with another person all night in a single hammock can lead to overcrowding, physical discomfort, and, for some people, claustrophobia.
But there's a fast workaround to these challenges: A double hammock containing two spacious, independently stable hammocks.
Could a Two-Person Hammock Fit Into Your Next Camping Trip?
Two-person hammocks offer you the opportunity to rest and relax next to a buddy or loved one without cramping anyone's style. With a 2 person hammock setup, you're able to get all the advantages of enjoying nature with someone by your side, day and night.
What are some of the benefits of double hammocking?
First, you can travel light. Many high-quality brands like Clark make super-lightweight double hammocks. They're engineered to hang side by side but offer separate sleeping compartments. At the same time, they're not too bulky to take on a long trek.
Second, you can get a hammocking newbie to finally take a weekend (or longer!) trip with you. Many people hesitate to camp out in a hammock if they're unfamiliar with the experience. Maybe they're even a little worried that they won't know how to set up their hammock. A 2 person hammock setup allows you to help your friend adjust to sleeping in a hammock. After all, you're right there to answer any questions — and show just how convenient it is to rig up a hammock in minutes.
As a final upshot to double hammocking, you may be able to store your stuff next to you if you purchase a double hammock that includes an extra compartment. It's a relief knowing that everything you brought along is only an arm's length away, whether you need a drink of water or an extra layer.
Overcoming Potential Hammock-Sharing Issues
So are there any reasons not to try hammocking for two?
Honestly, it's hard to come up with one. As long as you're prepared upfront with a 2 person hammock setup, you shouldn't have too much trouble. With that said, you'll want to make certain you order a two-person hammocking package designed to provide breathability and, if possible, three-season comfort.
Don't be surprised if you find out that you get so accustomed to your two-person hammock that you end up using it on solo backpacking excursions, too. Some campers appreciate being able to stretch out along two hammocks.
Alternatives to Sharing a Hammock
At this point, you might be eager to buy a two-person hammock. However, until your new 2 person hammock arrives, you can replicate some aspects of the double hammocking experience by setting up single hammocks side by side or by hanging one lower than the other. Though it's not the same as being bundled together in one mosquito net-protected compartment, it can definitely work in a pinch.
What if that's not realistic based on where you're camping? If one of you doesn't mind sleeping on the ground, you can always rig up a tented hammock stretched above a tented sleeper. You won't have the intimacy of a double hammock, but you'll be close all evening.
Getting a Great Sleep in the Great Outdoors
The next time you're seeking to recharge and refresh with a camping companion, consider two-person hammocking. It's a blast, as well as an opportunity to try something new. Be sure to check out all of our DutchWare hammocks to find the right one for you.
Not sure which of the most comfortable hammocks to pick from our site? Contact us anytime for expert feedback and answers to all of your hammock technique and gear questions.
Sign up for news & events