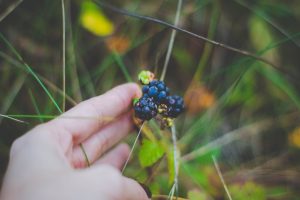 Foraging provides ample opportunity to get yourself out into nature and experiment with new flavors and textures while cooking. Some plant varieties even have a better profile of micronutrients than their supermarket alternatives due to being raised in the wild. Plus, with gardening and veganism on the rise, it's only natural that curious campers are starting to wonder how they can forage for their next meals.
Tips for Foraging in the Wild
Whether you're just curious about natural foods or being aware that you may not always have access to a fully stocked camping kitchen on your outdoor excursions, learning to forage is a great idea. Regardless of your reasons for foraging, it's crucial to be aware of what you're eating when you're out in the wilderness. Always remember to identify plants, fungi, or other edibles with complete certainty before consuming them. Some useful beginner tips for foragers include:
Keep a book with you: It's essential to keep a guide book with you when foraging. Also, keep in mind that not everything in a book will be in your specific region.
Carry a breathable sack with you: When foraging for mushrooms, using a breathable sack will allow more spores to be planted as you move, allowing you to give back to your environment.
Avoid bright colors: Unless it's a known-safe flower, do not put anything vibrantly colored in your mouth. There are, however, exceptions to this rule — the colorful blue chicory flowers and bright yellow dandelion being two of them.
Pick a location with a clean water source: Choose an area that is healthy, has a sanitary water source, and is not contaminated by chemicals.
Increase your visibility: Always wear bright, reflective colors when foraging outdoors and keep yourself updated on what hunting season you may be in before venturing out.
Foraging is year-round: Don't wait for spring or summer to roll around to begin foraging! You can explore in any season.
Approach foraging like a scientist: Every time you spot the plant you're looking for, note the environment and what surrounds it. That way, you'll be better able to identify where else this plant is likely to be found.
Excellent Foods to Forage While Hiking or Camping
You will find different varieties of plants and edibles depending on where you forage. Foods rich in micronutrients to seek out in the wild include:
Common Sow Thistle
Ancient Amaranth
Milk Thistle
Blue-Flowered Chicory
Joe Pye Weed
Wetland Cattail
Dandelion Salad
Ground Ivy
Common Yarrow
Hit the Trail With High-Quality Gear From DutchWare
Does all this talk of foraging get you excited to hit the trail? Gear up with all the essentials for an upcoming hike with DutchWare's line of high-quality, ultralight outdoor gear. Whether you need a waterproof backpack, rope, hammock, or do-it-yourself equipment, we have what you need to be trail-ready in no time. Browse our easy-to-use camping gear today to get started.