After many years of providing wholesale materials, reliable services and expertise to businesses, DutchWare® is adding new capabilities to provide high-quality contract services for sewing, laser cutting, custom printing, and more. As a trusted supplier of innovative, high-quality products and materials for outdoor enthusiasts, we're known for our attention to subtle details that ensure every item we deliver is reliable and resilient.
Are you looking for professional-grade sewing, laser-cut fabrics, and custom-printed branding on hammocks or other gear? We're happy to offer the following services to meet your needs!
Sewing Contract Services
There are many operations you can handle in-house, but hand sewing your products doesn't need to be one of them. Contract sewing services allow you to get the products you need while freeing your hands to work on running other aspects of your business. The DutchWare® team of sewing professionals, based out of our sewing facility in Lancaster, Pennsylvania, can provide a range of full contract sewing services for all of your commercial needs. When you need high-quality fabrics sewn by extensively trained seamstresses who commit their talents to every stitch, turn to DutchWare®.
Benefits of Personalized Sewing
With personalized sewing services, your project gets the individualized attention that results in high-quality products. The time and attention to detail that's dedicated to each project mean improved results and fewer mistakes. When your project gets done right the first time, you avoid order delays and can save money in the long run. Our skilled seamstresses devote time and attention to each product, and we perform thorough quality-assurance checks before shipment, helping to ensure that your order is completed correctly.
Why Fabric Choices Matter
Handsewn and quality-controlled machine sewing services are indispensable resources. Another critical factor in getting the results you're looking for is your choice of fabric.
The fabrics that we use for our DutchWare® products are all specifically designed to withstand the heavy demands of the outdoor industry. We source every material we use from mills around the world that deliver only the best fabrics to our exact specifications. Our diverse fabric options include:
Breathable Nylon Fabrics: These fabrics are lightweight and able to rid the body of moisture.
Waterproof Fabrics: Waterproof fabrics range from lightweight to a heavier weight and are available in water-resistant and completely waterproof options.
Calendared/Downproof: Calendared fabrics provide extra wind protection and allow them to be downproof. 
Mesh: Mesh options include No-See-Um bug netting that protects users from annoying, potentially disease-spreading pests.
Printed Fabrics: Fabrics with customized imaging are available in breathable, waterproof, calendared, and downproof options.
Technical Fabrics: We also offer a variety of technical fabrics, including Dyneema® Composite Fabric, ROBIC® and X-PAC®, that offer superior strength while remaining lightweight.
Our expertise in providing and developing top quality rolled goods has made us a leader in the outdoor industry. With a large selection of strengths, sizes and capabilities, we offer an unmatched inventory of industry-leading rolled goods. Whether we're sourcing our fabrics from reliable companies like Dyneema® and X-Pac® or using our own in-house branded materials, you can rest assured that our custom hammock fabrics are ready to deliver unbeatable comfort and performance.
Our Handcrafted Sewing Services

Handcrafted — it's often the difference between premium quality and preventable mistakes. That's why we sew every stitch in all of our products by hand. Using industrial-grade sewing equipment, our professional sewing department creates every hammock, hugger, strap, and accessory with precision and patience. The seamstresses on our dynamic team have mastered their craft and pride themselves on their strict attention to detail. Each piece of finished gear is initialed with confidence and thoroughly evaluated in our final quality assurance checkpoint.
At DutchWare®, our highly trained, passionate, and versatile sewers are dedicated to your complete satisfaction. We have one of the largest custom fabric selections in the outdoor industry and are prepared to deliver a full range of contract sewing services. Don't chance ruining your production run with low-quality materials or poor stitching. Allow our team of seamstresses to put their talent and passion to work on your project. We guarantee you'll be satisfied with every stitch.
Laser Cutting Contract Services
While we pride ourselves on the work of our talented seamstresses and their mastery of industrial-grade sewing machinery, we also know that some operations require the precision of the latest technology. Along with our contract sewing services, DutchWare® is also pleased to offer contract fabric cutting services. Unlike other manufacturers who contract laser cutting machines, we have our own in-house fabric laser cutter to meet your exact needs efficiently, accurately, and without extended production times.
What Is Laser Cutting?
When you need ultimate precision for fabric cutting projects, every fraction of an inch counts. While traditional fabric cutting machines can accomplish many fabric cutting services with smooth results, contract laser cutting machines can achieve a much closer, cleaner cut. Using advanced technology, laser cutting begins with a digital, 2D file created through vector graphics software. The file acts as an informative guide for the laser to follow, making the precise cuts requested on any fabric type.
The lasers used are extremely accurate, achieving a level of precision far beyond traditional fabric cutting machines or even fabric cutting by hand. Many lasers can cut through thick materials aside from fabric, including metal, leather, and wood. These machines can also etch designs into the material. Laser cutting is an exceptional production method that can achieve physical results based on intricately detailed computer designs, allowing you to bring to life nearly any product idea you create.
Benefits of Laser Cutting Services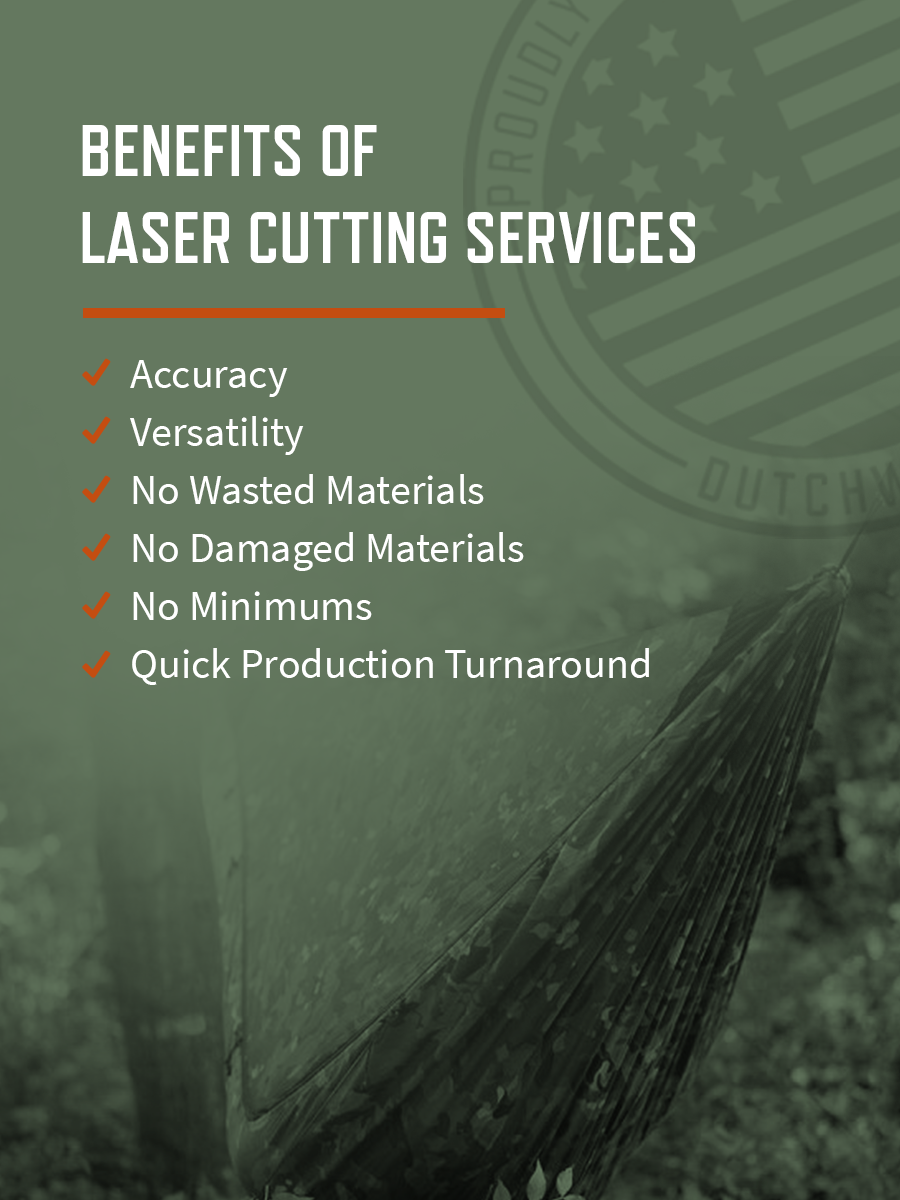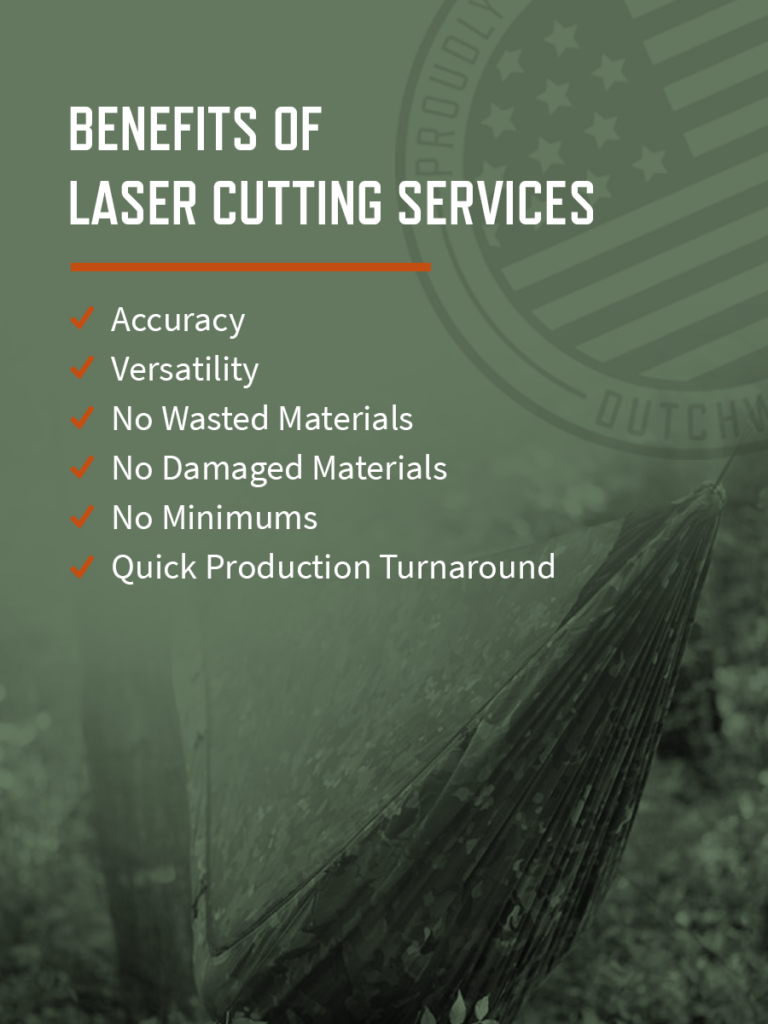 Why should you contract laser cutting machines for your product order? Contract laser cutting has numerous benefits, including:
Accuracy: The most notable reason for using contract laser cutting machines is its enhanced level of precision. Small, powerful lasers can achieve within 0.003mm and 0.006mm of the desired cut.
Versatility: Another notable benefit of laser cutting technology is its versatility. These machines can be programmed to create intricate designs in a number of diverse materials.
No Wasted Materials: The precision of these small lasers ensures that each cut is as close as possible, allowing us to salvage any excess unused material.
No Damaged Materials: The laser's precision minimizes the number of mistakes made.
No Minimums: Because laser cutting machines rely on computer software to deliver information and direction, we can quickly modify designs, allowing us to create low minimums of even a single item.
Quick Production Turnaround: The laser cutting process is fast and efficient, enabling us to provide quick production turnarounds for our customers.
Our Fabric Cutting Services
Our production facility is equipped to handle your production needs with our fast and efficient in-house fabric laser cutter. After each cut, the laser seals the edge of the fabric, and we reuse any excess scrap fabric. Our fabric cutting table includes a built-in conveyor that accommodates fabric as large as 60 inches wide with no limit on length. We offer quick turnaround times and can fulfill and ship many orders within a matter of days.
Custom Printing Services
When you place a large order for customized, branded printed products, you need a reliable contract printing service that uses high-quality printing methods. Our printing process results in accurate colors and images that will last, even when exposed to high temperatures.
Dye Sublimation Printing
At DutchWare®, we use a dye sublimation process for our contract printing services. This superior printing process is ideal because there is no limit on coloring or image quality, the design is embedded into the fabric fibers themselves, and the finished result never fades, washes out, or runs. There are two parts of this process, both of which involve printing. First, we print the design onto a paper designed for heat transfer applications. We then place this paper into a machine with the fabric. The paper and the fabric are heated to nearly 400 degrees, which changes the ink to a gas that adheres to the fibers of the fabric.
Unlike other fabric printing techniques such as screen printing, the colors do not bleed or fade over time. The fabric also retains its texture, softness, and breathability. Dye sublimation printing is perfect for printing on fabrics used in outdoor activities. Dye sublimation works best on polyester and also works on nylon. Higher polyester content tends to result in better prints.
CNC Milling Finishing
Computer numerical control milling, also called CNC milling, is a type of CNC machining production process similar to cutting and drilling. While a production method using a drill is limited to moving in a single motion, CNC milling can move on multiple axes. It utilizes a cutting tool that can move in various directions to create detailed impressions in a material. This machine is great for finishing prototypes and products. What advantages do CNC milling machines provide over traditional machining?
CNC milling machines reduce manufacturing and production costs. These tools requiring limited maintenance throughout their lifespan and significantly reduce their output of waste.
These resources increase the speed of your production run by eliminating time-consuming steps. For instance, the CNC machine can create multiple parts in a shorter amount of time than it may take an operator to create a single part.
CNC milling machines are also safer due to automation. With no operator required, these machines virtually eliminate the risk of injury to personnel.
At DutchWare®, we use a top-of-the-line CNC milling machine for both the prototyping and finishing of rough-cut items to ensure a great final product. Our full control of this process enables us to achieve a quick turnaround time for our orders, getting you your product as swiftly as possible. Just like we have committed seamstresses for our sewing operation, we have a talented machinist who is well versed in AutoCAD software who can produce and cut anything you desire, as well as finish rough-cut items.
Titanium Hardware
For years, adventurers have relied on Dutchware gear to endure even the harshest weather and heaviest use. We are known as the go-to source for outdoor gear because every material used to construct our products is made to last. One of the materials that has solidified our reputation is our titanium hardware, or as we like to call it, our "bling." Each piece of titanium hardware is manufactured domestically to the highest standards. We designed the innovative no-knot titanium hardware and continue to earn revolutionary patents.
Take one look at our titanium hardware, and you'll notice that it's designed with a unique flair that makes it stand out from the crowd aesthetically and functionally. Using our CNC machine, we round the corners of our hardware and polish it to a smooth finish that improves efficiency. Once you use a product made with our titanium materials, you'll immediately see that our CNC milling finishing process far exceeds that of the competition.
Quality Assurance and Shipping

Along with our exceptional machinery and technology, we also use high-quality equipment during our quality assurance process. Before we even create our products, we inspect every piece of material we receive to ensure it meets our standards. For our in-house quality assurance check, we utilize a rolled good pull strength tester, fabric tear tester, and waterproof tester. To fully confirm that our products meet your standards, independent tests are also performed. Every order is hand-checked against our stringent quality standards before being shipped to you.
Our shipping team hand-picks and packages every single order. They personally weigh, double-check, and verify that each item is correct before giving it the go-ahead to ship to you. This thorough team is also trained and experienced in splicing and assembling orders so that they can fulfill your order without hesitation. Although these meticulous men and women leave no detail unchecked, they confirm and complete each order as swiftly as possible to ensure prompt delivery.
DutchWare® is ready to ship orders worldwide, including all orders placed for our fabric cutting, custom printing, and sewing services. Each order is weighed and reinspected if it's not within 20 grams of the weight listed on the packing slip. All orders are packed in-house and shipped within two to four business days so you receive your products as quickly as possible. You'll also find a short message from our founder Dutch which conveys his laidback gratitude for all of our customers — "Thanks, peace."
Contract Fabric Cutting, Sewing, and Custom Printing Services From DutchWare®
Do you need reliable contract production services for your custom-printed, stitched, or laser-cut products? Allow DutchWare to deliver exceptionally made custom-printed hammocks, backpacks, and other gear to your business. Our reputation for producing high-quality, innovative products using a minimalist approach has made us an industry leader in outdoor gear. We have a full production facility ready to create the ideal product for you.

To learn more about our contract sewing services, fabric cutting services, contract laser cutting, and custom printing services, contact us today to speak with a member of our helpful production staff.
Written & Reviewed by Dutch
Sign up for news & events