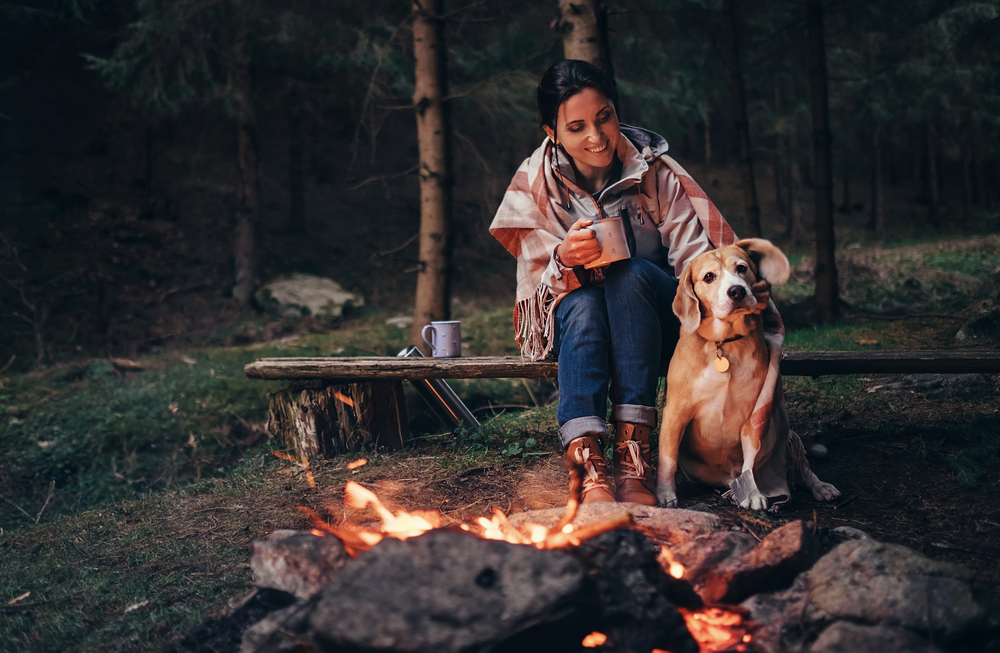 "What should I bring when camping with my dog" is a common question that many pet owners who camp ask. Every camper's list may include slightly different things based on your dog's needs, but certain items should be on every pet owner's list.
Equipment To Bring When Camping With Your Dog
These things will help you and your dog have a fun trip while staying safe.
Doggy Backpack
Strap on your favorite pair of reliable hiking boots and start loading the car with your camping supplies, including your dog's very own backpack. On this camping trip, your trusted K-9 companion can help carry the load. If you often hike with your pet, a pack is an excellent investment.
These backpacks are quite handy because they have storage space for smaller items such as treats and poop bags. They're designed to be comfortable with a sturdy ring to attach a leash. Dog backpacks usually have reflective material, as well, so that your K-9 pal is easy to see for added safety while hiking and around your camp. 
Some dogs don't like wearing a backpack, so it's entirely up to your pet's preference. Let them wear the bag around the house so that they can get used to carrying it with a few supplies, and then they should be fine on longer trips. 
ID and Temporary Tags
Safety for your pet is a priority, and you want to make sure that your dog doesn't get lost. However, they may slip out of the tent in the middle of the night or wander away from camp. So, make sure that your dog has a collar and tag with current contact information. Many people move and don't update this info, and that's a problem if someone finds your dog but can't find you. Make sure that the tag has your current phone number and address. 
Even better, get a temporary tag that has your camping location. Include the name of the campground or area, the phone number of the closest forest ranger station, and your campsite number.
Having your pet microchipped is a great idea and adds another layer of protection against losing your dog. If your pet slips their collar, then the microchip increases the chances of their safe return.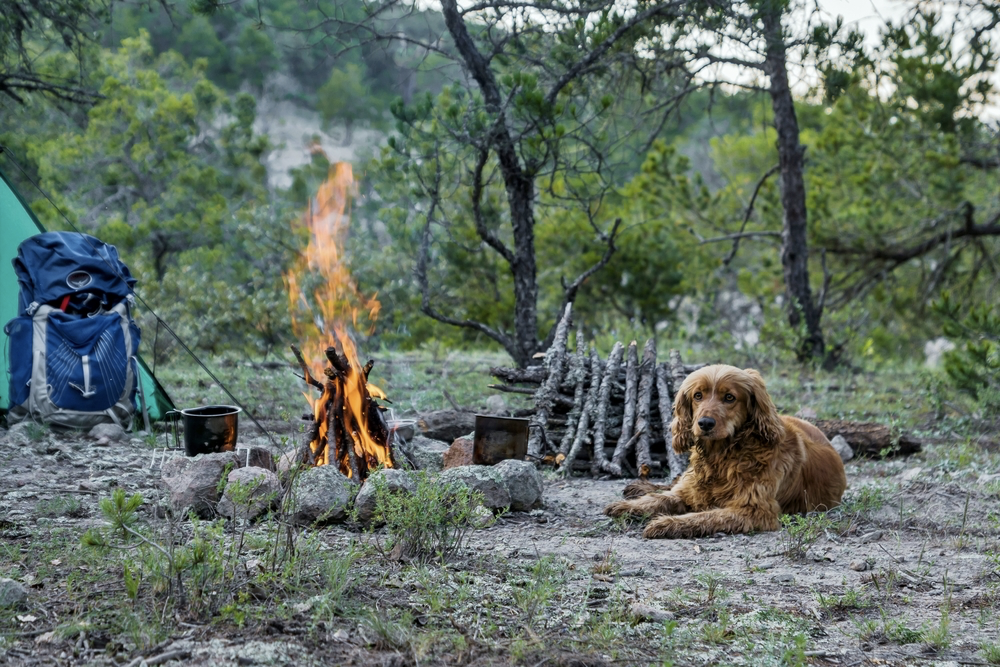 First Aid Kit
The good news is that most of the items in your first aid kit work on your pet as well, and you're carrying a kit for yourself, right? However, canines have some different needs than humans. You'll need equipment to take care of any injuries until you can get your dog to the vet. There are pre-made first aid kits for dogs, or you can create your own. Essential supplies include:
Vet Wrap
Cotton Swabs
Gauze
Medical Tape
Non-stick Pads
Heat and Cold Packs
Tweezers
Gloves
Oral Syringe or Eye Dropper
Benadryl
Antibiotic Ointment
Styptic Powder
Hydrogen Peroxide
Portable Water and Food Bowls
Of course, food and hydration are essential, and collapsible water bowls are easy to carry because they save space. Bring enough for your pet to eat and drink out of, as well as extras to leave in different areas of your camp for water. These bowls are much more convenient than using whatever you may have lying around camp.
You may not have a reliable source of clean water, depending on where you're camping. It's wise to purchase a filter or bring another water purification method to ensure you have clean water that's safe for you and your pet to drink. 
Food 
This item should be obvious, but feeding your pet at a campsite is slightly different from feeding them at home. They are likely more active while on a camping trip and require more food because of the energy they burn. To ensure you have enough food, bring double the amount that they usually consume. 
You likely have your pet's dinner plans down pat. However, some people want to know what to feed their pet when camping, and it's generally the same as what you feed them at home. Kibble that's high protein and grain-free, supplemented with a raw diet, provides a quality meal for your dog. 
Dehydrated raw food is an excellent food source for a camping trip, and many K-9s enjoy it. It's also lighter and more comfortable to carry on the trail. You can also re-hydrate it for extra hydration for dogs that don't drink large quantities of water. To keep the bugs out of your pet's food and keep it fresh, think about buying a kibble carrier. To keep the bears away, store it in a bear-proof container.
Long and Short Leashes
It's critical to pack leashes of varying lengths to keep your pet safe while camping. Include a short leash that doesn't retract, to keep your dog safe on short walks in the woods. Non-retractable leashes help keep your dog from getting wrapped around trees. Use a long line if you're camping in an open clearing. It still controls your pet while allowing them the freedom of movement. 
Sleeping Bag or Dog Bed
Your K-9 friend needs something warm to sleep in at night. Sure, they can snuggle with you in your sleeping bag, or you can bring a sleeping bag made just for dogs. Another option is to set up an inflatable sleeping mat and blankets. Just make sure that your pet stays warm.
You can even set up a tent just for dogs. It provides a great napping place during the day when it's hot or a warm place to cozy up in near the fire. A tent also blocks wind and keeps your pet warmer.
Additional Items
Here are some other items you can bring on your camping trip:
Water Cooler
Long-Lasting Treats
Booties
Comb
Poop Bags
Extra Towels
Safety Light
All-Weather Tarp
Pet Camper
Balls and Toys
Hammocks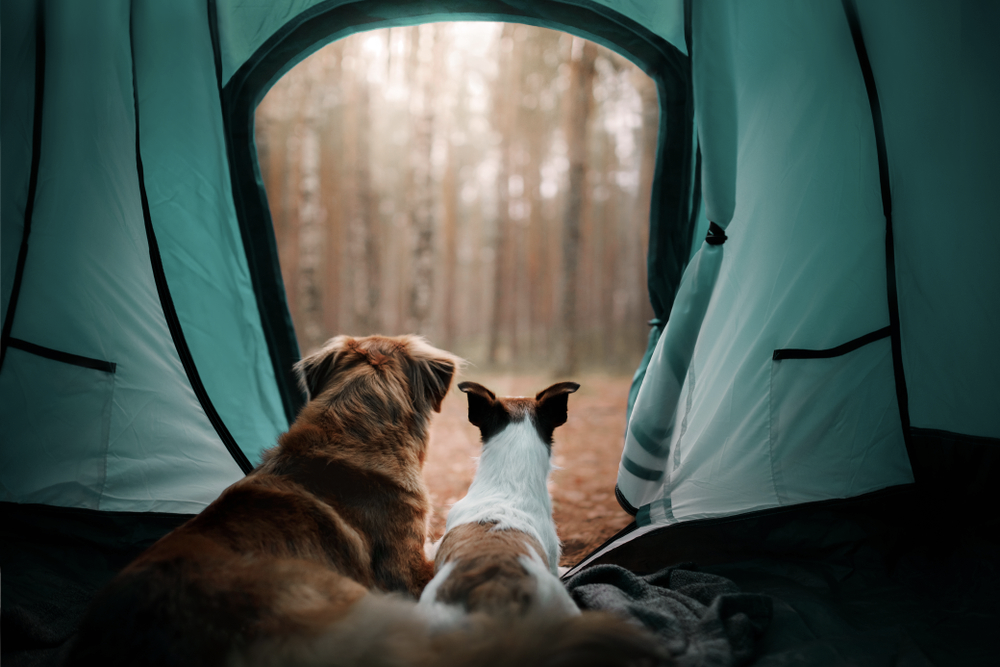 These items are some of the primary outdoor doggy gear to bring with you on a camping trip with your K-9. You can set up a sturdy duffle bag to carry all of your pet's necessities that they aren't carrying in their backpack and simply unload it at the campsite. These things shouldn't take up too much room, and they ensure that your camping adventure is the safest and most fun trip yet.
4 Tips for Hiking With Your Dog
1. Prepare Your Dog for Outdoor Adventures
To prepare for a long hike, we take short backpacking trips. Likewise, your dog may need time to get used to many hours of trekking on unfamiliar terrain. Plan small hikes with your dog ahead of time in a similar environment as your longer trip.
Start with short walks and see how your dog responds — watch for excessive panting, drooling or visible exhaustion. Then add difficulty and distance to build your dog's strength and stamina.
2. Carry Enough Food, Water and Dog Supplies
In a well-fitted harness pack, your pet can carry much of its own supplies. Pack extra kibble, plenty of water, a collapsible water bowl, a first aid kit and poop bags. Make sure to exercise Leave No Trace by collecting and carrying out your dog's waste.
Depending on the length and difficulty of your trip, you can also bring heatstroke prevention supplies, dog booties and a lightweight pup tent. Whatever dog gear you decide to bring, your dog's pack should not weigh more than one-third of its body weight.
3. Know Trail Etiquette
The most important tip for hiking with your dog is to exercise proper etiquette on the trail. Remember to keep your pet under control at all times. Step off the trail to allow other hikers to pass. When in doubt, hike with your dog on a short leash to help ensure the safety of your pet, the native wildlife and other hikers.
4. Research Your Location
It's crucial to get to know the rules of a specific trail, campsite or national park. For most trails, plan to have your dog on a leash at all times. Keep in mind that many national parks do not permit dogs at all.
Familiarize yourself with the wildlife and common threats you could encounter while hiking. If you're heading into the backcountry, add a bear bell to your dog's harness pack or carry bear spray. In any natural environment, prevent your dog from drinking stream water, which could contain pathogens.
Hit the Trails With Essential Backpacking Gear From DutchWare
At DutchWare, we have everything you need for hammock camping and do-it-yourself (DIY) gear making at competitive prices. Our high-quality products are ultra-light so you can enjoy a minimalist approach to backpacking, hiking and camping with your dog.
Take a look at our extensive inventory of gear for your next trip. You can rest assured that you're choosing top-notch backpacking equipment for a safe and adventurous experience, no matter your skill level.
Sign up for news & events