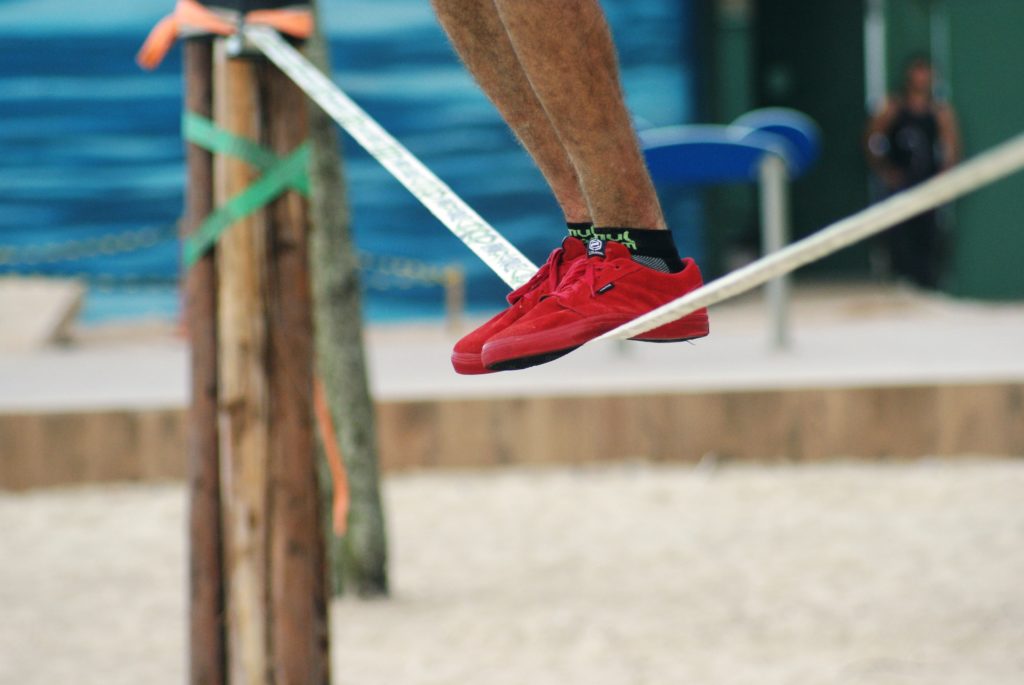 You've mastered balance, built muscle memory and have a year or more of slacklining under your belt. You've experienced the many benefits of slacklining, like body awareness, flexibility, posture and core strength.
It's time to take your slacklining practice to the next level. Here are a few tips and tricks to elevate your advanced slacklining routine.
Tricklining is one of the most popular forms of advanced slacklining. You may have already experimented with fundamental tricks like different mounting techniques, backward and sideways walking and turns on the line. For the maximum bounce while tricklining, use a double ratchet or pulley system to dial in just the right amount of tension.
Once you master static tricks like the knee drop and Buddha sit, practice dynamic tricks like a butt bounce, chest bounce and surfing. For airborne stunts, start with front and back flips, aerial twists, lemur leaps and combos that combine spins, flips and bounces. Better yet, use your imagination to invent your own tricklining stunts.
Ready to start tricklining? Check out our Trick Line 25 kit.
Combine the mental and physical benefits of yoga with the balance of slacklining. You can move virtually any yoga pose to the slackline. Start with a static Tree pose by balancing on one foot and raising your arms above your head. Then try poses like Crow, Half Moon and Boat. Slacklining yoga helps develop focus, strength, breath and confidence for an advanced slacklining practice.
Amp up your advanced slacklining routine with webbing that's over 50 feet long. Longer webbing creates greater instability to challenge your sense of balance and concentration. For an epic longline, select one of our one-inch lines at any length. Adjust the tension according to your preferences, from a maximum of 15kN to a minimum of 0 for a Rodeo Line.
Highlining, or slacklining with webbing at a height of at least 22 feet, is considered the pinnacle of the sport. You can set up a highline at the top of a three-story building or across a canyon with a fatal drop.
To build up your skills, become a pro at walking on a one-inch line with low tension like a Rodeo Line. Master techniques like the Chongo mount, climbing up the leash and swinging back onto the line. We recommend investing in professional highlining gear since not all slackline kits are designed for highlining. Exercise all safety precautions and use a safety line when practicing this form of advanced slacklining.
DutchWare is a one-stop shop for your slacklining gear needs, including webbing, hardware and accessories. We ship our reliable, easy-to-use products quickly and guarantee against manufacturer defects. Take a look at our slacklining inventory and contact our customer service team with any questions about our high-quality gear.
Want more advanced slacklining tips, news and giveaways? Follow us on Facebook and Instagram.