2023 Trail Days | Damascus, VA
Dutchware Gear is excited to announce our presence at the upcoming Trail Days event, scheduled from May 19-21, 2023. We will be showcasing a wide range of outdoor gears and accessories, from full hammock setups, tarps, Dyneema bags, and more.
So if you are a hikers/outdoor enthusiasts, you can look forward to exploring the latest offerings from us and be able to purchase your favorite items to enhance your outdoor experience.
With a reputation for providing high-quality and durable products, Dutchware Gear is a must-visit booth at Trail Days, and all visitors can be assured of finding the perfect gear for their next adventure.
Lightweight Hammocks and Camping Products
Hammocks
We offers a wide range of hammock options, each designed to provide comfort and versatility for any outdoor adventure. Our flagship model, the Chameleon, is a highly modular hammock system that can be customized with various accessories to meet the specific needs of hikers and outdoor enthusiasts.
Suspensions & HDWE
Our suspension and hardware options are designed to provide a versatile and customizable experience for outdoor enthusiasts. We offer various suspension systems, including whoopie slings and tree huggers, as well as a range of hardware, such as carabiners and toggles, to suit different preferences and needs. All of our hardware is made from high-quality materials, ensuring durability and reliability in the face of regular outdoor use.
Tools & Repair Kit
Our tool and repair kits that are essential for any outdoor adventure. The repair kits include essential items like patches, seam grip, and repair tape, while the tools include items like splicing needles. These kits are designed to help hikers and campers make quick repairs in the field, ensuring that they can continue to enjoy their outdoor experience without interruption.
Camp Kitchen
Dutchware Gear offers a range of camp kitchen options designed to make outdoor cooking and meal preparation easy and convenient. Our offerings include titanium cookware, such as pots, pans, and cups, as well as utensils like sporks, knives, and cutting boards. All of the camp kitchen gear is lightweight, durable, and easy to pack, making it a perfect addition to any hiker or camper's gear collection.
Packs, Sacks, & Bags
A range of packs, sacks, and bags that are designed to provide ample storage and organization options for hikers and campers. Offerings include dry sacks, stuff sacks, and Dyneema bags, all made from high-quality materials and designed to withstand the rigors of outdoor use. With a range of sizes and options to choose from, Dutchware Gear has the perfect pack, sack, or bag to meet the needs of any outdoor enthusiast.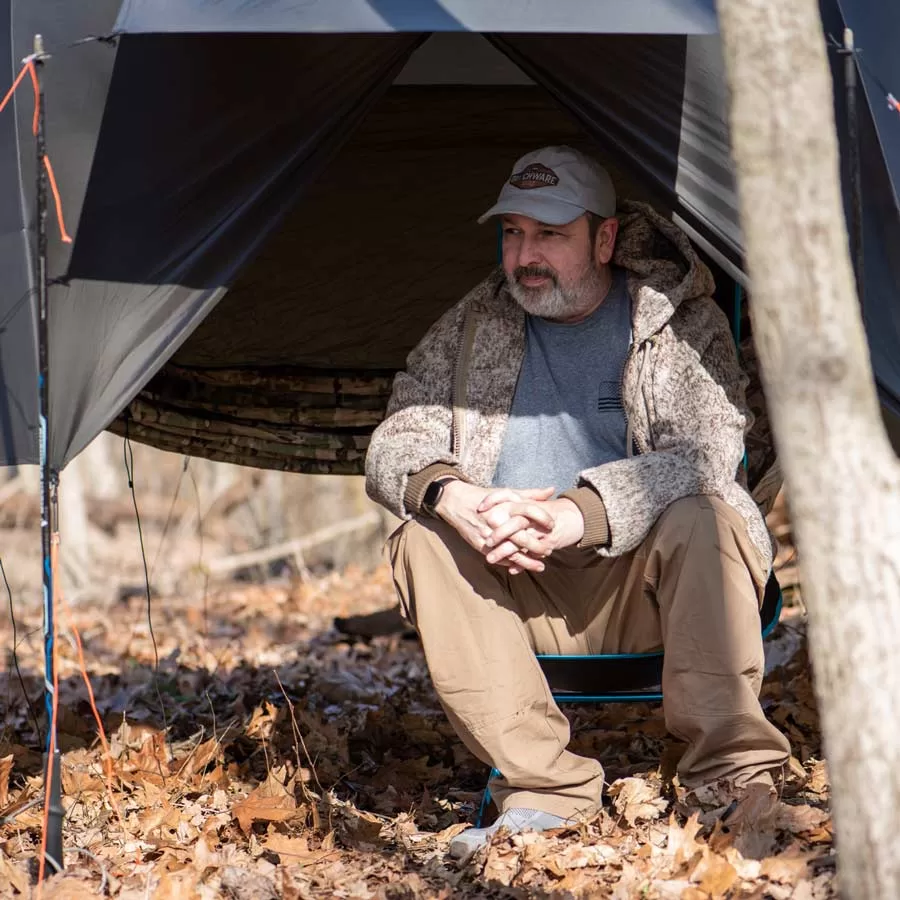 There's no better choice than Dutchware
Dutchware Gear is renowned for exceptional quality and innovation when it comes to outdoor gear, especially our Chameleon hammocks.
Our hammocks are designed to be versatile, lightweight, and customizable to meet the needs of every hiker. With Dutchware Gear, you can easily switch out components and add accessories to create a personalized hammock system that suits your needs. Additionally, our products are made from high-quality materials, ensuring durability and longevity in the face of harsh weather conditions and regular use.
Whether you're an experienced hiker or a beginner, Dutchware Gear has the gear you need to make your next adventure comfortable and unforgettable.