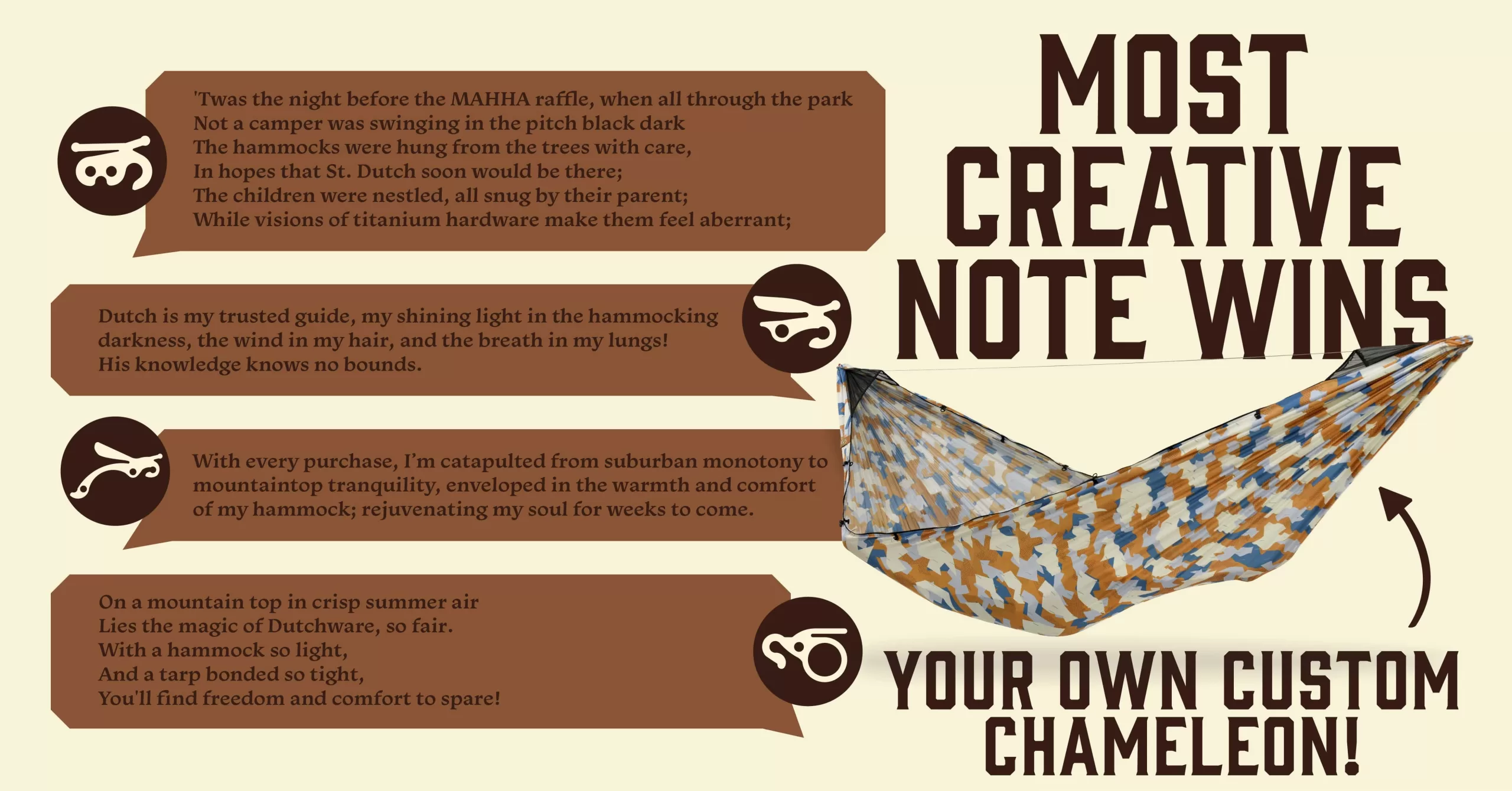 We are thrilled to announce a special giveaway just for you! We appreciate your continued support, and we want to show our gratitude by giving you a chance to win a fantastic prize - a custom Chameleon hammock with bugnet of your choosing!
Participating in the giveaway is easy and fun. Here's how you can enter:
Place an order of any value through our website (www.dutchwaregear.com). Orders must be placed between August 7 at 12:01am eastern time and August 13 at 11:59pm eastern time. 
During the checkout process, don't forget to leave a note in the designated "Order Notes" box. While we appreciate your creativity, please keep the notes reasonably short. We don't want to print multiple pages for one note.
Our dedicated shipping staff will carefully review all the notes as they come in and select the top 5 most exceptional ones. Limericks about Dutch will be given special consideration!
The top 5 notes will then be shared with our entire staff for a final vote. The note with the most votes will be crowned the winner.
The giveaway will run for one week, so make sure to place your order and leave your unique note during this period for a chance to win.
Prize includes: 
1 Chameleon Hammock Single Layer - You choose the fabric, color, etc. 
1 Chameleon Bugnet - You choose the style, color, etc
1 Beetle Buckle Complete Suspension
Thank you for being part of the DutchWare community, and we can't wait to see what fun and creative notes you come up with! Good luck to all participants!
If you have any questions or need assistance, please don't hesitate to reach out to our customer support team.
Happy hammocking,
The DutchWare Team