Slackline Benefits
Researchers have found a range of benefits to slacklining, which is now spread all over the world: for your breathing, flexibility, posture and much more! Experiments and studies on the workings of the micro-muscles that control the movement of the body (known as core stability) have led to the inclusion of this discipline in the best workout programs, motor function recovery protocols and post-injury rehabilitation.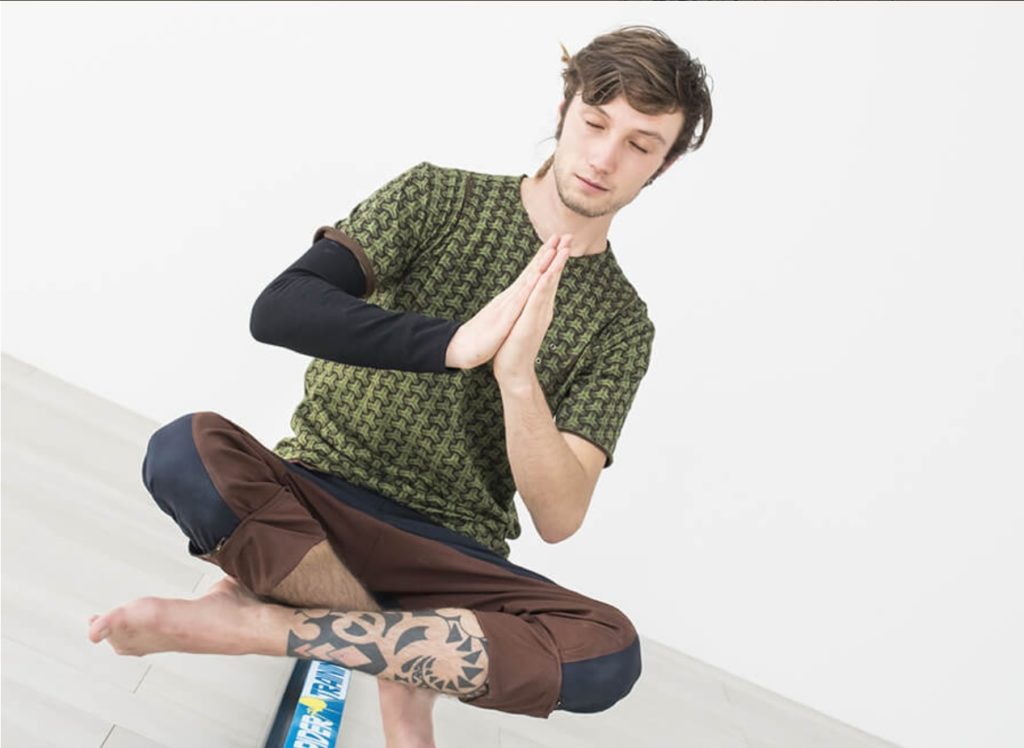 Well-being and Breathing
WELL-BEING: slacklining is an excellent exercise for proprioceptive training (focused on body control). It increases your awareness of your body and also enhances your perception of yourself. Physical well-being leads to mental well-being. Concentrating on your balance creates a sense of peace and inner harmony, with others and with the world around you. Slackline: benefits and not just fun. In short, it's an excellent opportunity to enjoy the great outdoors, spend time with friends and get back into healthy habits.
BREATHING: Slacklining makes you lose your breath. Anyone who starts walking along a line for the first time will have to concentrate on new movements so much that they forget to breathe! But breathing is a fundamental component of slacklining. In fact, only regular and controlled breathing will allow you to master your body's movements and walk the line. Slackline: benefits even once you get off the line! Learning to control your breathing will be useful to you in many other situations in life when you may feel uncomfortable or stressed, such as during important exams and interviews.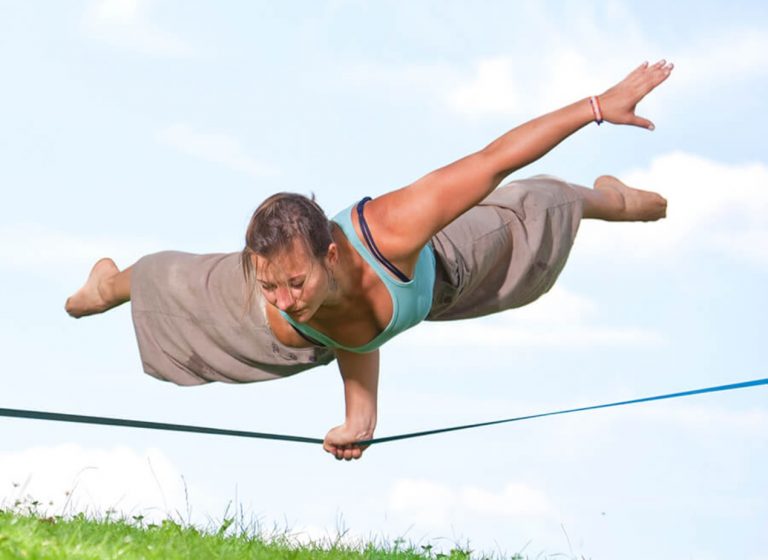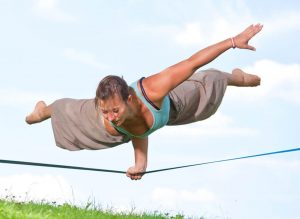 Flexibility and Posture
FLEXIBILITY: much of your body, especially your knee and ankle joints, can derive benefits from Slacklining; this highly effective workout also trains the abdominal muscles, legs, back and arms. Every time you take a step down the line, you stretch a muscle that is simultaneously contracted to control your balance. This form of active muscle stretching is much more effective than the common passive stretching we're used to and the results are immediate. Try it for yourself!
POSTURE: proper posture is important for adults but absolutely vital for children. Slacklining has excellent benefits, especially if practiced from a young age: it promotes the development of an excellent sense of balance and body awareness. Over their lifetime, the child will be inclined to develop good posture. Once they are absorbed, the child will never forget these motor skills, just like when you get on your bike after years of not riding it.

Therapy, Prevention and Creativity
THERAPY AND PREVENTION: the movements and vibrations that our body causes on the Slackline are reflected back into it by way of stresses that our musculoskeletal system must compensate with instinctive micro-movements. This natural mechanism is especially useful in rehabilitation and post-injury therapy. Slacklining has benefits for anyone who works a broad-therapeutic spectrum job, with a low level of effort, as it increases muscle tone and the body's resistance to stress. Different lengths and tensions applied to the Slackline stimulate the body in new different ways.
CREATIVITY: slacklining is a young sport which is continually growing and expanding but which, however, still has a lot to be discovered and invented. It is similar to disciplines such as yoga, dance, gymnastics and martial arts. Slackline: benefits but also stimuli for creativity. In fact, anyone can invent new movements or new applications and push their body to overcome its limitations. There is no restriction on creativity of movement. Dare to pioneer!

Sharing and Growth
SHARING: the online world and the world of Slackline are now closely related. Every slackliner who enters the world of this exciting discipline is often the first in his neighborhood, town, or sometimes the whole province. The Internet has contributed to bridging the gap, leading to the creation of a huge community united by the same passion, leading athletes to travel to meet and create new friendships. Slackline, benefits beyond all linguistic and geographical borders!
GROWTH: "Slacklining isn't for me, I don't have a good sense of balance". Slacklining is a great exercise to learn to face your limitations and fears, one at a time, with the desire to make a commitment to continued growth. Slacklining also has benefits from this point of view: challenge yourself and use your passion as a tool to go beyond your limits.