For making warm backpacking clothing, fleece is a great choice because it is breathable yet has great insulating properties.  Here are a few tips to help with that next fleece project. What is fleece?   Fleece is a synthetic product made from acrylic or polyester material.  Than it is brushed with a high speed brush to have a nice soft pile and sheered.    They often do this on both sides and the once thin fabric increases its volume 5 fold.  This increases its softness and creates air pockets without adding any weight.  It is often made from recycled soda and water bottles so this is a sustainable and ecofriendly.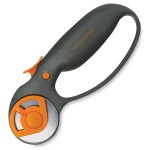 Cutting Fleece,  Fleece is a non-woven fabric which means is has no real grain, however its surface has a brushed appearance and it moves in one direction.  So you should lay out your patterns in one direction or you sleeves may look a different tone than your body.   Also it has a right and wrong side so pattern accordingly. Even double sided fleece has a right side and a wrong side.   Pull along the salvage and watch the way it curls.  It will curl towards the right side of the fabric.  A rotary cutter works well for cutting fleece.  You are just cutting the inner fabric so you don't need to press real hard.  Remember it is really water bottles and it will dull your scissors and rotary cutters.   It will generate a lot of fuzz so clean as you go.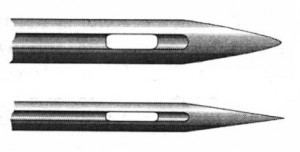 Needles, You want to use microtex or ballpoint machine needles.  Universal 90/14 or ball 80/12 is preferred. Thread, Use a good polyester thread.  Remember cotton rots.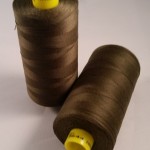 Sewing, Fleece is very bulky so when sewing it, find ways to reduce that bulk.  Try to offset where multiple seem come together such as under the arms.  You want to use a longer stitch can be helpful (3 to 5mm).  Because of bulk you will want to reduce your presser foot pressure.  For the best seam edges use a serger.  If you don't have a serger, zigzag the stitch edges will help compact the seam and give it a nice finished look.
Finshed?  Clean your machine, you will have bobbin fouling fuzz everywhere.  Throw away your needle. It is now dull.